Aam ka murabba recipe – How to make aam ka murabba or mango murabba recipe – mango recipes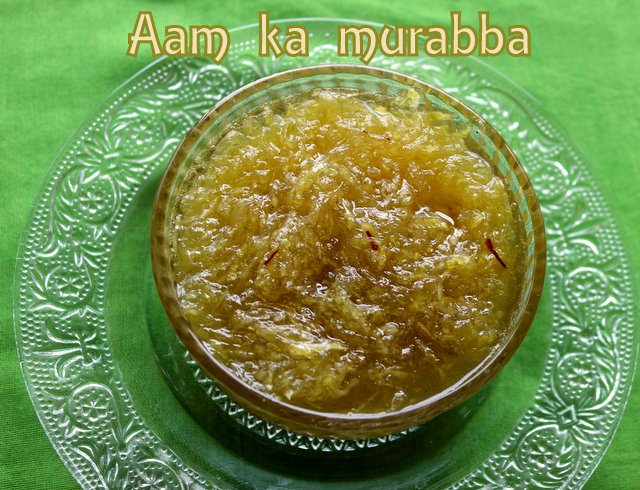 Aam ka murabba is a sweet and tangy preserve made from raw green mangoes and sugar.  It goes very well with rotis and parathas.  Cardamom is added to give a nice flavor to the murabba.  Saffron strings  when added gives a golden colour to the dish.  Mango murabba is made with very few ingredients which are  easily available.  This recipe is also an instant murabba recipe which can be prepared in less than 30 minutes, unlike the traditional method, where it is kept under sun for 4-5 days.  Do try this instant, tangy, aromatic and delicious mango murabba this summer and enjoy!!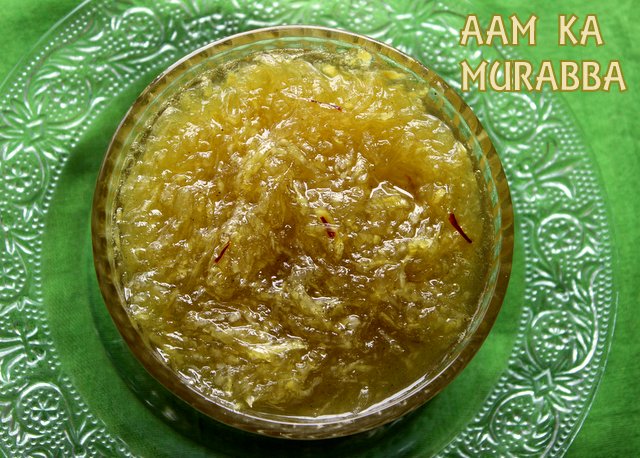 Prep Time :  20 mins
Cook Time : 15 mins
Servings :  4 persons
Indian cuisine
INGREDIENTS
Grated green unripe mangoes – 1.5 cups
Sugar – 2 cups
Few strands of saffron or kesar
Cardamom powder – 1/4 teaspoon
HOW TO MAKE OR PREPARE AAM KA MURABBA RECIPE
PREPARATION
Rinse the mangoes and wipe dry them thoroughly.  Then peel and grate the mangoes.  If you are using cardamom pods, powder them in a mortar-pestle and keep it aside.
METHOD
Heat a pan on medium flame. Add the grated mango and sugar.  Add 1/4 cup of water and mix well.
The sugar will start melting slowly and the mixture will turn watery.  Keep cooking on a low flame and stir continuously so that the sugar does not crystallize.
The mixture will start bubbling and begin to thicken.  Add saffron strings and cardamom powder and mix well.
Keep cooking on a low flame till the sugar reaches a one string consistency.  Once the mixture reaches a jam like consistency, switch off the flame.  Let the murabba cool down completely.
Once cooled down, store the murabba in a clean glass bottle or an airtight container.  Serve aam ka murabba with rotis, chapatis or methi parathas.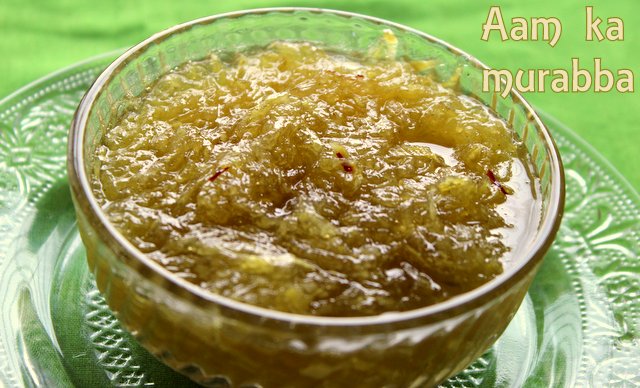 NOTES/TIPS
You can add powdered jaggery instead of sugar for making it more healthy.
Ensure that the mixture reaches a jam like consistency and then switch off the flame.  Do not overcook or else the murabba will reach a thick hard consistency.
Murabba stays good for 10-12 days at room temperature and upto 2 months in the refrigerator.
You can add little red chilli powder at the end for a spicy murabba.
Once the mangoes are grated, make the murabba immediately.