Raw Mango Rice or Mavinakaya chitranna recipe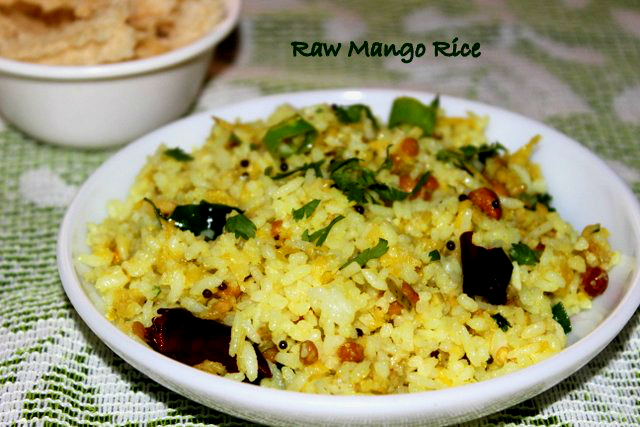 Raw mango rice is another easy version of rice recipe made with rice, raw mangoes and spices.  It is also quite popular in Andhra Pradesh, where it is called as Mamidikaya pulihora.  Raw mango rice is a quick and simple to make rice dish.  Here raw mangoes are used instead of lemon, which gives a tangy taste to this dish.  It is a perfect option for lunch box.  Since mangoes are available now in plenty during this season, try this tangy and yummy rice dish this summer and enjoy with your friends and family!!!.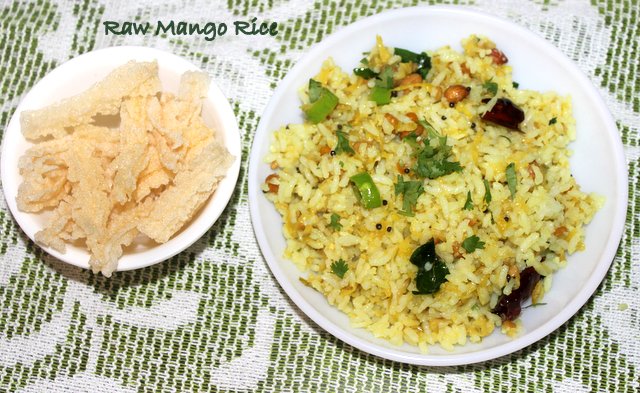 Prep Time : 20 mins
Cook Time : 15 mins
Servings : 2-3 persons
Total time – 35 mins
INGREDIENTS
Cooked rice – 2  cups
Grated raw mango – 1 cup
Turmeric powder – 1/4 teaspoon
Chopped coriander leaves – 2 tablespoons
Salt to taste
FOR SEASONING
Cooking oil – 2 tablespoons
A pinch of asafoetida
Mustard seeds – 1 teaspoon
Urad dal – 1 teaspoon
Chana dal – 2 teaspoons
Chopped green chillies – 1
Red chilies – 2 (broken into 2 pieces)
Peanuts – 2 tablespoons
Few curry leaves
HOW TO MAKE OR PREPARE RAW MANGO RICE OR MAVINAKAI CHITRANNA OR MAMIDIKAYA PULIHORA RECIPE
Cook rice with enough water (1:2 ratio of rice to water).  Once cooked and cooled down, spread the rice in a plate, so that the grains are separate from each other.
Wash and grate one medium-sized mango.  Keep one cup of grated mango aside.
Heat oil in a pan.  When it becomes hot, add mustard seeds and allow it to crackle.  Then add asafoetida, urad dal, chana dal, peanuts and fry till it turns light golden in colour.
Add chopped green chillies, red chillies and curry leaves and saute for half a minute.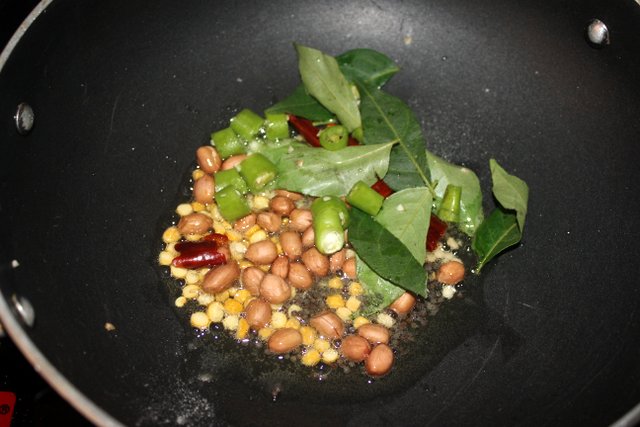 Add grated mango,turmeric powder and salt and mix well to combine with the spices.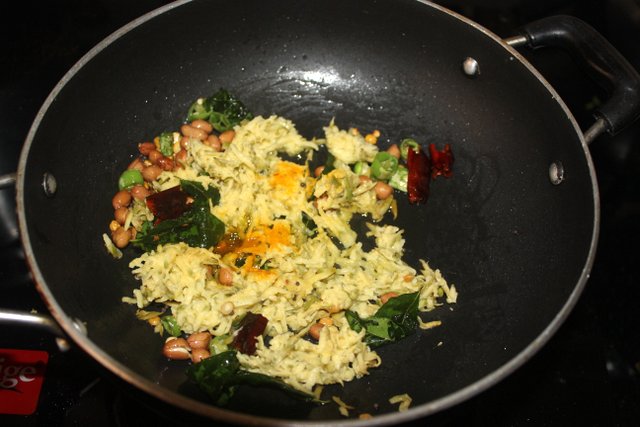 Add cooked rice and combine together.   Switch off the flame.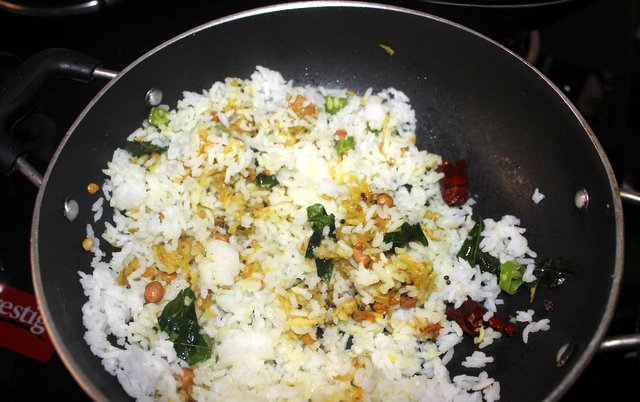 Garnish with chopped coriander leaves and serve hot.
Serve raw mango rice hot with papads, chips or raita as side dish.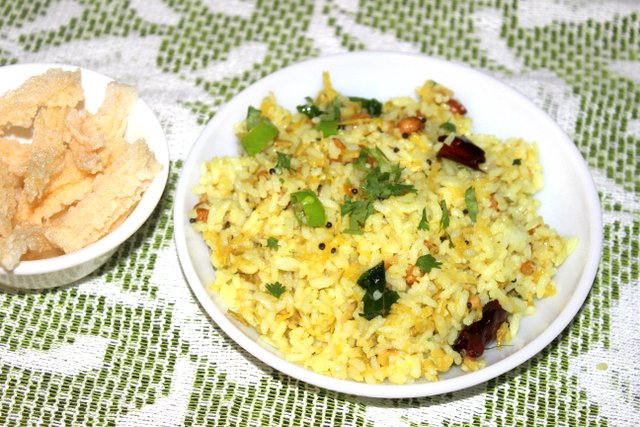 NOTES/TIPS
You can also use leftover rice for this dish.
Add cashewnuts or green peas to enhance the flavor.
Add grated raw mango according to the tangy taste desired by you.