Roasted peanut chutney recipe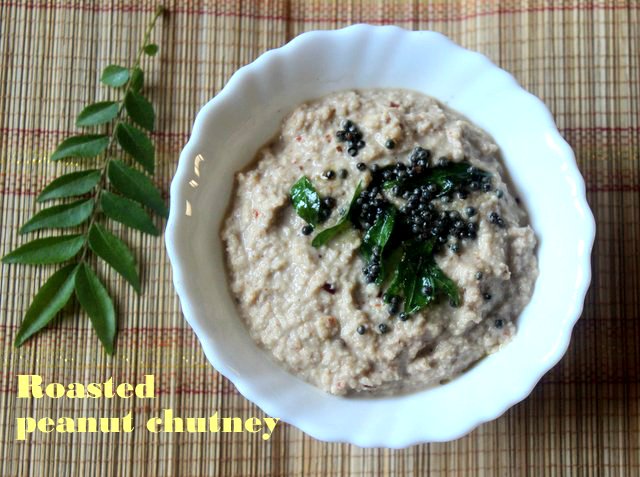 Peanut chutney is an excellent accompaniment for idlis, dosas  and rotis.  This spicy and fiery chutney can also be used as a spread for sandwiches. Peanut chutney, if refrigerated, stays good for   2-3 days.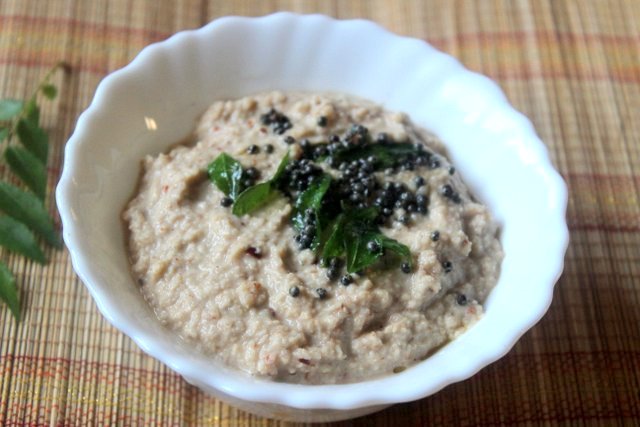 Prep Time : 5 mins
Cook Time : 10 mins
Servings – 2 persons
Total time – 15 mins
Indian cuisine
INGREDIENTS
Grated coconut – 1 cup
Roasted peanuts – 1/2 cup
Whole red chillies – 2
Garlic cloves – 2
Deseeded tamarind chunk – 1/2 teaspoon
Jaggery – 1/4 teaspoon (optional)
A pinch of asafoetida or hing
Cooking oil – 1 teaspoon
Salt to taste
For seasoning
Cooking oil – 1 tablespoon
Mustard seeds – 1/2 teaspoon
10-12 curry leaves
HOW TO MAKE OR PREPARE ROASTED PEANUT CHUTNEY RECIPE
Heat 1 teaspoon of  oil in a pan. Add peanuts and roast them on a low to medium flame for 3-4 minutes.  Remove its skin to some extent.
In a mixer grinder, add the roasted peanuts, grated coconut, red chillies, garlic cloves, tamarind chunk, hing, jaggery and salt  and grind them with little water to a thick and smooth consistency.  Transfer the peanut chutney to a serving bowl.
Heat another 1 teaspoon of oil in the same pan.  Add mustard seeds and allow them to splutter. Add curry leaves and saute for half a minute.  Pour this seasoning to the chutney.
Serve roasted peanut chutney with idlis, dosas, uttapams, upma or medu vadas.
NOTES/TIPS
You can also prepare peanut chutney without the coconut.  In that case take one cup of peanuts alongwith the rest of the above ingredients and make the chutney.  You can store this chutney for 4-5 days in the refrigerator.