Aloo jeera recipe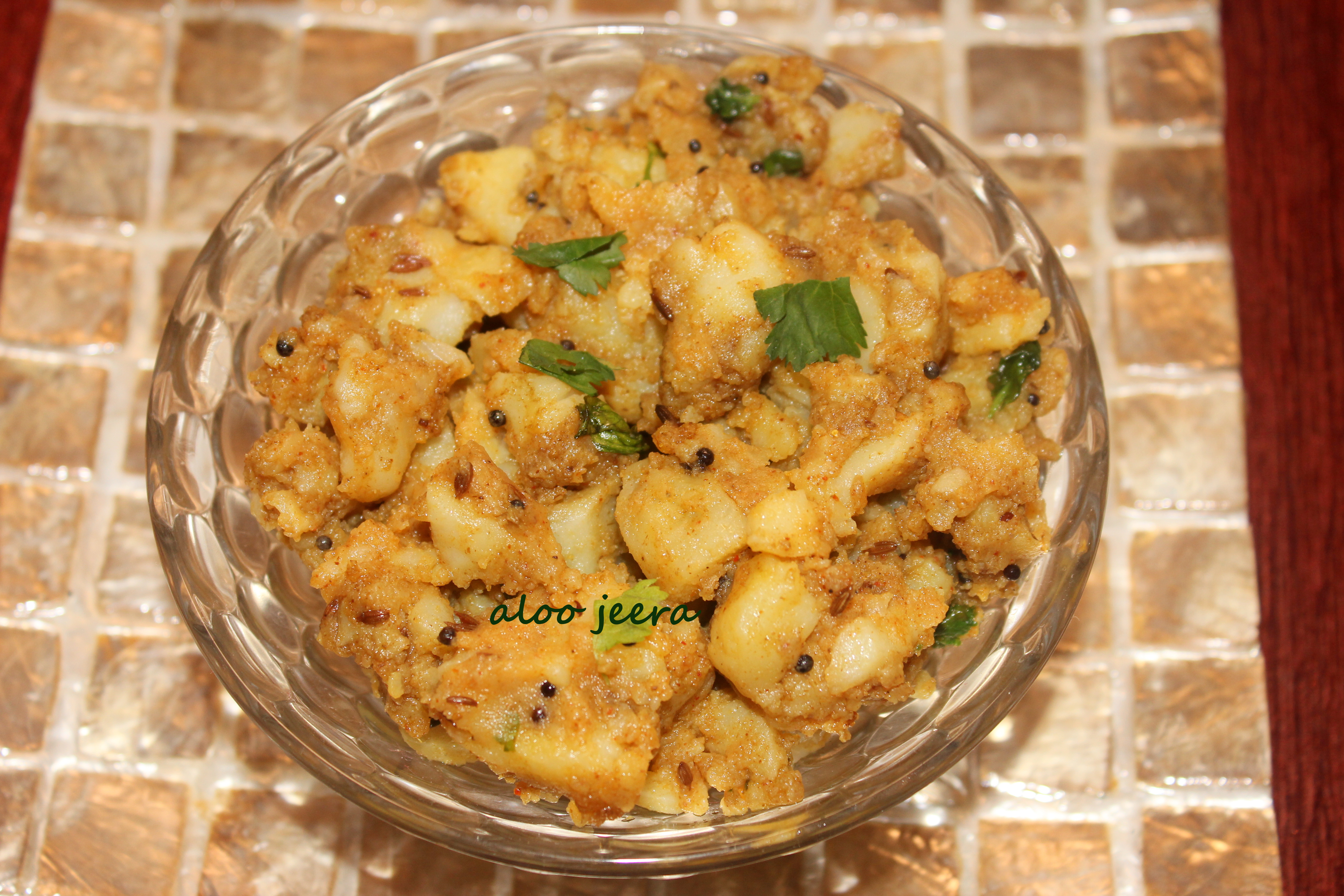 Aloo jeera is a simple and delicious side dish for rotis, puris and parathas. It is very easy to make and simply made with potatoes and cumin seeds and mildly spiced with Indian spices. Aloo jeera is a popular Punjabi dish and cumin seeds gives a slightly nutty flavor to this dish.
Ingredients
Potatoes/ Aloo - 6-7 (medium sized)
Cooking oil/Ghee - 2 tablespoons
Mustard seeds - 1/2 teaspoon
Jeera/ cumin seeds - 11/2 teaspoons
A pinch of turmeric powder
Red chilli powder - 1 teaspoon
Coriander powder - 2 tablespoons
Cumin powder - 11/2 tablespoons
Garam masala powder - 1/2 teaspoon
Chopped coriander leaves - 2 tablespoons
Lemon juice - 1/2 teaspoon
Salt to taste
Method
Step 1
HOW TO MAKE ALOO JEERA RECIPE Wash and pressure cook the potatoes with little water upto 3 whistles. Alternatively, you can parboil the potatoes separately in a large vessel with sufficient water
Step 2
Once boiled, peel the potatoes and chop them into small pieces and keep it aside.
Step 3
Heat oil or ghee in a pan. Add mustard seeds and cumin seeds. Once the seeds stop spluttering, add turmeric powder, red chilli powder, coriander powder, cumin powder and stir fry lightly on a low flame for about 20 seconds. Ensure that they do not get burnt.
Step 4
Then add chopped parboiled potato pieces and mix well so that the masala gets coated well.
Step 5
Cook for 2-3 minutes on a low flame with the pan covered with a lid.
Step 6
Once cooked, add garam masala and salt and mix well.
Step 7
Lastly add chopped coriander leaves and lemon juice. Stir well and switch off the flame.
Step 8
Aloo jeera is ready to be served. Transfer the contents to a serving bowl.
Step 9
Serve aloo jeera hot with rotis, puris or parathas.