Beetroot stir-fry recipe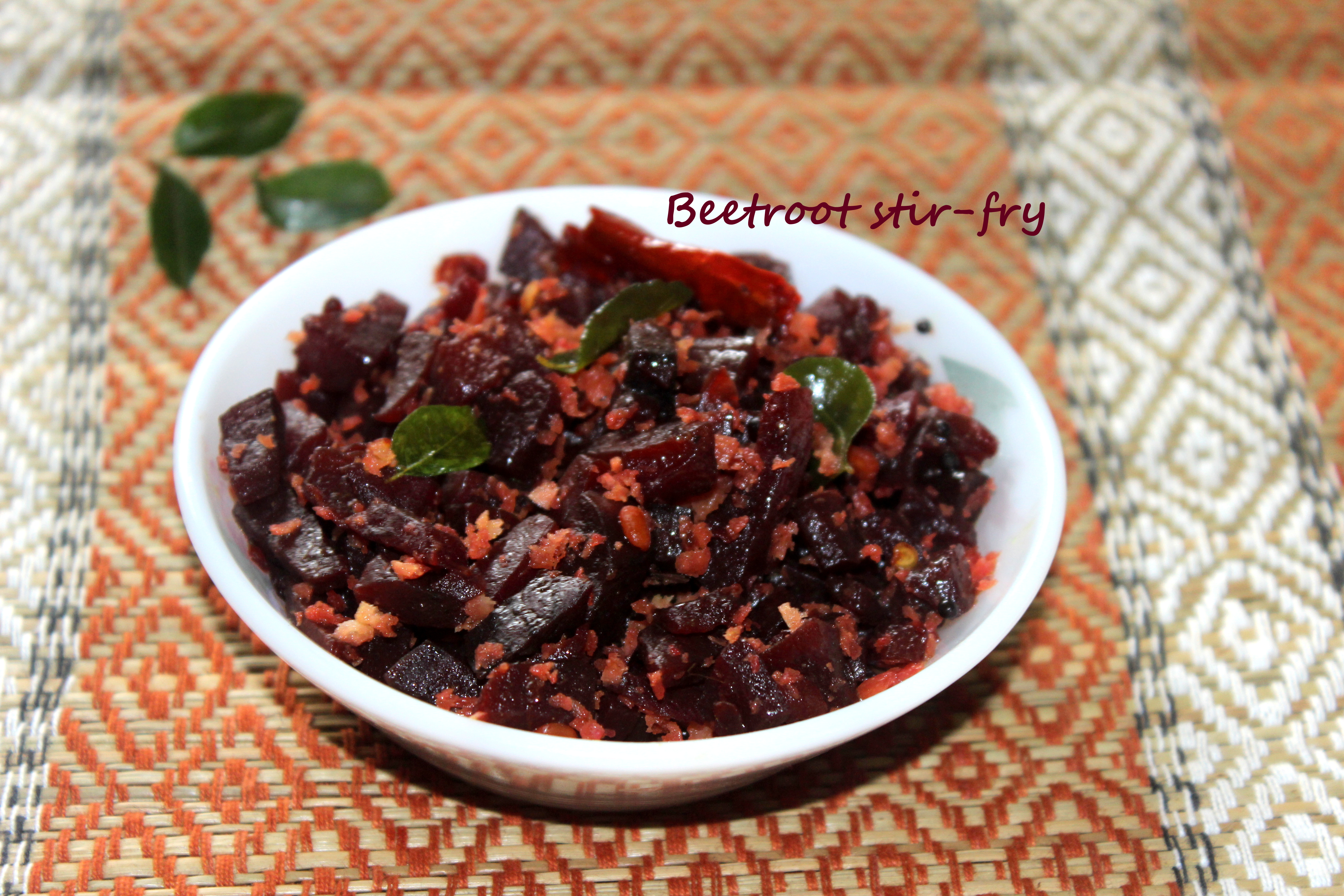 Beetroot is a simple and quick stir-fry recipe which is a good accompaniment for rice. Beetroot is low in fat and full of vitamins and minerals. It is a natural blood purifier. It is also rich in fibre and helps to lower cholesterol levels too. So try this simple stir fry recipe and include it in your daily diet..
Ingredients
Beetroot - 4 (chopped into small pieces)
Salt to taste
FOR SEASONING
Cooking oil - 2 tablespoons
Mustard seeds - 1 teaspoon
Split urad dal - 1 teaspoon
Whole red chillies - 4 (each red chilly broken into two or three pieces)
A pinch of asafoetida
A string of curry leaves
Grated coconut - 1/2 cup
Method
Step 1
HOW TO MAKE BEETROOT STIR-FRY RECIPE Peel the beetroot and chop them into small pieces. Keep aside.
Step 2
Heat oil in a pan. Add mustard seeds. Once the seeds start spluttering, add asafoetida, curry leaves and urad dal.
Step 3
Once the dal turns golden brown, add chopped beetroot and salt and mix well.
Step 4
Sprinkle some water and cover the pan with a lid. Cook on a low to medium flame stirring in between to avoid getting burnt.
Step 5
Once the vegetable is cooked, add grated coconut and combine together. Switch off the flame.
Step 6
Beetroot stir-fry is ready to be served as an accompaniment for rice.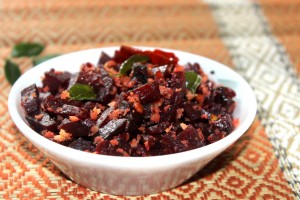 Step 7
NOTES : Alternatively you can also pressure cook the chopped beetroot pieces upto 3 whistles and then give the seasoning. If you want to save time and prepare quickly, you can try this way.