Chana masala recipe (how to make chana masala recipe)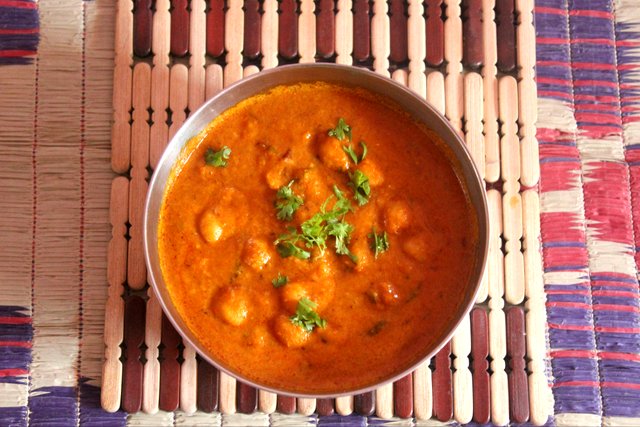 Chana masala also known as chole masala is a popular Punjabi dish in Indian cuisine. It is popular mainly in the Punjab region of northern-India, and also in the regions of Gujarat. In Gujarat and Rajasthani areas, it is cooked dry with tangy spices. This recipe of chana masala is cooked in South Indian style using coconut as the main ingredient and whole spices. You will get a unique and sweet flavor of coconut and not sour or tangy. It goes well with rotis, puris or rice and tastes hot and spicy.
Ingredients
White chickpeas or kabuli chana - 1 cup
Salt to taste
Water - 3 cups
FOR DRY ROASTING THE MASALA
Grated coconut - 1 cup
Onion - 1 (roughly chopped)
Tomato - 1 (roughly chopped)
Ginger - 1/2 inch
Black pepper seeds (kalamiri) - 2-3
Cloves (lavang) - 2-3
Garlic cloves - 4
Cumin seeds (jeera) - 1/2 teaspoon
Coriander seeds (dhania) - 1tablespoon
Green cardamom - 1
Cinnamon (dalchini) - 1 inch
Green chillies - 2
Fennel seeds - 1/2 teaspoon
FOR SEASONING AND COOKING
Oil - 4 tablespoons
Mustard seeds - 1/2 teaspoon
Bay leaves (tejpatta) - 2
1 string of curry leaves
Red chilli powder - 1/2 teaspoon
Chopped coriander leaves for garnishing
2 tablespoons milk cream (optional)
Method
Step 1
HOW TO MAKE CHANA MASALA RECIPE WITH COCONUT Soak the kabuli chana with sufficient water overnight. Next day discard the water. Pressure cook with 3 cups of fresh water and 1 teaspoon of salt, upto 4 whistles or till soft. Keep the boiled chana aside.
Step 2
Heat 1 tablespoon of oil in a kadai or pan. First roast all the spices (as given under dry roasting masala) except coconut, onions and tomatoes. Remove the roasted spices in a plate.
Step 3
Then add the freshly grated coconut and roast till it it slightly brown. Remove in a plate.
Step 4
Add roughly chopped onion and tomato and stir for on a low flame for 2-3 minutes.
Step 5
Now grind all the above roasted ingredients with little water to a smooth paste. Keep it aside.
Step 6
Heat the remaining oil in the same kadai. Add mustard seeds and once the seeds stop spluttering, add bay leaves and curry leaves and stir fry for 15-20 seconds.
Step 7
Add the ground masala and stir fry for upto 2 minutes on a low flame. Then add boiled chana and saute for another 2 minutes. Add red chilli powder and mix well,
Step 8
Add half to 1 cup of water and simmer for 6-7 minutes till the gravy thickens. Mash a few chanas with the back of the spoon. This helps in thickening the gravy.
Step 9
Check for salt and add accordingly as the chana was pressure cooked along with salt. Add milk cream and mix well. Switch off the flame
Step 10
Garnish the chana masala with chopped coriander leaves and serve hot with puris, rotis, bread or steamed rice.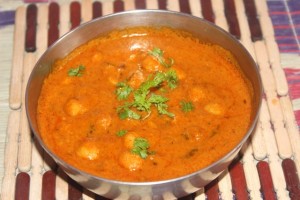 Step 11
NOTES/TIPS : Ensure to cook the chana till soft, to get a better taste, as soft chanas get blended with gravy well. Once you add milk cream, do not cook further as it will curdle otherwise. Switch off the flame immediately. Milk cream gives a thicker and rich taste to the chana masala.