Chocolate brownies with choco chips – eggless cocoa brownie recipe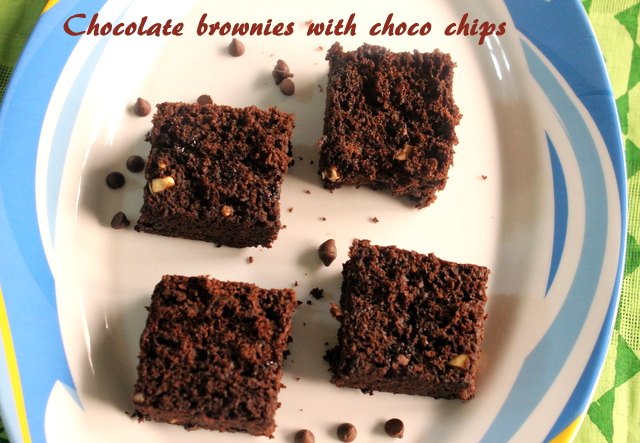 Chocolate brownies – soft, moist and chocolatey brownies made with maida, cocoa powder, choco chips and cashewnuts.  You can also add chopped walnuts or almonds for that crunchy taste.  It is an eggless version of the chocolate brownie.  Very easy to prepare, I have prepared this brownie with just 6 minutes of microwaving.  As Valentines day is fast approaching, try this lovely and delicious brownie for your loved ones and yourself.  Enjoy brownies with nice hot tea or a glass of milk.
Also check my cakes category for more delicious bake recipes..
http://charuscuisine.com/category/cakes/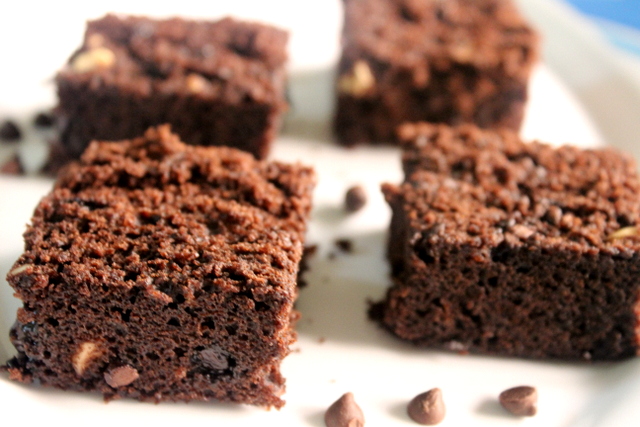 Prep Time : 20  mins
Cook Time : 6 mins baking time
Servings :  10-12 brownies
INGREDIENTS
All-purpose flour  or maida – 1 cup
Icing sugar or powdered sugar – 1 cup
Unsweetened cocoa powder – 1/2 cup
Curd or yoghurt – 1 cup
Oil – 2 tablespoons
Vanilla essence – 1/2 teaspoon
Baking powder – 1 and 1/2 teaspoons
Baking soda – 1/2 teaspoon
Choco chips – 4 tablespoons
Chopped cashewnuts- 2 tablespoons
HOW TO MAKE EGGLES CHOCOLATE BROWNIES RECIPE WITH CHOCO CHIPS AND CASHEWNUTS
Take the all-purpose flour and sugar in a mixing bowl.  Then add cocoa powder, baking soda and baking powder and mix well again.
Mix everything well. Ensure there are no lumps.  Then add yoghurt, oil and vanilla essence and mix till incorporated well.
Whisk till everything gets mixed well, but do not overmix.   Finally add choco chips and chopped cashewnuts.
Mix well.  The consistency should be neither too thick nor too thin.  The batter should drop like a ribbon.  Take a microwave safe dish and line the dish with a butter paper.  Smear little oil on the butter paper.
Pour the batter into the prepared pan and spread it evenly by using a spoon.  Microwave on high for 4 minutes.
Check if the brownie is ready by inserting a knife or a toothpick into the brownie.  If it comes out clean, it means it is ready.  Otherwise, microwave for another 1-2 minutes.  (Mine took 6 minutes to cook the brownie.)
Cool a bit and unmould by turning upside down on a plate.  Remove the greased butter paper from the top of the brownie.
By using a sharp knife, cut the brownie into pieces as per your desire.
Serve chocolate brownies with tea or as a dessert or with a topping of vanilla ice-cream.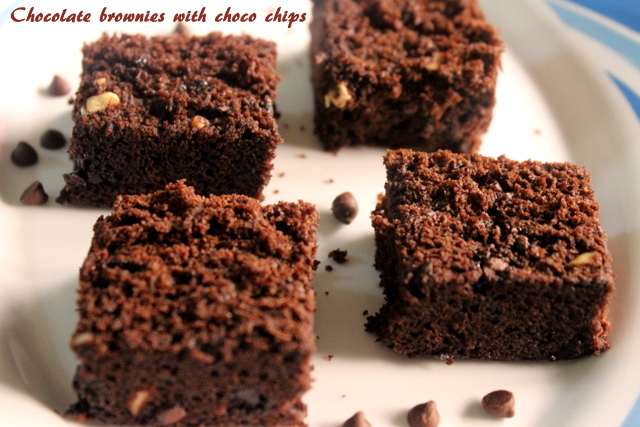 NOTES/TIPS
You can also add white chocolate chips instead of dark chocolate chips.
Adding walnuts or almonds is optional.  You can skip this entirely.