Corn chaat recipe – How to make sweet corn chaat/masala corn chaat recipe – corn recipes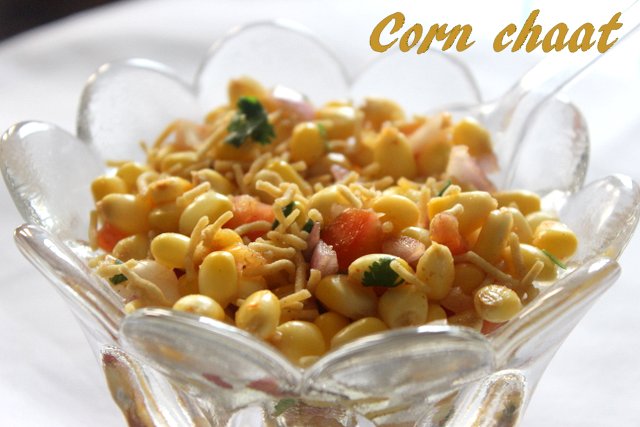 Corn chaat is a healthy and tasty snack made with corn kernels, onions, tomatoes and spices.  It is also very easy to make as it does not need any elaborate cooking to be done.  Sweet corn kernels is a wholesome cereal food which is easily digested.  It is a powerhouse of antioxidants useful in preventing the ageing process.  Corn is among the few cereals that can be cooked and eaten in a variety of ways.  It has a lot of dietary fibre which helps in digestion and prevents constipation.  Corn chaat can be had as a starter or as a anytime snack too.  Lemon juice added to this chaat gives a nice tangy taste to it.  It is a very simple and flavourful snack which can be done in less than half an hour.
Other corn recipes :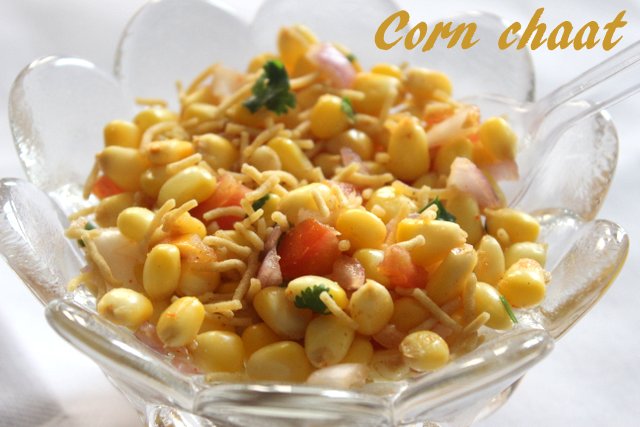 Prep Time :  10 mins
Cook Time :  10 mins
Servings : 2 persons
North Indian cuisine 
INGREDIENTS
Frozen corn kernels – 1 cup
Onion – 1 (small sized)
Tomato – 1 (small sized)
Red chilli powder – 1/2 teaspoon
Lemon juice – 2 teaspoons
Chaat masala – 1/2 teaspoon
Cumin or jeera powder – 1/4 teaspoon
Chopped coriander leaves – 2 tablespoons (for garnishing)
Sev for garnishing
Salt to taste
HOW TO MAKE OR PREPARE SWEET CORN CHAAT RECIPE
Wash the corn kernels thoroughly under running water.  Take a vessel with enough water and  boil the corn kernels till done.  Once boiled, drain the water completely and keep the boiled corn kernels aside.
Take a mixing bowl.  Add the boiled corns, chopped onions, tomatoes, red chilli powder, cumin powder, chaat masala and salt.
Mix well.  Finally add lemon juice and chopped coriander leaves and give a good mix.
Delicious and healthy corn chaat is ready to be served.  Serve the corn chaat immediately garnished with sev.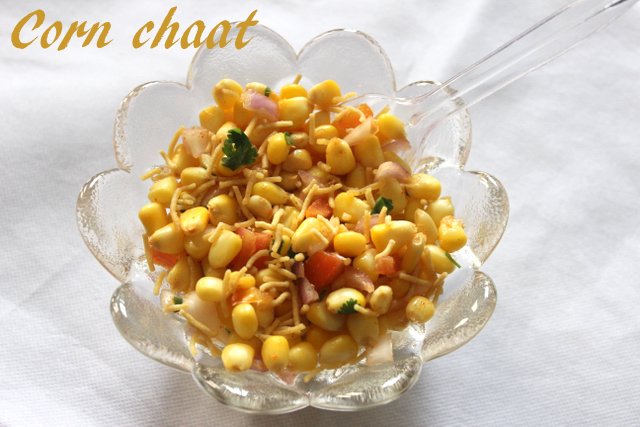 NOTES/TIPS
You can also steam the corn kernels instead of boiling them, to retain the nutrients.
Sprinkle black pepper powder instead of cumin powder for a  different flavor.
You can add finely chopped green chillies instead of red chilli powder.