Kodo millet dosa recipe – Varagu/harka dosa recipe – healthy breakfast recipes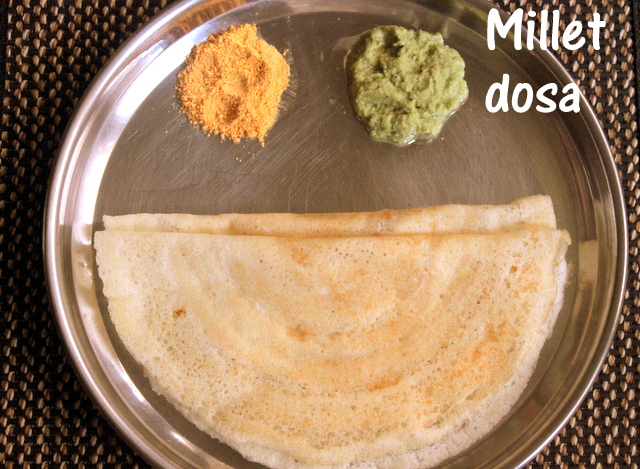 Kudo millet is a very healthy foodgrain which has a natural source of protein and iron.  It is very easy to digest and is excellent for strengthening the nervous system.  Kodo millet is also called as varagu in tamil and harka in kannada and arikelu in telugu.  Kodu millets is an ideal food for people who are diabetic and weight watchers.  They are a great source of starch, making it a high energy food and an excellent of protein and fibre.  Millets can be cooked similar to rice and served with sambar, dal, rasam or any curry of your choice.   Dosas made with kodo millets tastes very similar to normal dosa.  Just replace rice with kodo millet and you have a healthy dosa as a breakfast dish or snack item.  The same batter can be used to make idlis too. (kodo millet idli)  Do try this healthy kodo millet dosa from the normal rice and urad dal dosa..
Other dosa varieties :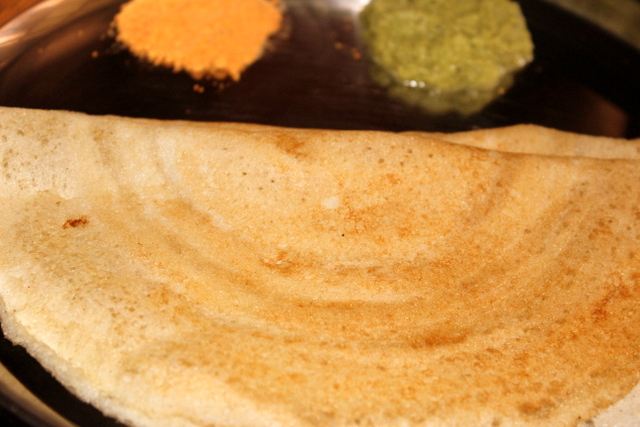 Prep Time : 15 mins
Cook Time : 4 hrs of soaking and 8-9 hours of fermentation
Yield :  10 dosas
Indian cuisine
INGREDIENTS
Kodo millet – 1 cup
Urad dal – 1/4 cup
Methi seeds – 1/2 teaspoon
Poha or flattened rice – 3 tablespoons
Salt as per taste
Oil for cooking dosas
HOW TO MAKE OR PREPARE KUDO MILLET DOSA RECIPE
Take 1 cup of kodo millet in a bowl or vessel.  Add urad dal, poha, methi seeds to it.
Wash and soak all the ingredients for 4 hours.  Drain the water.  In a mixer grinder,  grind all the soaked ingredients with very little water to make a smooth batter.  Transfer the batter to a vessel and add salt to it.  Mix well.  Allow it to ferment for 8-9 hours or set aside overnight.
After 8-9 hours of fermentation or next day,  the batter would have raised in volume.  Check for salt and add if required.  You can make idlis too with this batter directly.  If making dosas,  add very little water and bring the batter to a dosa consistency.
Heat a tawa or dosa pan on a medium flame. Add few drops of oil and grease the tawa with the oil.  Pour a ladleful of batter  in the center of the tawa and spread to a round little medium circle.  Add oil on the edges of the dosa and cook for 1-2 minutes on a medium flame.  Once cooked, flip on the other side and cook till done.
Serve kodo millet dosa hot with sambar, green chutney, chutney powder or coconut chutney.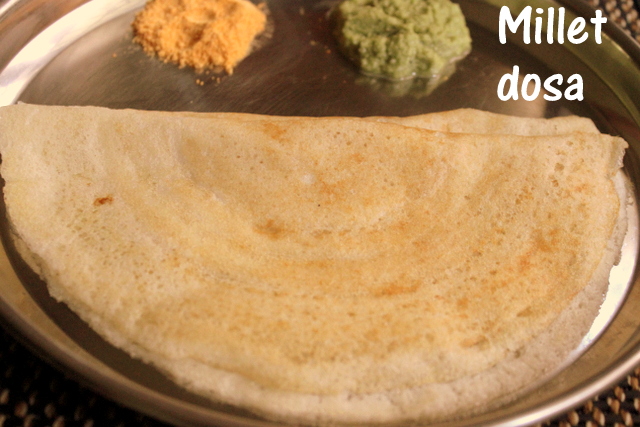 NOTES/TIPS
Do not add more water while grinding, as it can be ground with less water.
Poha and methi seeds gives softness to the dosas.
During winter, ferment the batter for minimum 14-16 hours. But during summer, 8 hrs is enough for fermentation.