Mangalore buns or banana buns or banana pooris recipe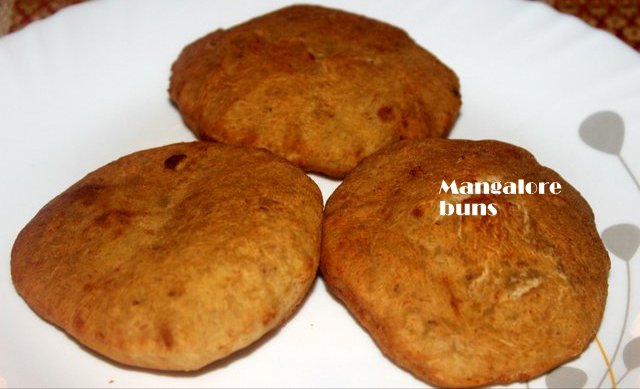 Mangalore buns is a type of deep fried bread prepared with all purpose flour, ripe bananas, curd, cumin seeds, sugar, baking soda and salt. It is a unique food cuisine of Mangalore,  a beautiful coastal city of Karnataka.  This soft and fluffy puffed bread is also called as 'banana buns' or just 'buns' and is a part of the breakfast or snack menu at various eateries in Tulunadu or Mangalore.  It is traditionally served with ginger chutney but mangalore buns by itself is so delicious that it can be eaten without any accompaniment.  The more ripe and sweet the banana is, the more tasty will be the buns. Mangalore buns which has a mild sweet taste, banana flavoured and deep fried, tastes great with a spicy chutney.  It is an authentic Mangalore recipe and almost all local restaurants in Mangalore have these buns on their menu.  Just like the buns, these have a beautiful color from outside and very soft from inside.  
Mangalore buns are very easy and simple to make too.  The dough has to rest at room temperature for 5-6 hours or overnight.  Usually, they are made with maida or all purpose flour, but can also be made from wheat flour or a combinaton of maida and wheat flour.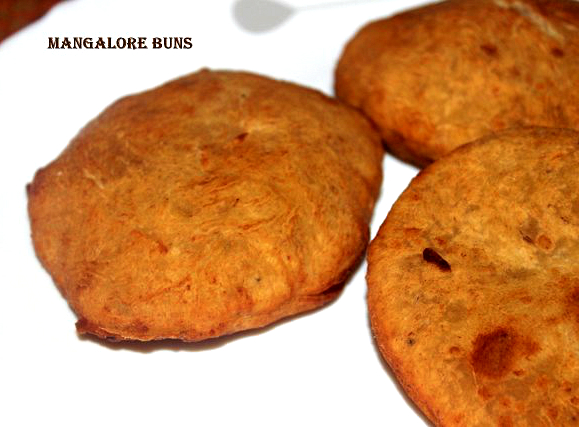 Prep Time : 5 hours
Cook Time : 20 mins
Servings : 4 persons
Total time – 5 hrs 20 mins
INGREDIENTS
All purpose flour or maida – 1 1/2 cups
Banana – 1 (medium-sized)
Yoghurt/curd – 2 tablespoons
Cumin seeds/jeera – 1 teaspoon (slightly crushed)
Sugar – 2 tablespoons
Baking soda – a pinch
A pinch of salt
Cooking oil for deep-frying
HOW TO MAKE OR PREPARE MANGALORE BUNS OR BANANA BUNS RECIPE
Mash the bananas thoroughly in a mixing bowl. (You can also puree the bananas in a blender).  Add yoghurt/curd and mix well.
Now add sugar, salt, jeera and baking soda and mix well.  Add all purpose flour little by little into the banana-yoghurt mixture and knead the dough into a medium-soft lump dough.  The dough will be sticky when you touch it.   So take some oil/ghee in your hands and knead for about 5-6 minutes until the dough is smooth and elastic.
Keep the dough covered and let it rest at room temperature for 5-6 hours or overnight.
Divide the dough into small equal pieces.  Take one small ball of dough and flatten them to make round pooris.
Heat sufficient oil in a deep bottomed pan or kadai on a medium flame.  Slide the pooris gently into the oil and deep-fry till they are puffed and golden in colour.    Turn over the puffed bread gently and cook for another few seconds untli the other is golden brown.  Remove it from the oil with the slotted spoon and drain on an absorbent tissue paper or paper napkins.  Repeat the process and deep fry the remaining balls of dough.
Serve mangalore buns hot or warm with spicy chutney or just plain with a cup of tea.