Moong dal chilla recipe – how to make moong dal chilla recipe – snacks | breakfast recipes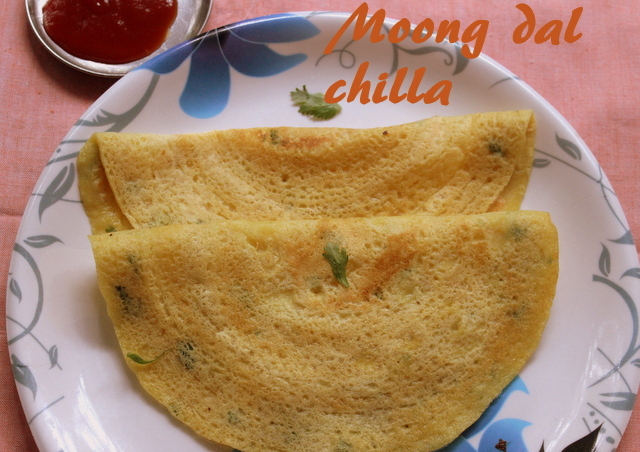 Moong dal chilla is one of the healthiest breakfast or snack recipe made from split yellow moong dal and spices.  It is also called as dosa or crepes or lentil pancakes.  Moong dal chilla is best served with green chutney or tomato ketchup.   Traditionally, a chilla is made with besan or gram flour, but there are different variations of making chillas.  Moong dal chilla is one of the best and delicious way to include proteins in your diet.  They are similar to dosas but chillas do not require any fermentation like dosas and can be prepared quickly.  You can also add your choice of chopped vegetables like onion, tomatoes, capsicum or carrot to the batter and give a more healthy twist to the chillas.
Do check other healthy dosa recipes in my blog :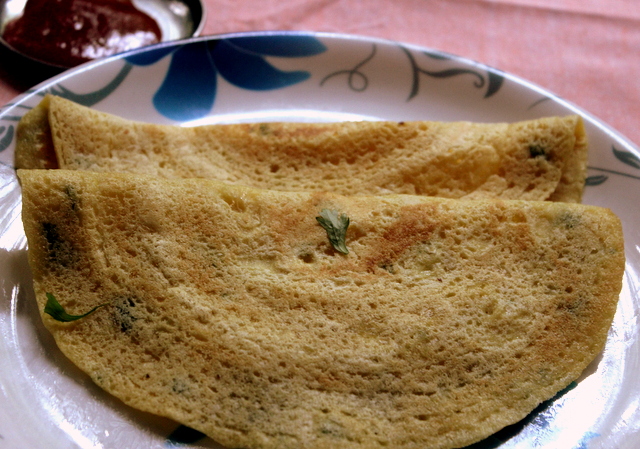 Prep Time :  10 mins plus soaking time of 4 to 5 hours
Cook Time :  10 mins
Servings :  4 chillas
North Indian cuisine
INGREDIENTS
Split yellow moong dal – 1/2 cup
Green chillies – 2
Grated ginger – 1 teaspoon
Turmeric powder – a pinch
Cumin powder – 1/2 teaspoon
Chopped coriander leaves – 1 tablespoon
A pinch of asafoetida or hing
Salt to taste
Cooking oil for making chillas
HOW TO MAKE OR PREPARE HEALTHY MOONG DAL CHILLA RECIPE
Wash and soak the yellow moong dal for 4 to 5 hours.  Then drain the water and grind the soaked dal alongwith turmeric powder and little water to a smooth paste. (I sprinkled little hing at the time of grinding the batter, but this step is optional).
Transfer the batter to a bowl or vessel.  The consistency should be like dosa batter.  Add chopped green chillies, cumin powder, grated ginger, coriander leaves, hing and salt.
Mix everything well. Heat a griddle or a non-stick tawa or plain dosa tawa on  a low to medium flame.  Pour a ladle of batter into the centre of the tawa and quickly spread the batter evenly into a round shape, starting at the inside of the circle and working towards the outside.  Drizzle a few drops of oil along the edges.
Once the  corners starts lifting up and the underside is golden colour, flip to the other side and drizzle another 1/2 teaspoon of oil along the edges.  Once both the sides are cooked, transfer the chillas to a serving plate.
Serve moong dal chillas hot or warm with green chutney or tomato sauce or any vegetable curry.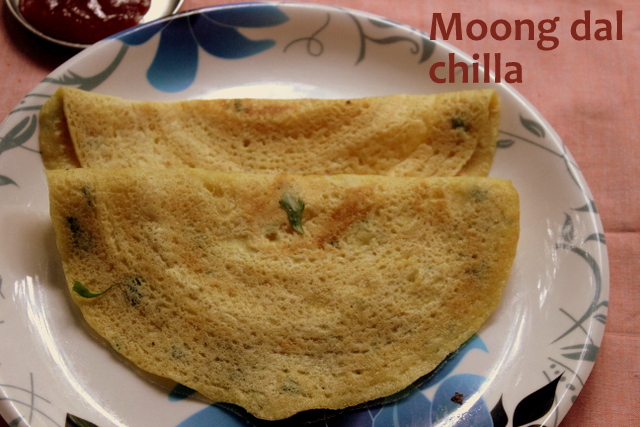 NOTES/TIPS
Spread some grated cheese or paneer on the top of the chilla, before serving,  for an enhanced flavour.
Ensure the batter is of medium consistency.
Adjust green chillies according to the spiciness required by you.  You can also add red chilli powder instead of green chillies.
Green chillies, ginger and coriander leaves can also be added to  the soaked moong dal at the time of grinding.