Rasmalai recipe – how to make rasmalai recipe – Instant bengali rasmalai recipe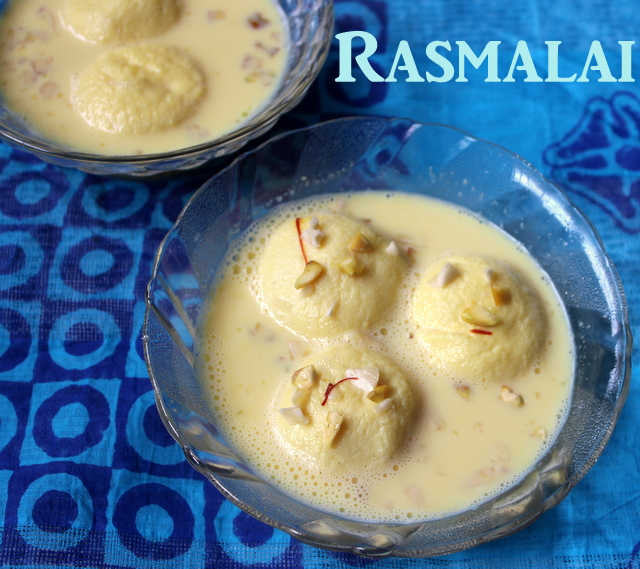 Rasmalai is a delicious Indian dessert and one of the most popular Bengal sweet made from spongy chenna or cottage cheese balls (rasgullas) which are soaked in saffron flavoured sweetened milk.  This recipe is a instant recipe made from readymade rasgullas and condensed milk and can be prepared in 15-20 minutes.  Rasmalai is best served chilled and garnished with chopped almonds and pistachios.
The tradional method to prepare the rasmalai is to prepare the chenna first by boiling and curdling milk, make balls of it  and then boil them  in the sugar syrup.  Then these balls are dipped or soaked in the creamy and flavoured thickened milk.
If you have rasgullas and condensed milk ready, it can be prepared instantly and is ideal for any instant kids party or for any festival occasions or  when you have guests at home.
If you are looking for sweet /festival recipes, also check  these recipes :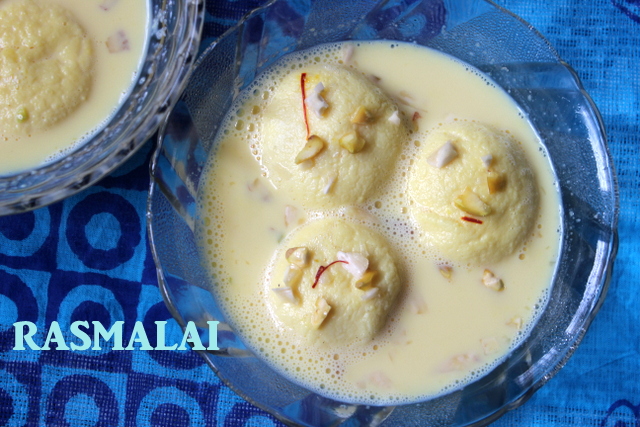 Prep Time :  5 mins
Cook Time : 15  mins
Yield:  8 rasmalai
Bengali cuisine
INGREDIENTS
Rasgullas – 8
Milk – 2 cups
Condensed milk – 1/2 cup
Saffron strands (kesar) – 12-15
Cardamom powder – 1/4 teaspoon
Chopped almonds and pistachios for garnishing – 2-3 tablespoons
HOW TO MAKE OR PREPARE INSTANT RASMALAI RECIPE
Squeeze the excess sugar syrup from the rasgullas by pressing it gently by hand.  Do not oversqueeze or else it will crumble.  You can also squeeze it with the help of 2 flat spoons or spatulas.  Keep the squeezed rasgullas ready.
Heat milk in a pan on medium flame.  Once the milk comes to a nice boil, add condensed milk, saffron strands, cardamom powder and mix well.  Keep stirring and cook for a minute on a low to medium flame.
Add chopped nuts and give a quick mix.  The thickened sweet milk or rabri is now ready.
Add the drained rasgullas to the thickened milk and simmer for 5 minutes on a low flame.  Switch off the flame.  Instant rasmalai is ready.
Once cooled down, refrigerate the rasmalais atleast for an hour and serve chilled.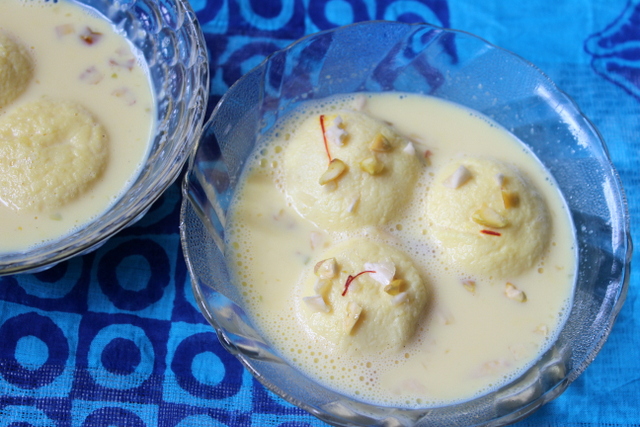 NOTES/TIPS
Condensed milk gives a rich and creamy taste to the rasmalai.  If you want little more sweet in taste, add sugar as desired.
Always serve rasmalai chilled.