Stuffed baingan masala (Eggplant curry)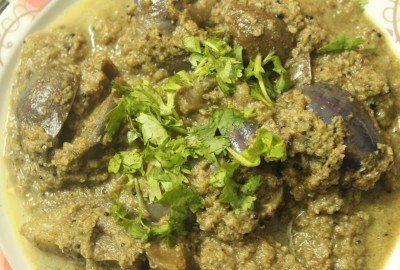 A delicious recipe made from egg plants cooked in a masala gravy done in south indian style
Ingredients
Small egg plants - 10 nos
Oil - 4 tablespoons
Coriander leaves - 2 tablespoons
FOR MASALA
Onions - 4
Garlic cloves - 10
Green chillies - 4
Coconut - 1 cup
Garam masala powder - 2 teaspoons
Salt to taste
Method
Step 1
Cut the ends of the egg plants. Make 2 partial vertical slits in the eggplants and immerse them in a bowl of water with salt added to water. This prevents darkening of the egg plants.
Step 2
Stir fry the masala ingredients and grind them to a smooth paste.
Step 3
Stuff the egg plants with the masala and set aside
Step 4
Heat oil in a pan, Add mustard seeds and cumin seeds. Once the seeds stops crackling, gently add stuffed brinjals. Add the left over masala and little water and cook them for 10 to 15 minutes with the pan closed on a medium flame, til the brinjals are fully cooked.
Step 5
Keep stirring in between to avoid sticking of masala at bottom of the pan.
Step 6
Cook till it becomes of a thick consistency.
Step 7
Garnish with coriander leaves and serve hot with rotis or naans