Tomato rasam recipe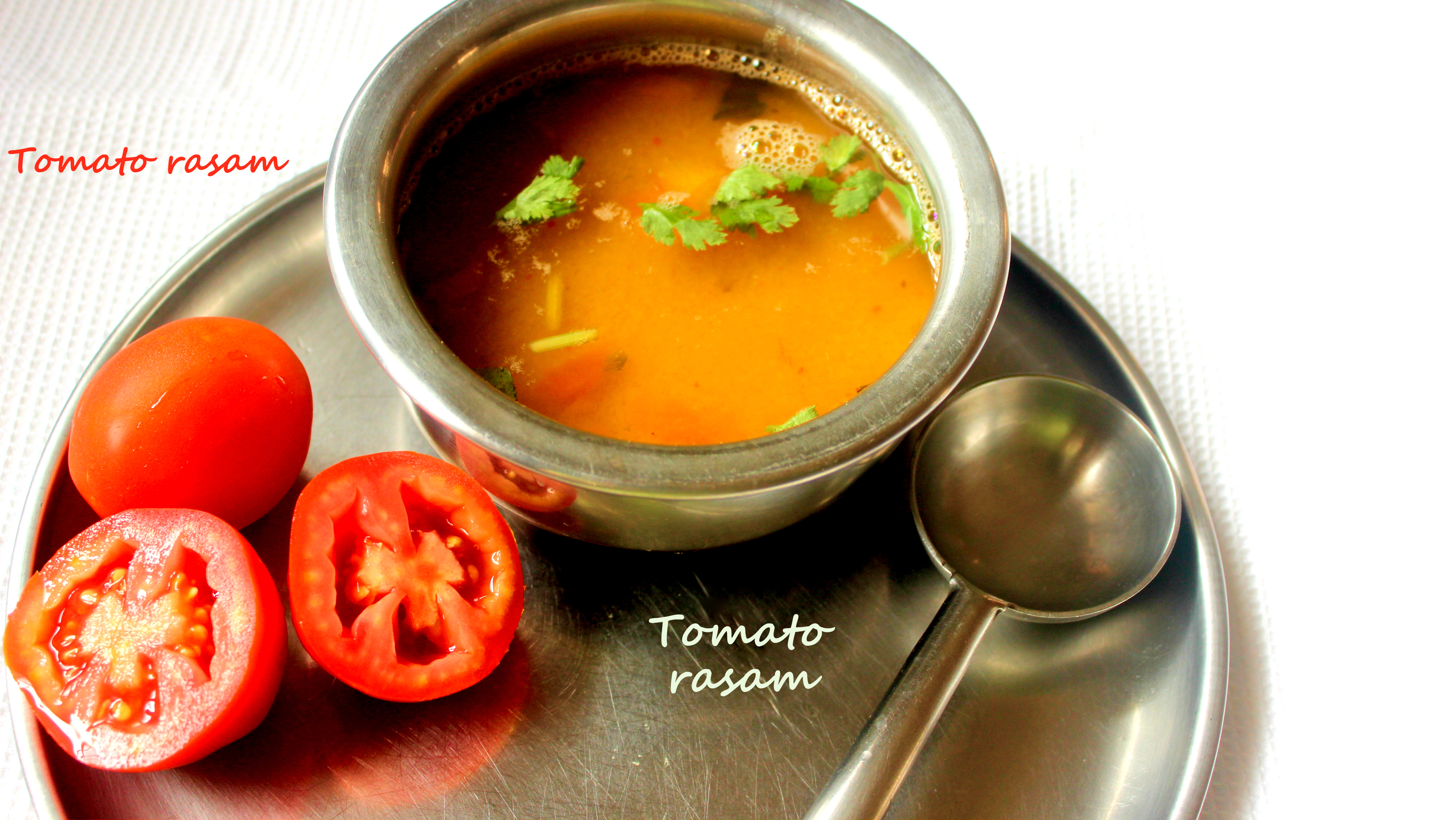 Rasam or saaru is a South Indian soup, made with tamarind juice, tomatoes, rasam powder, turdal and coriander leaves which are the main ingredients. Traditionally, rasam is served with rice and is usually fluid in consistency. Rasam is called as saaru in Kannada language and Chaaru in Telugu language, means essence. juice or soup. Different varieties of rasam can be prepared like jeera rasam, lemon rasam, dal rasam, garlic rasam and pineapple rasam. But tomato rasam is the most common an popular rasam in South India. Rasams taste best with homemade rasam powder but also goes well with store bought rasam powder. For home made rasam powder you can visit the link charuscuisine.com/recipe/rasam-powder/"> Now for the tomato rasam recipe.
Ingredients
Tomatoes - 3
Tamarind - one lemon sized
Rasam powder - 1 1/2 teaspoons
Toor dal or arhar dal - 3 tablespoons
A pinch of asafoetida (hing)
Few curry leaves
Chopped coriander leaves - 2 tablespoons
Salt to taste
FOR SEASONING
Ghee -1 tablespoon
Mustard seeds - 1 teaspoon
Method
Step 1
HOW TO MAKE TOMATO RASAM RECIPE Soak the tamarind in 1/2 cup of water for 15-20 minutes. Squeeze the tamarind juice out of the pulp and discard the pulp. Keep the tamarind juice aside
Step 2
Wash the toor dal thoroughly and pressure cook the dal in 1 1/2 cups of water upto 4 whistles till it become soft. Once cooled, smash the dal and keep it aside.
Step 3
Heat a heavy bottomed vessel on a low flame. Add 1/2 cup of tamarind juice. Add to it one finely chopped tomato, rasam powder, salt, curry leaves and asafoetida .
Step 4
Grind the remaining 2 tomatoes in a mixer to a smooth puree.
Step 5
Now add this tomato puree to the tamarind mixture and mix well.
Step 6
Boil the rasam on a low flame till the raw smell of the tamarind goes away. Add smashed dal and 2 cups of water and boil for another 5 minutes.
Step 7
Add more if required to adjust the consistency and bring it to boil. Then switch off the flame.
Step 8
Heat ghee in a pan. Add mustard seeds, Once the seeds start to splutter, add it to the rasam. Take out the rasam in a serving bowl and delicious rasam is now ready to be served
Step 9
Garnish with chopped coriander leaves and serve hot with rice.