Beetroot chutney recipe – How to make beetroot chutney recipe – chutney recipes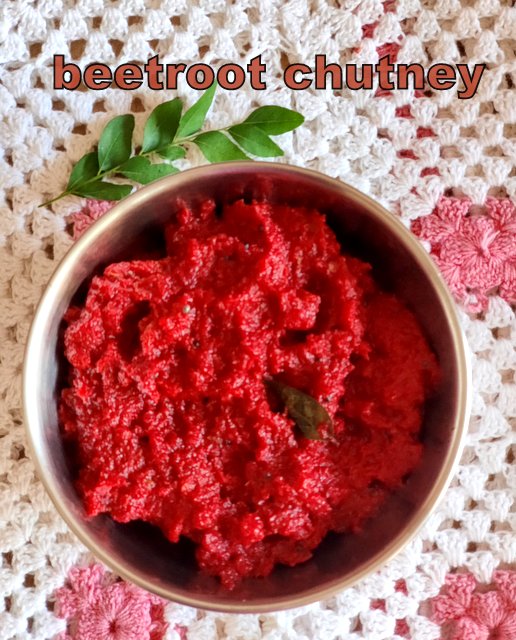 Beetroot is full of vitamins and minerals and low in fat.  It has a range of health benefits like lower the blood pressure, reduce the risk of obesity and because of its high fibre content helps in digestion. Beetroot is low in fat, full of vitamins and minerals and packed with powerful antioxidants.  It helps lower cholesterol.  Due to its high iron content, it is good for people with anemia and fatigue.  Typically a rich purple colour, beetroot is delicious when eaten raw but is more typically cooked.  Try to include beetroot in your daily diet for a more healthier life.
Beetroot chutney – this chutney is a very healthy and delicious recipe prepared with beetroot, lentils and mild spices. I have used urad dal and chana dal which gives a nutty flavour and good taste to the chutney.  Beetroots are generally sweet in taste and hence spices added to it gives a nice flavour. This chutney has a sweet and spicy taste, which is very different as compared to other regular chutneys.  It goes well with idlis, dosas, khichdi or as a plain side dish.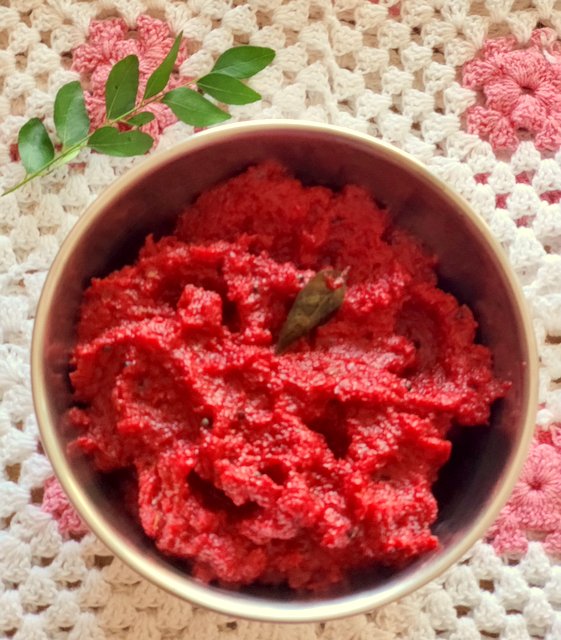 Prep Time : 10 minutes
Cook Time : 10 minutes
South Indian cuisine
INGREDIENTS
Beetroot (grated or choppped) – 1 cup
Oil – 1 tablespoon
Mustard seeds or rai – 1/4 tsp
A pinch of asafoetida or hing
Cumin seeds – 1/2 tsp
Curry leaves – 10 nos
Urad dal – 1/2 tsp
Chana dal or bengal gram – 1/2 tsp
Ginger – 1/2 inch small  chopped into small pieces
Red chillies – 2 or 3 nos
Fresh grated coconut – 1/4 cup
Salt to taste
HOW TO MAKE OR PREPARE BEETROOT CHUTNEY RECIPE
Heat 1 tablespoon of oil in a small pan or kadai on medium flame.  Add mustard seeds and allow it to splutter.  Then add cumin seeds, urad dal, chana dal, ginger, hing and red chillies.  Once the dals turn light brown in colour, add 1 cup of  chopped of beetroot.  Saute all the ingredients well on a low to medium flame.
Cover the pan with its lid and cook on a medium flame for 4-5 minutes or till the beetroot is well cooked.  Add salt and mix well.
Add 1/4 cup of grated coconut and mix well again.  Switch off the flame and let the mixture cool down completely.  Once cooled down, transfer the mixture to a mixer grinder
Grind the mixture to a coarse paste by adding very little water.  Beetroot has enough moisture in itself to keep the chutney moist. Transfer the chutney to a serving bowl.   Now the nutritious chutney is ready to be served.
NOTES/TIPS
You can also add 1 tablespoon of groundnuts or peanuts to make it more tastier and healthier.
White sesame seeds or white til  when added also gives a nice taste and flavour.
Add very little water to grind the chutney, as beetroot has enough moisture in it.
Beetroot chutney goes well with rice too.  Add little ghee to rice and chutney and enjoy.
Beetroot  chutney stays good for upto 2 days when refrigerated.