Split green moong dal recipe / How to make chilke wali mung dal recipe – dal recipes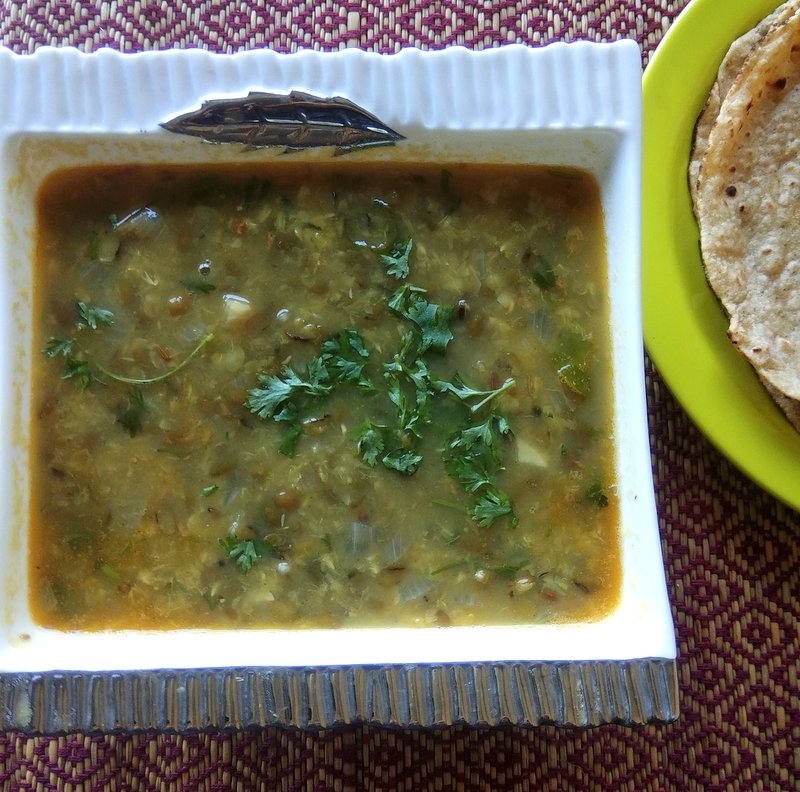 Split green moong dal is a highly nutritious dal made from split green moong, onions and mild spices.   Moong lentil is high in fibre and plant based protein which helps in weight loss.  Green moong dal is basically a green gram which has been split and not skinned.  Since the husk is not removed completely, the green colour is retained.  Green moong dal is a traditional ingredient in Indian cooking, often used in curries and dals.
This home cooked dal goes well with rotis or steamed rice.  This is a North Indian style recipe which can also be used for making whole or sabut green moong dal.  Split green moong has a mild aroma and little bland in taste.  But once you add onions or tomatoes and other spices, the simple dal turns into an aromatic and a comforting dish.
You can cook this dal in a pressure cooker which will help save time and then give the seasoning.  But moong dal can also be prepared in an open pan, which will take a little longer time to cook.
Prep Time : 20 mins
Cook Time : 20 mins
Servings : 4 persons
Indian cuisine
INGREDIENTS
Split green moong – 1/2 cup
Onion – 1 (small) finely chopped
Oil/ghee – 2 tablespoons
Mustard seeds or rai – 1/2 tsp
Cumin seeds or jeera – 1/2 tsp
Garlic cloves – 4 (coarsely crushed)
Ginger – 1 tsp (grated or crushed)
Curry leaves – 5 nos.
Green chillies – 2 (chopped finely)
Red chilli powder – 1/4 tsp
Turmeric powder – 1/4 tsp
Garam masala – 1/4 tsp
Chopped coriander leaves – for garnishing
Salt to taste
HOW TO MAKE OR PREPARE SPLIT GREEN MOONG DAL RECIPE
Take 1/2 cup of split green moong and wash it thoroughly under running water for 3-4 times.  Add 1 cup of water and  1/4 tsp of turmeric powder to it and soak for half an hour.  Then pressure cook for 4 -5 whistles.  Once the pressure is released,  gently mash the dal and keep it aside.
Heat 2 tablespoons of oil or ghee in a pan on medium flame.  Once hot, add 1/2 tsp mustard seeds and 1/2 tsp cumin seeds and allow them to splutter.  Then add 4 chopped garlic cloves, crushed 1 tsp ginger and chopped 2 green chillies and few curry leaves.
Saute on a low flame for a minute.  Then add 1/4 tsp red chilli powder and 1/4 tsp garam masala.  Mix well.
Saute for few seconds and then add chopped onions and cook till the onions become translucent.
Once the onions are cooked, add the mashed dal and give a good mix.  Add 1/2 cup of water and adjust the consistency of the dal.
Add salt and mix well.  Close the pan with its lid and simmer for 4-5 minutes on low flame, till you get a nice boil.  Lastly add chopped coriander leaves.  Serve moong dal hot with rotis or steamed rice or any flavoured pulao.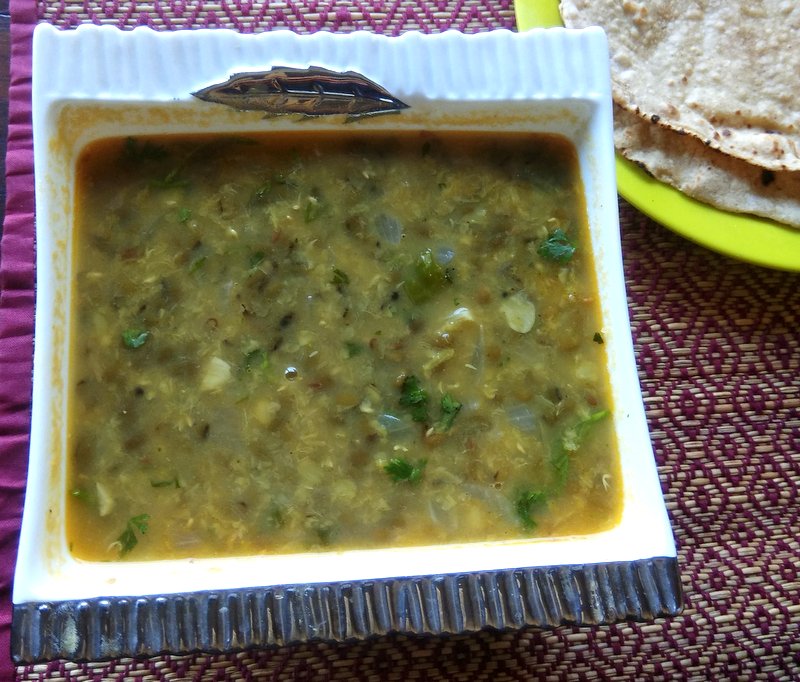 NOTES/TIPS
Ensure to soak the moong dal for half an hour before cooking.  This helps to cook the dal faster and saves on time.
You can also add chopped tomatoes alongwith the onions to enhance the taste.
Using the pressure cooker to cook the dal helps to cook faster.  You can then give the seasoning or the tadka.
Use the spices according to your taste and preference.