Homemade sambar powder recipe – How to make sambar powder / sambar podi recipe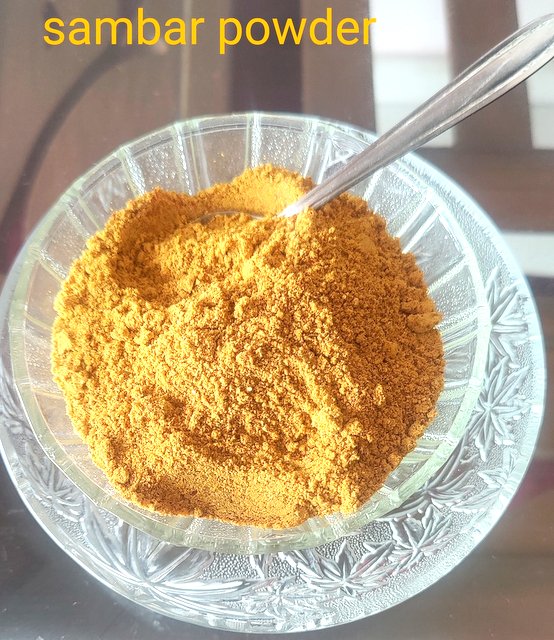 Sambar is a lentil, tamarind and vegetable based curry or stew and very popular in South India. The story is that it got originated in the kitchen of  Thanjavur.  Maratha ruler, Shahuji during the 17th century from the southern Indian state of Tamilnadu tried to make a dish called amti (Maharashtrian curry) and experimented with toor dal or pigeon peas  instead of mung bean, and tamarind pulp for  kokum and the court named it sambhar after the guest of the day, Sambhaji, second emperor of the Maratha empire. (adapted from Wikipedia).
Sambar powder is a mix of spices made with coriander seeds, methi seeds, urad dal, chana dal, cumin seeds, mustard seeds and red chillies.  You can prepare this sambar powder in large quantities and store it in an airtight container or glass jar for 2-3 months.
Sambar powder is a flavorful spices powder and is added along with lentils and vegetables for making different types of sambar. Sambar is best served as a side dish with idlis, dosas, uthapams, steamed rice, appam etc.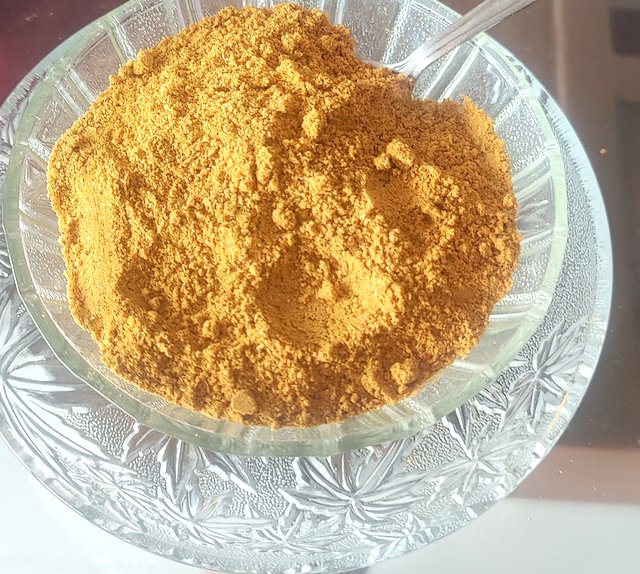 Prep Time : 5 mins
Cook Time : 10 mins
South Indian cuisine
INGREDIENTS
Coriander seeds – 1/2 cup
Chana dal or bengal gram – 2 tablespoons
Urad dal – 2 tablespoons
Methi seeds – 1/2 tsp
Cumin seeds or jeera – 1 tablespoon
Mustard seeds or rai – 1 tsp
Curry leaves – 1/4 cup
Red chillies – 15 nos
Turmeric powder – 1/2 tsp
Asafoetida or hing – 1/4 tsp
HOW TO MAKE OR PREPARE HOMEMADE SAMBAR POWDER RECIPE
Heat  a pan on medium flame. Add coriander seeds and roast till light golden in colour.  Transfer the roasted coriander seeds to a plate.  Next add chana dal, urad dal, methi seeds, cumin seeds, mustard seeds and red chillies to the pan.
Roast the ingredients on a medium flame, till they become light brown and aroma exudes.  Transfer them to a plate.  Next add the curry leaves and red chillies and roast till the curry leaves turn crisp.  Then switch off the flame.
Let all the roasted ingredients cool down completely.  Take all the ingredients to a mixer grinder.  Add 1/2 tsp turmeric powder and 1/4 tsp hing to it.  (Turmeric powder acts as a preservative to keep the sambar powder good for a long time)
Grind to a fine powder.  Now the homemade sambar powder is ready to use.  Store the sambar powder in an airtight container for future use.
NOTES/TIPS
Sambar powder can be easily stored for 2-3 months.  Whenever you want to make sambar, just take 1-2 tablespoons of sambar powder and add grated fresh coconut to this powder and grind to make a smooth paste by adding little water. Use this paste for making sambar.
You can store dry sambar powder in an airtight container or a steel jar  for future use.
Ensure to roast all the ingredients on a low to medium flame to avoid burning the spices.
You can take half  Kashmiri red chillies and other half normal spicy red chillies. Kashmiri chillies when used gives a nice bright colour to the sambar.
Do not skip curry leaves as it  is not only a good antioxidant but also a gives a nice flavor to the dish.