About me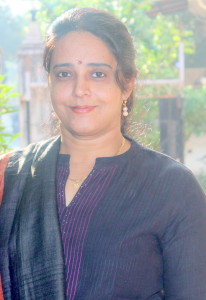 Hello and welcome to my 'eKITCHEN'
I am Charulata, a Kannada Madhwa Brahmin. I was born and brought up in Mumbai and have lived in many cities across India, courtesy my banker husband. I quit my banking job to motivate my son during his SSC and since then have been pursuing my hobby 'cooking' actively. Transfers helped me a lot as I made use of my time at each city to understand the food habits of people, learn the uniqueness and speciality of the local cuisine.
Besides cooking the typical madhwa recipes in my kitchen, I have also been cooking other South and North Indian dishes over the last two decades or so. My son who is a big critic makes me put in that extra effort to improvise every dish I cook.
I have thru' my eKitchen attempted to present variety of vegetarian recipes of Karnataka and I will keep building the same for your benefit. I will also be adding more North Indian recipes. Being a pure vegetarian, I have included only vegetarian recipes. All my recipes are very simple and easy to cook. I have provided the photo images of all the recipes as and when they were cooked. All the recipes are 100% tried and tested in my kitchen before they are posted on the web. However, you are free to spice the recipes to suit your palate and also cook with the available ingredients in your kitchen.
This website was launched in May 2013, thanks to the support of my loving hubby and my college-going son, whose encouragement and support encouraged me to work on this portal. I also acknowledge the guidance, cooking skills shared by my mom-in-law, mom, family and friends over the years. I enjoy presenting every new recipe and I am sure this page will keep growing in the days to come.
I encourage you to provide your valuable feedback thru' the feedback section. Your comments are highly appreciated. Please use this portal to post your recipes for the benefit of others.
Happy cooking!!!