Cabbage curry recipe – How to make Cabbage subzi/cabbage curry recipe – side dish for rotis/rice/ cabbage recipes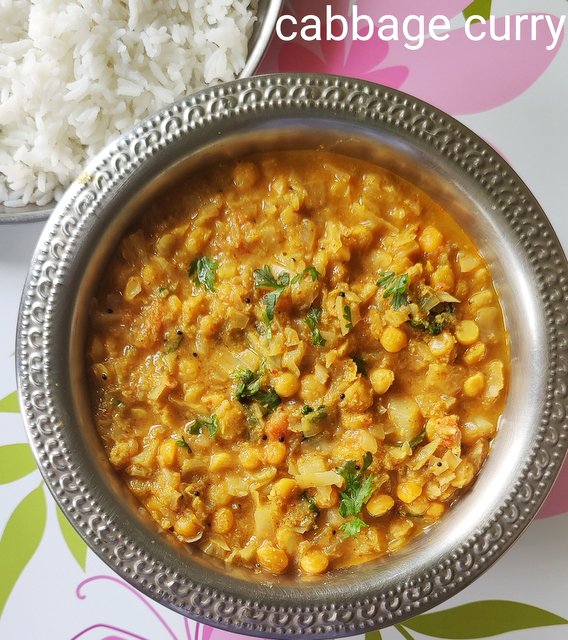 Cabbage curry – a simple and quick sabzi  which can be prepared easily in a pressure cooker.  This curry goes well with rice as well as rotis.  This recipe is done in South Indian style by stir frying the spices and coconut.  This powder gives a unique taste and flavour to the curry.  This dish is not only healthy but also very tasty too.  If not too fond of cabbage, do try this recipe for giving a delicious taste to this  vegetable.
Cabbage or gobhi is a very popular vegetable in India.  It is a leafy vegetable with each leave making a covering for the other.  Cabbage is a light green and white vegetable and a very simple and easy to cook vegetable.  Cabbage is used in various recipes like parathas or starters or salads. 
Cabbage is a powerhouse of vitamins and minerals like calcium, iron, iodine, potassium and folate. You can add them to your diet in different forms — boiled, cooked, steamed, sauteed, or even juiced.
This dish is a one pot subzi and can be prepared quickly by pressure cooking method, yet retaining the flavours of the vegetable.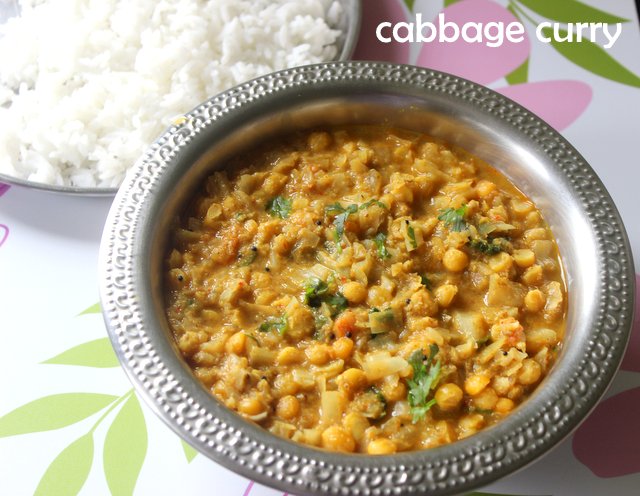 Prep Time : 20 mins
Cook Time : 20 mins
South Indian cuisine
INGREDIENTS
Cabbage – 200 gms (chopped finely)
Chana dal or bengal gram – 1/2 cup (soaked for 30 minutes)
Oil – 2 tablespoons
Mustard seeds or rai – 1/2 tsp
Onion – 1 (chopped finely)
Tomato – 2 (chopped finely)
Turmeric powder – 1/4 tsp
Sambar powder – 1/2 tsp
Few curry leaves
Few coriander leaves for garnishing
Salt to taste
TO BE GROUND TO A SMOOTH PASTE
Oil – 1 tablespoon
Coriander seeds – 1 and  1/2 tablespoons
Cumin seeds – 1 teaspoon
Chana dal – 1 teaspoon
Urad dal – 1 teaspoon
Red chillies – 3 nos
Grated coconut – 1/4 cup
HOW TO MAKE OR PREPARE CABBAGE CURRY RECIPE
Heat 1 tablespon of oil in a small pan.  Add 1 and 1/2 tablespoons of coriander seeds, 1 tsp cumin seeds, 1 tsp chana dal, 1 tsp urad dal, 3 red chillies and 1/4 cup grated coconut.  Stir fry on medium flame till the seeds turn golden brown in colour and a gives a nice aroma.
Then add 1/4 cup of grated coconut and fry for few seconds.  Switch off the flame. Let the mixture cool down completely.
Take the mixture to a mixer grinder.  Add little water and grind to a smooth paste.  Keep it aside.
Heat 2 tablespoons of oil in a small pressure cooker.  Once the oil becomes hot, add 1/2 tsp mustard seeds and allow it to splutter.  Add 1 chopped onion and saute for 2 minutes till they become translucent.
Add 2 chopped tomatoes and cook till they become soft. Then add the ground paste and little water and mix everything well.
Add 1/4 tsp turmeric powder, 1/2 tsp sambar powder and salt.  Mix everything well.  Add the soaked chana dal and mix again.
Add the chopped cabbage and mix.  Add little water and check for salt. Add if required.  Mix well.
Close the pressure cooker with its lid.  Pressure cook for 3 whistles on medium flame.  Then switch off the flame.  Once the pressure cools down, open the lid and  add chopped coriander leaves and mix.
Delicious cabbage curry or gravy is ready to be served.  Serve cabbage curry hot with steamed rice or rotis.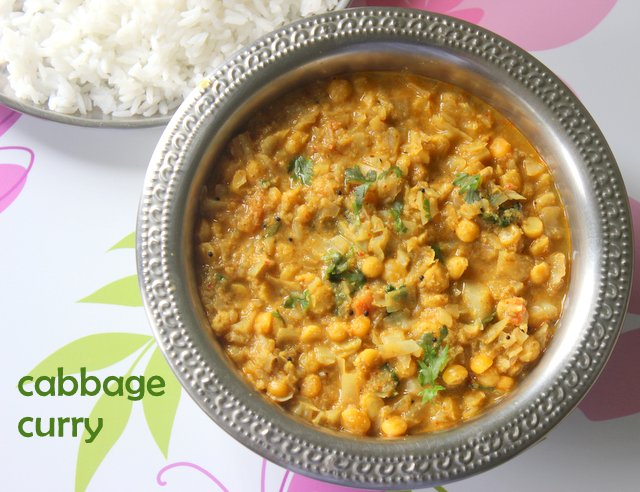 NOTES/TIPS
You can use coconut oil instead of regular oil. It gives good taste and flavour to the curry.
If you do not have sambar masala, add garam masala instead.
Add red chilli powder if you want a little more spicy flavour.
Ensure to soak the chana dal for 30 minutes before cooking the dal.