Potato rice/Aloo rice – How to make Potato rice – rice recipes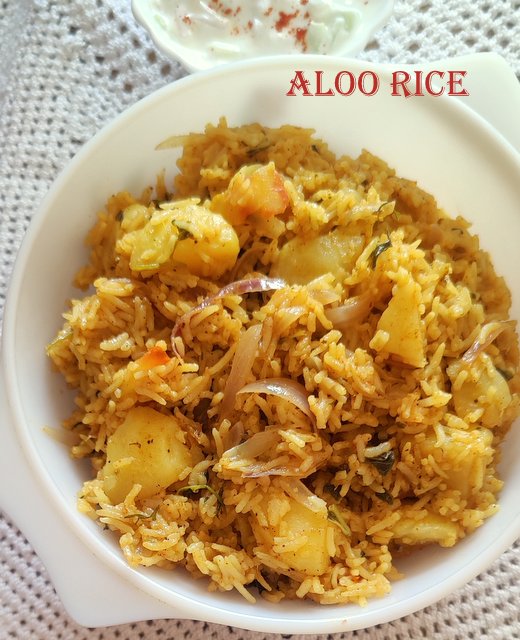 Potato rice – a very quick and delicious rice recipe made with boiled potatoes and rice.  It is best served with curd, papad or raita.  Potato rice or aloo rice is also  an ideal lunch box dish too, as this dish can be prepared instantly and in a jiffy.  You can add more vegetables along with potato to make it more nutritious.
Potato rice is very similar to any vegetable rice or vegetable masale bhath.  This rice recipe is one of those recipes which you can make when you do have any vegetables at home.  This dish can be prepared with the minimum ingredients available at home like rice, potatoes and the regular Indian spices.
This is one-pot aloo rice recipe which is not only easy to make for lunch or dinner but quick to make too. Potatoes is one such vegetable which gives taste to any dish prepared and especially goes well with rice.
Do try this simple yet nutritious recipe and enjoy!!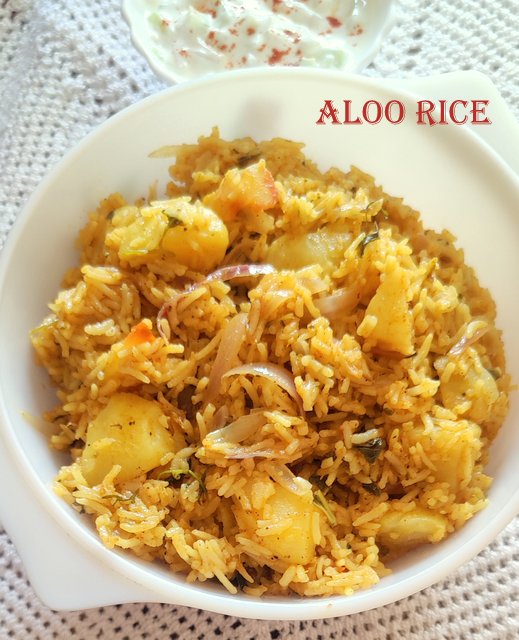 Prep Time : 20 mins
Cook Time : 20 mins
Indian cuisine
INGREDIENTS
For marination
Thick curd – 1/4 cup
Coriander powder – 1 tsp
Red chilli powder – 1/2 tsp
Turmeric powder – 1/4 tsp
Garam masala or biryani masala – 1 tsp
Kasoori methi leaves – 1 tsp
Ginger-garlic paste – 1 tsp
Chopped coriander leaves  – 2 tablespoons
Chopped mint leaves – 2 tablespoons
Other ingredients
30 mins soaked basmati rice – 1 cup
Water – 2 cups
Boiled potato – 4 nos (medium sized) (chopped into small pieces)
Oil or ghee – 2 tablespoons
Cumin seeds or jeera – 1/2 tsp
Cinnamon stick – 1 small piece
Tej patta or bay leaf – 1 no.
Star anise – 1 no.
Cloves – 3
Green chillies – 2 nos.
Green cardamom – 2 nos
Onion – 2 nos (sliced vertically)
Tomato – 1 no (sliced vertically)
Salt to taste
HOW TO MAKE POTATO RICE RECIPE
In a mixing bowl, add 1/4 cup curd, coriander powder 1 tsp, red chilli powder 1/2 tsp, turmeric powder 1/4 tsp, garam masala or biryani masala  1 tsp, kasoori methi leaves  1 tsp, ginger-garlic paste  1 tsp, chopped coriander leaves  2 tablespoons and chopped mint leaves 2 tablespoons.  Add salt accordingly.
Mix all the ingredients well.  Finally add boiled and chopped potatoes and mix well again.  Keep it aside for 20 minutes.
Rinse and soak 1 cup basmati rice for at least 30 minutes.
Heat 2 tablespoons of ghee or  in a small pan or kadai on medium flame.  Once hot, add  jeera, green chillies bay leaves,  cloves, star anise, cinnamon stick and cardamom pods.  Stir fry for half a minute till you get a nice aroma.
Add chopped onions and saute till the onion becomes translucent and slightly brown in colour.
Add chopped tomatoes and mix well.  Cook till the tomatoes become little soft.  Lastly add the marinated potato mixture and mix everything very well.
Add 2 cups of water and mix well.  Check for salt and add accordingly.  Cook on a medium flame for 5 minutes.
Once it comes to a nice boil, lower the flame and add 1 cup of soaked basmati rice and mix well.
Close the pan with its lid and cook on a low to medium flame for 20 minutes or till the rice is well cooked.  Once done, switch off the flame.  Once it is cooled down, gently fluff the rice so that it gets mixed up evenly.  Aloo or potato rice is ready to be served. Serve it with cucumber raita or onion tomato raita or papad and just plain as it is.
NOTES/TIPS
You can add more red chilli powder for that extra spiciness in the dish.
Add veggies of your choice to make it more nutritious.
The same recipe can be made with brown rice too.
Potato rice is best served hot or warm with little ghee on top and a papad or raita as a side dish.