Matki sprouts curry recipe – How to make matki usal or matki amti recipe – healthy recipes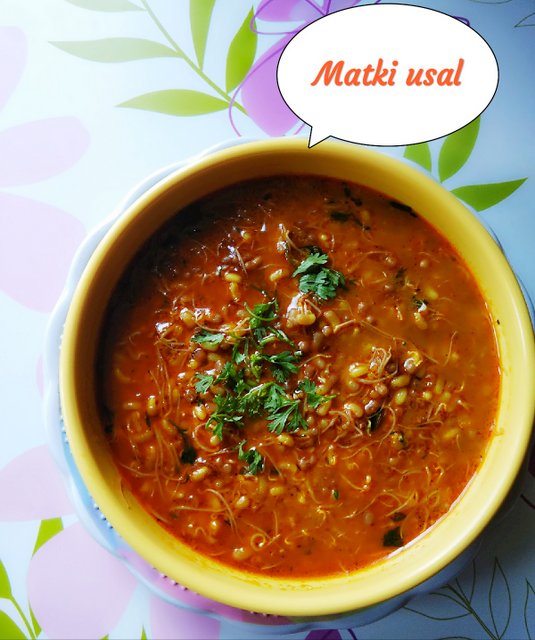 Matki sprouts curry or matcki chi usal  is a very popular  and authentic Maharashtrian dish made with sprouted moth beans or matki.  This spicy dish goes well with chapatis and steamed rice.  Only the process of sprouting the matki takes 2 to 3 days.  You can also sprout the moth beans and keep them in the fridge for upto 2 days  and use it later.  The important ingredient used in this recipe is the goda masala which adds a unique flavor to the dish.
Matki usal can be made either semi gravy or  thick gravy as per your taste.  This is a very healthy  dish, as moth beans is high in proteins and ideal for vegetarians to include in their diet.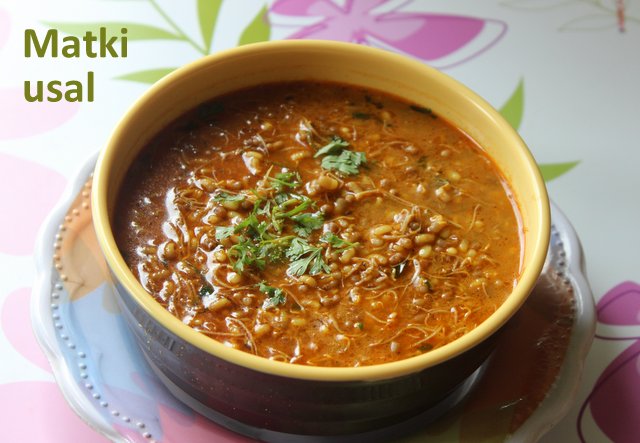 Prep Time : 10  mins
Cook Time : 20  mins
Servings :  4 persons
Maharashtrian cuisine
INGREDIENTS
Sprouted moth beans (matki) – 3 cups
Oil – 2 tablespoons
A pinch of asafetida or hing
Mustard seeds or rai – 1/2 teaspoon
Cumin seeds or jeera – 1/2 teaspoon
Turmeric powder  – 1/4 teaspoon
Red chilli powder – 1/2 teaspoon
Coriander powder – 1/2 teaspoon
Goda masala – 1/2 teaspoon
Jaggery – 2 tablespoons
Few coriander leaves for garnishing
Curry leaves 5 to 6
Salt to taste
TO BE GROUND TO A FINE PASTE
Grated coconut – 1 cup
Ginger – 1/2 inch
Tamarind – 1 teaspoon
Green chillies – 2
HOW TO MAKE OR PREPARE MATKI CHI USAL RECIPE
PREPARATION
In a mixer grinder, add the grated coconut, ginger, tamarind and green chillies.  Add little water and grind everything to a fine paste.  Keep the ground mixture aside.
Rinse the sprouted matki thoroughly under running water.  Drain the water completely and keep it aside.
METHOD
Take the sprouted matki to a small pressure cooker. Add just enough water, so that the matki is just immersed in water.  Pressure cook for 1 whistle.
Grind the grated coconut, green chillies, tamarind  and ginger with little water to a fine paste.
Once the pressure is cooled down and the matki is fully cooked, drain the water completely and keep the cooked matki aside.
Keep the ground paste aside.
Heat oil in a pan on medium flame.  Add the mustard seeds, hing, jeera and curry leaves.
Once the seeds stops spluttering, add the ground paste and mix well.  Cook on a low flame for 2 minutes.  Then add turmeric powder, red chilli powder, coriander powder, salt and goda masala.
Mix well again.  Then add the cooked matki and give a good mix.
Add little water and adjust the consistency as required by you.  Add the jaggery and mix well. Cook on a medium flame for 2-3 minutes or till the curry starts simmering.  Then switch off the flame.  Garnish with chopped coriander leaves and serve hot.
Serve matki usal or amti hot with rotis, bread or steamed rice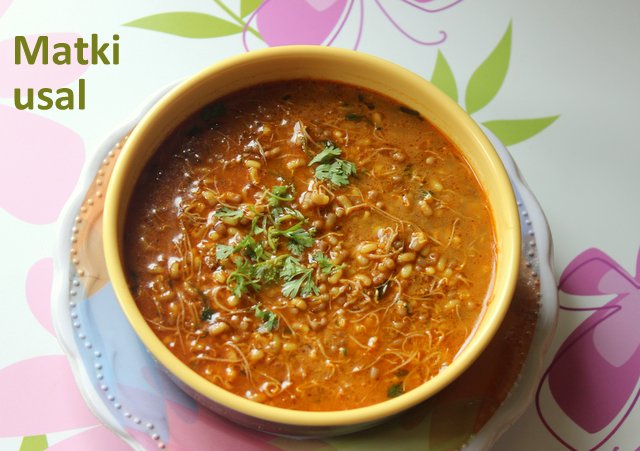 NOTES/TIPS
You can add garam masala if you do not have goda masala.
Squeeze lemon juice just before serving.
For sprouting, wash the matki and soak it for 7-8 hours or overnight.  Next day, drain the water completely.  Keep the drained matki covered in a warm dry place.  Next day, it will start sprouting.  Cover it and keep it aside for another day or two, till you see nice sprouts.  Once the matki is sprouted,  either use it immediately or keep in the refrigerator and use within 2 days.