Karela subzi recipe – How to make bittergourd curry recipe – Karela recipes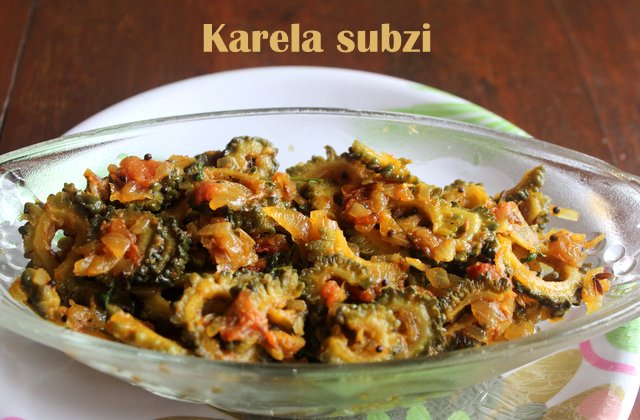 Karela subzi or bittergourd curry is a sweet, sour and spicy curry made with bittergourd, onions, tomatoes and Indian spices.  It is generally served with rotis or rice.  Karela or bittergourd vegetable is not liked by many as it is very bitter in taste.   You can add sugar or jaggery to balance the bitterness and a give a sweet taste to the dish. But it is very healthy, as it has lot of health benefits, especially for people having diabetics, as it helps to regulate blood sugar.  To remove bitterness, if you  rub salt and lemon juice to the bittergourd and let it remain for an hour, it helps to take away the bitterness.  Spices then added to it while cooking makes it all the more delicious.
Bittergourd  has a wealth of health benefits that can be derived by including it in your diet. Its most well-known benefits are the ability to help manage diabetes,  improve respiratory health, and improves skin health. It is said to strengthen the immune system and prevent and reduce symptoms of cancer too.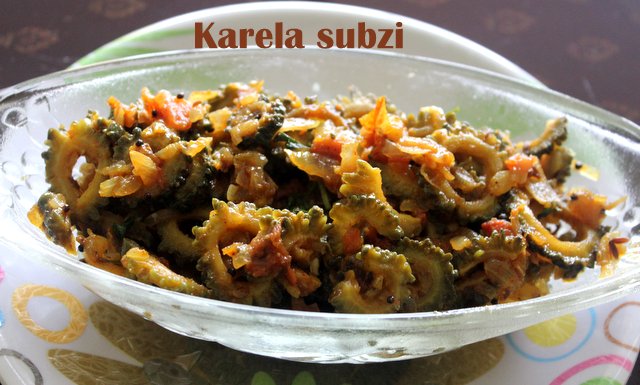 Prep Time :  15 mins
Cook Time : 20 mins
Servings : 4 persons
Indian cuisine
INGREDIENTS
Bittergourd/Karela –  3 (medium sized)
Onion – 1 – (chopped finely)
Tomatoes – 2 (chopped finely)
Turmeric powder – 1/4 teaspoon
Red chilli powder – 1/2 teaspoon
Coriander powder – 1 teaspoon
Garam masala – 1/2 teaspoon
Green chillies – 2 (chopped finely)
Ginger-garlic paste – 1 teaspoon
Sugar – 2 teaspoons
Oil – 4 tablespoons
Mustard seeds/rai – 1/2 teaspoon
Cumin seeds/jeera – 1/2 teaspoon
Salt to taste
HOW TO MAKE OR PREPARE KARELA SUBZI RECIPE
Wash and slice the bittergourd to round pieces and remove the seeds.  Add 3 teaspoons of salt and rub the bittergourd.  Keep it aside for half an hour.
After 30 minutes, add some water and soak the bittergourd for another 15 minutes.  Then drain the water completely and wash with fresh water again.  Then keep the drained bittergourd  slices separately.
Heat oil in a pan on medium flame.  Add mustard seeds and cumin seeds and allow them to splutter.  Then add green chillies and  chopped onions and saute on medium flame.
Add ginger-garlic paste and cook till the raw smell of the ginger-garlic goes away.
Add chopped tomatoes and cook till the tomatoes become little soft.
Add turmeric powder, red chilli powder, coriander powder, salt and garam masala.  Mix well.  Cook for 2 minutes on a low flame.
Add the bittergourd slices and mix well.  Saute for 5 minutes.
Cover the pan with its lid and cook on a low flame for 5 minutes or till the bittergourd slices are well cooked.  Add sugar and mix well.
Lastly garnish with chopped coriander leaves.  Enjoy bittergourd curry with rotis or hot steamed rice.
NOTES/TIPS
Soak the bittergourd slices in salt water to avoid bitterness.
Ensure to remove the seeds from the bittergourd slices to reduce the bitterness.
Adjust the sweetness by adding more or less sugar.
Squeeze the water thoroughly from the bittergourd slices before making the subzi.