Cauliflower pepper fry recipe – How to make Gobi pepper fry recipe – side dish for rotis/rice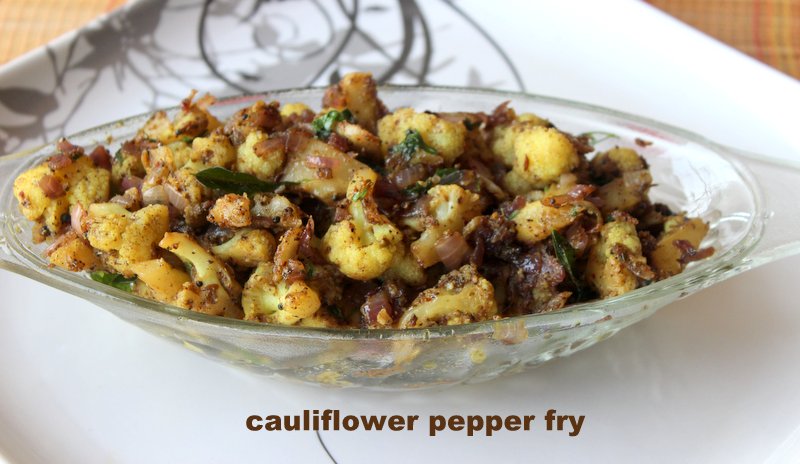 Cauliflower pepper fry is a very delicious and flavourful dish made with cauliflower, peppercorns and other spices. This is a semi dry dish that goes well with rotis as well as rice.  This dish is a simple South Indian stir fry recipe which can be prepared in less time.  Other spices like fennel seeds, cumin seeds, cloves and cinnamon are added alongwith peppercorns which are not only good for health but also gives a good flavour to the vegetable. 
Cauliflower is high in Vitamin C, dietary fibre and a rich source of antioxidants.  Also cauliflower is a low calorie vegetable.  It is an excellent source of vitamins and minerals that you need.  Cauliflower contains a high amount of fibre which is important for digestive health and reduce the risk of several chronic diseases.  This vegetable is available in plenty especially in winter season.
Do try this simple version of Cauliflower pepper fry recipe and get its health benefits !!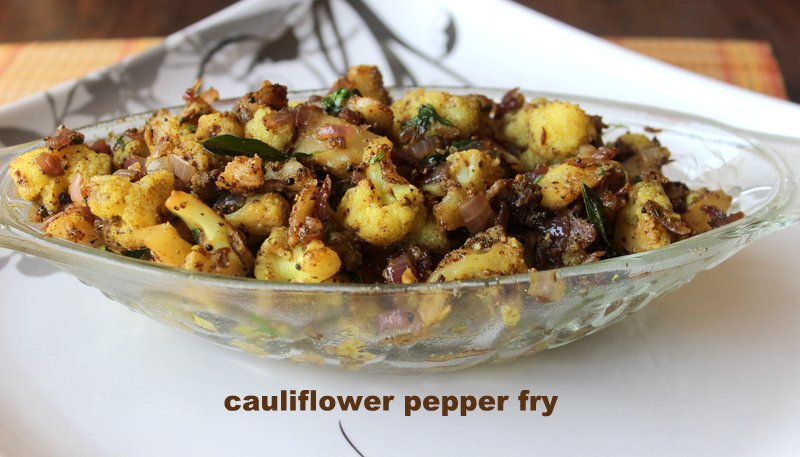 Prep Time : 20 mins
Cook Time : 20 mins
Servings – 3 to 4 persons
South Indian cuisine
INGREDIENTS
Cauliflower florets – 200 gms (chopped into small florets)
Onion – 1 (medium sized) (chopped finely)
Turmeric powder – 1/4 tsp
Mustard seeds (rai) – 1/2 tsp
Cumin seeds (jeera) – 1/2 tsp
Few curry leaves
Ginger garlic paste – 1 tsp
Oil – 2 tablespoons
Chopped coriander leaves for garnishing
Salt to taste
TO BE GROUND TO A FINE DRY POWDER
Coriander seeds – 1/2 tsp
Black pepper seeds – 1 tsp
Cumin seeds – 1/2 tsp
Whole red chilly – 1 no.
Fennel seeds/saunf – 1/2 tsp
Cinnamon stick – 1 no
Cloves – 2
VIDEO RECIPE LINK :
HOW TO MAKE OR PREPARE CAULIFLOWER PEPPER FRY RECIPE
Heat enough water in a vessel on medium flame.  Once it comes to a nice boil, add 1/4 tsp of turmeric powder and 1/2 tsp of salt into it.
Then add 200 gms of cauliflower florets to the boiling water.  Cover the vessel with a lid and lower the flame.  Cook on a low flame for 5 minutes.  Then switch off the flame and let the cauliflower florets remain undisturbed  for 10-15 minutes. (this step will help remove worms from the florets, if any).  After 15 minutes, drain the water completely and keep the boiled cauliflower florets aside.
Meanwhile heat a pan on medium flame.  Add 1 tsp of black pepper seeds, 1/2 tsp of coriander seeds, 1/2 tsp of cumin seeds, 1/2 tsp of fennel seeds, 2 cloves, 1 small cinnamon stick and 1 red chilly.  Saute on low to medium flame for 2 minutes till you get a nice aroma.  Then switch off the flame.  Once cooled down, transfer these ingredients to a mixer grinder.
Grind to a fine powder and keep it aside.  To the same pan, heat 2 tablespoons of oil on medium flame.  Add mustard seeds and cumin seeds.  Once the seeds stop spluttering add few curry leaves and chopped onion.  Cook on a low flame till the onions become translucent in colour.
Then add 1 tsp of ginger-garlic paste.  Mix well and cook till the raw smell of the ginger garlic goes away.
Then add the boiled cauliflower florets and give a good mix.  Add salt accordingly and close the pan with its lid. Cook on a low flame for 5-6 minutes.
Add the ground dry powder to the vegetable and mix well.  Keep the flame to low.
Close the pan and cook for another 5 minutes on low flame. This will help the vegetable to absorb the ground pepper and other spices powder.   Then switch off the flame and garnish with chopped coriander leaves.
Serve cauliflower pepper fry along with steamed rice, sambar or with rotis and phulkas.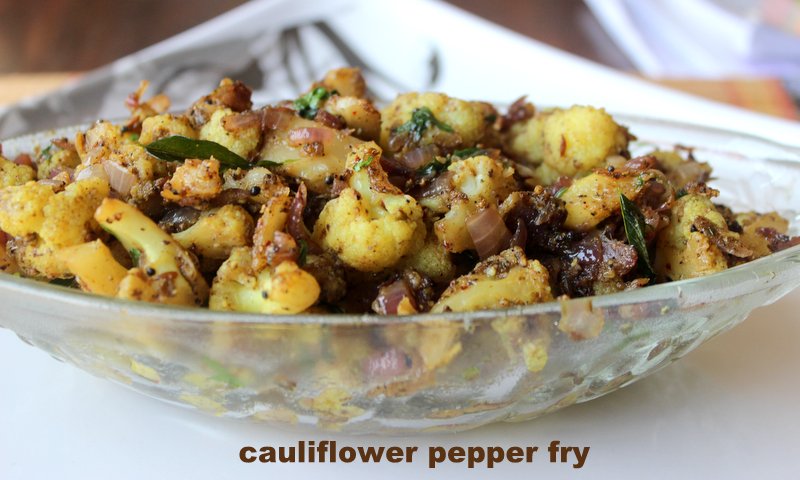 NOTES/TIPS
Do not overcook the cauliflower, else they become very mushy.  Cook the vegetable till they are crunchy.
Use freshy ground pepper and other spices to give a good flavour to the dish.
Ensure to soak the cauliflower florets in hot water to get rid of any worms or dirt, if any.
Adjust the spice level according to your taste and preference.
Chop the cauliflower florets into small and equal sized pieces.  This will ensure even cooking and also small florets  get cooked fast.  Larger florets takes a longer time to cook.