Methi matar malai recipe – How to make methi matar malai recipe – winter recipes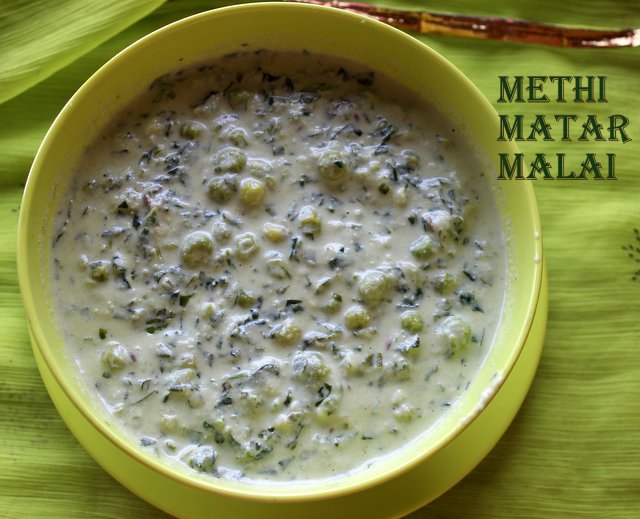 Methi matar malai (fenugreek leaves and green peas curry) is a rich popular North Indian dish made from fenugreek leaves, green peas and fresh milk cream.  It is best served with rotis and naans.  This dish has a more creamier texture and slightly sweet taste, without adding much spices to  it.  Green chillies are added to give a little spiciness to the dish. The bitterness in methi leaves is balanced by adding fresh cream and sweet green peas.  You can also add little milk to make it more creamier. Methi matar malai is a winter dish as fresh fenugreek leaves are available in plenty during this season.
Methi leaves or fenugreek leaves has lot of health benefits but has a light bitter taste.  They are rich in iron and helps in reducing cholesterol, lowers the risk of heart disease and improves digestion.  
Methi leaves are widely used in Indian cuisine as it gives a distinct flavor and gives good taste if prepared with mild spices.  They can be used in different ways in our Indian kitchen.  They are not only easy to prepare but delicious too.  It is good to include methi leaves in our diet when they are in season and available in plenty, especially during winter season.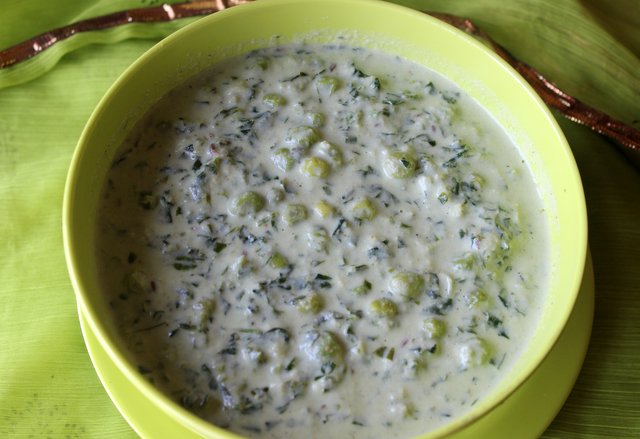 Prep Time : 15 mins
Cook Time : 20 mins
Servings : 4 persons
North Indian cuisine
INGREDIENTS
Chopped fenugreek (methi) leaves – 2 cups
Green peas (matar) – 1 cup
Fresh cream – 1/2 cup
Garam masala – 1/2 tsp (optional)
Cumin seeds – 1/2 tsp
Sugar – 1 tsp
Ghee or oil – 2 tablespoons
Salt to taste
TO BE GROUND TO A FINE PASTE
Onions – 2 (medium sized chopped roughly)
Garlic cloves – 7
Ginger piece – 1 inch (chopped roughly)
Green chillies – 2 nos.
Cashewnuts – 1/4 cup
HOW TO MAKE OR PREPARE METHI MATAR MALAI RECIPE
PREPARATION
Boil the green peas with enough water till cooked.  Once cooled down, drain the water completely and keep it aside.
Separate the methi leaves from their stem and rinse thoroughly with water.  Then chop  them finely and keep it aside.
METHOD
Heat 1 tablespoon of ghee or oil in a pan on medium flame.  Add 2 roughly chopped onions, 7 garlic cloves, 1 inch ginger piece, 2 green chillies and 1/4 cup cashewnuts.    Saute for  2 minutes till the onions become translucent and cashewnuts becomes slightly soft.  Switch off the flame.
Once the mixture cools down, transfer to a mixer grinder.  Grind to a smooth paste by adding little water.  Keep the ground paste aside.
Heat 1 tablespoon of ghee in the same pan.  Add 1/2 tsp cumin seeds and saute for few seconds.  Then add the ground paste and saute for few minutes till the raw smell goes away.
Add little water  if required and give a good mix.  You can also add milk instead of water.
Add chopped methi leaves and mix well.  Cook on a low flame for another 2 minutes.
Then add 1 cup boiled green peas and 1/2 cup fresh cream.  Give a good mix.  Add 1/2 tsp garam masala and mix well.
Cover and simmer on a low flame for 4-5 minutes.  Then switch off the flame.
Delicious methi matar malai is ready to be served.  Serve hot with rotis or naan.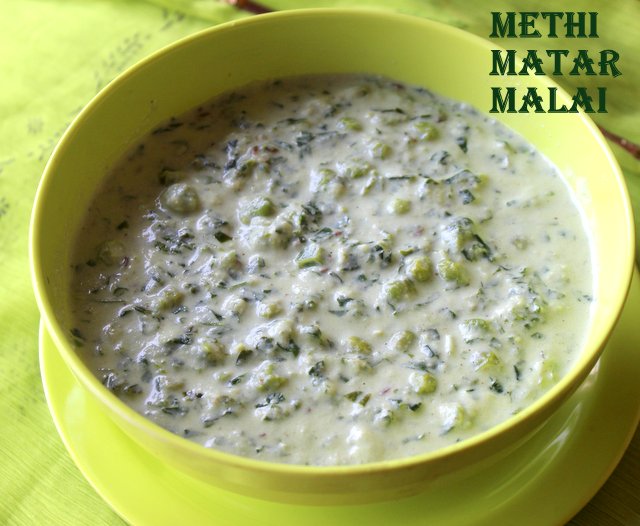 NOTES /TIPS
You can use frozen peas if you do not have fresh green peas.
Adjust fresh cream according to your preference.   You can use home made cream also for this recipe, instead of readymade cream.
You can add little red chilli powder for more spiciness to the dish.
Ensure to chop the methi leaves finely, so that it is cooked uniformly.