Chow chow mor kuzhambu or chow chow curry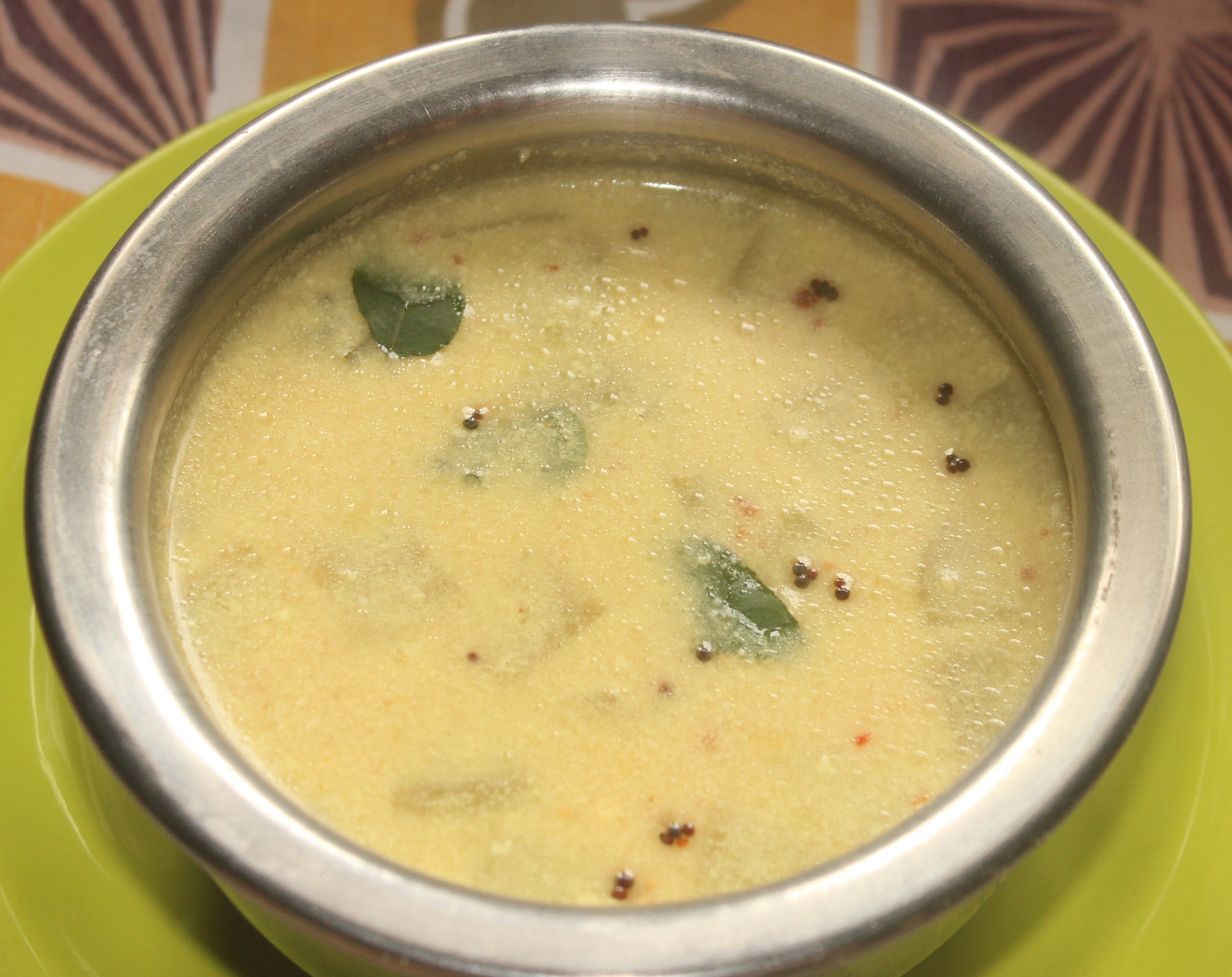 Chayote or Chow chow vegetable is very popular in South Indian cuisine.  It is also called as Bangalore brinjal and is used in vegetable stews. It is called as chow chow in Tamilnadu. Chow chow curry is made with sour curd and chow chow.  A tangy curry that goes well with rice.
Ingredients
Chow chow - 1 medium (chopped into small cubes) approx 1 cup
Curd - 3 cups (whisked)
Turmeric powder - 1/4 teaspoon
Salt to taste
TO GRIND
Grated coconut - 1/2 cup
Garlic cloves - 7 to 8
Cumin (jeera) seeds - 1 teaspoon
Whole pepper seeds - 10
Whole red chillies - 4
Curd - 2 tablespoons
Bengalgram/chana dal - 2 tablespoons
FOR SEASONING
Cooking oil - 1 teaspoon
Mustard seeds - 1/2 teaspoon
1 string of curry leaves
Method
Step 1
HOW TO MAKE CHOW CHOW MOR KUZHAMBU OR CHOW CHOW CURRY Soak chana dal for half an hour to 45 minutes. Grind soaked chanadal, grated coconut, garlic cloves, cumin seeds, pepper seeds, red chillies and curd with little water to a soft paste. Keep aside
Step 2
In a vessel, boil chow chow pieces with enough water and turmeric powder added to it. Boil till well cooked. Set aside.
Step 3
Heat oil in a pan. Add mustard seeds. Once the seeds stops spluttering add curry leaves, boiled chow chow vegetable, ground curd mixture, salt and 3 cups of curd. Mix well.
Step 4
Simmer the curry on a low flame for 8 to 10 minutes or till the curry becomes frothy. Remove from flame.
Step 5
Serve chow chow mor kuzhambu with hot rice.
Step 6
NOTE : You can add any other vegetable like white pumpkin, ladies finger, drumstick to make this curry. Boil the chow chow curry on a low flame. Switch off the flame once the first bubbles start appearing. Do not overboil the curry.