Masala tea powder recipe – How to make masala tea powder or homemade Indian chai masala recipe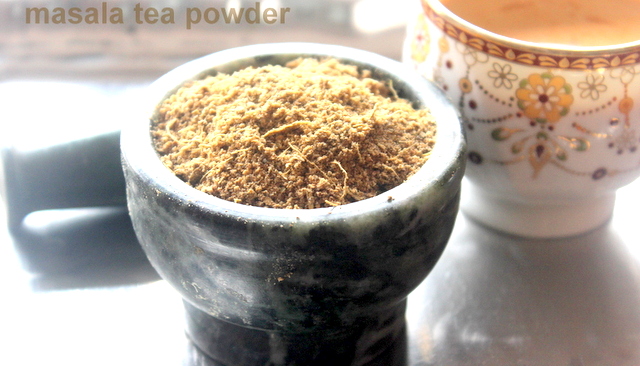 Masala tea is the most flavoured tea which is prepared with a mix of spices – ginger, cardamoms, cloves, cinnamon and cloves.  It is also the most popular among all teas.  The version of making this tea is to ground the tea masala powder and store it in an airtight container and use it as and when required.  Masala tea is also a very healthy tea, as each spice added to it, has its own health benefits.  It also revitalizes the body and removes the fatigue.
It is a blend of whole spices which gives a nice and unique flavour to the regular tea.  It is a flavourful and aromatic tea powder which is quick, easy and simple to make it.   You can freshly make it in small quantities as fresh masala tastes flavourful. Each ingredient used in this masala tea powder recipe has its own health  benefits and is best used during the rainy season to keep all the infections and viruses away from attacking your body.
Each ingredient used in this recipe has its own health benefits :
Cinnamon (Dalchini) – Cinnamon has a lot of medicinal properties as it helps control blood sugar in diabetic people.
Cloves – They help your body to fight free radicals and helps improve liver health.
Black Peppercorns or kali mirch – They are also known for the anti-inflammatory properties.
Green Cardamom – It gives a nice aroma to the tea and it has antioxidants.
Dried Ginger Powder –  Dry Ginger helps improving immunity and reduces inflammation in the body. It also has digestive properties.
Nutmeg – Nutmeg or jaiphal has strong antibacterial properties and helps boost the immune system. It is rich in dietary fibre and keeps the digestive system healthy.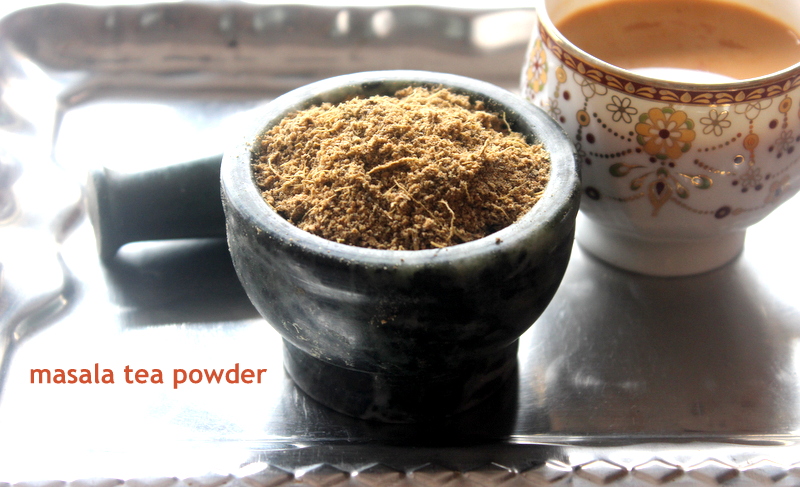 Prep Time : 5 minutes
Cooking Time : 5 minutes
Indian cuisine
INGREDIENTS
Green cardamoms or elaichi – 4 tablespoons or 1/4 cup
Dry ginger powder – 4 tablespoons or 1/4 cup
Cloves – 2 tablespoons
Black peppercorns – 2 tablespoons
Cinnamon or dalchini – 2 small sticks
Nutmeg – 1 tsp grated or powdered
HOW TO MAKE OR PREPARE MASALA TEA RECIPE
Keep all the ingredients ready in  a plate.  Heat a pan on low flame.  Add 4 tablespoon green cardamoms,  2 tablespoon cloves, 2 tablespoon black peppercorns and 2 small cinnamon sticks.
Dry roast on a low to medium flame for 2-3 minutes till you get a nice aroma.  Then switch off the flame.  Transfer the ingredients to a place and let it cool down completely.
Once cooled down, grind the ingredients to a coarse powder.  You need not make it a fine powder.
Now add 4 tablespoons dry ginger powder and 1 tsp nutmeg powder to ground powder and grind it once again.
Masala tea powder or chai masala is now ready.  Store it in an airtight container and use it as and when required.  When making masala tea, take 1 cup of water, 1/2 tsp of tea powder, 1/4 tsp of masala tea powder and give it a nice boil.
Then add milk and sugar accordingly and your masala tea is ready to be served.  Drink this healthy masala tea as it is or with snacks.
Enjoy this easy homemade chai masala to make your everyday tea!!
NOTES/TIPS
Masala tea powder remains good for 2-3 months when stored in an airtight container.
Ensure to dry roast the spices for a longer shelf life of the masala tea powder.
Always grind the roasted ingredients to a coarse powder as it may  get strained with the sieve.  Fine powder may not get strained and will mix up with the tea.
You can also add few tulsi leaves to this tea to enhance the health benefits.