Palak paratha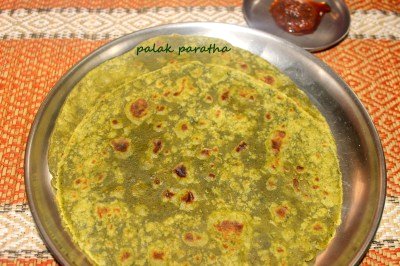 Palak paratha is a very healthy and nutritious dish made with spinach, wheat flour and mild spices. It is a good option for breakfast as palak or spinach has lot of fibre and other essential vitamins and minerals. Spinach leaves are pureed and mixed with wheat flour which gives a lovely green colour to the parathas. Palak paratha is best served with thick curd or tomato pickle or any pickle of your choice.
Ingredients
Whole wheat flour - 2 cups
Spinach leaves - 1 medium bunch (approx 250 gms)
Coriander powder - 1 teaspoon
Garlic cloves -5
Cumin powder - 1/2 teaspoon
Garam masala powder - 1/2 teaspoon
Green chillies - 3-4
Ajwain or carom seeds - 1/2 teaspoon
Salt to taste
Method
Step 1
HOW TO MAKE PALAK PARATHA RECIPE Separate or chop the stem from the palak leaves. Wash the palak leaves thoroughly. Add some salt to water and boil palak leaves for a couple of minutes. Drain the hot water from the leaves. Put them in cold water for some time. Remove the excess water and keep the palak leaves aside. Blanching the palak leaves in this manner helps to retain the green colour to any palak dish and also enhances the flavor and aroma.
Step 2
Grind the blanched palak leaves, green chillies, garlic cloves, coriander powder, cumin powder, garam masala powder and salt to a soft paste.
Step 3
In a mixing bowl, add wheat flour, ground palak mixture and ajwain seeds and mix well.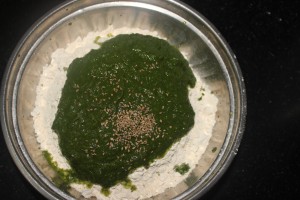 Step 4
Knead the mixture to form a soft and smooth dough. Add more wheat flour if the dough is too soft.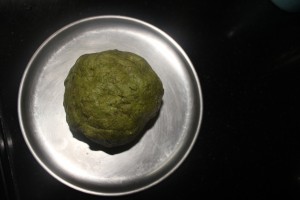 Step 5
Keep the dough aside for 10-15 minutes. Divide the dough into small equal sized smooth balls without any cracks.
Step 6
Roll each ball into a small circle using wheat flour for dusting.
Step 7
Heat a flat pan or tawa on a medium flame. Transfer the paratha to the hot tawa and cook for a minute. Flip on the other side and apply little oil or ghee. Flip again and apply oil on the other side of the paratha too. Cook evenly on both the sides till golden brown.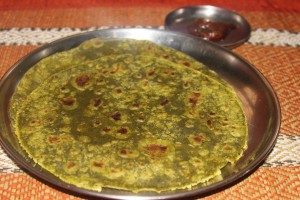 Step 8
Transfer palak paratha to a serving plate and serve hot with thick curds or tomato pickle.