Malai ladoo or paneer ladoo recipe – diwali sweet recipe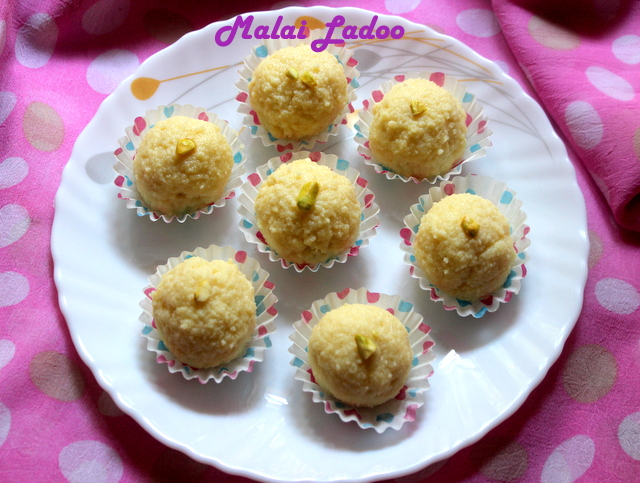 Malai ladoo or paneer ladoo is a festive delight made with just 2 ingredients – paneer and condensed milk and flavoured with rose essence.  Malai ladoo is very popular in North India and very similar to sandesh sweet. I have tried the recipe of milkmaid ladoo recipe where they have used kewra essence.  But I had rose essence which I added to the mixture and the taste was amazing.  You can add the essence of your choice like kewra or saffron or cardamom powder.  This recipe is one of the easiest and yummiest sweet, which you can try this diwali season and treat your family with this delicious sweet.
For more diwali ladoo recipes, try these links in my blog..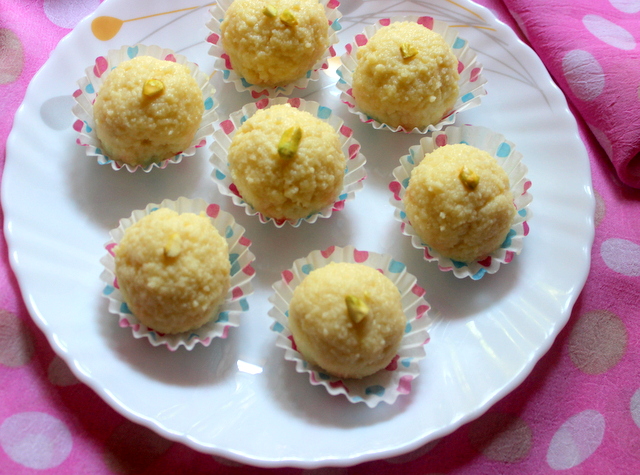 Prep Time : 10  mins
Cook Time : 15  mins
Yield:  10 ladoos
INGREDIENTS
Paneer or cottage cheese – 200 gms
Condensed milk/Milkmaid – 100 gms
Rose essence – 2-3 drops
Chopped pistachios for garnishing
HOW TO MAKE OR PREPARE MALAI OR PANEER LADOO RECIPE
Crumble the paneer nicely.  Then mash the paneer with the palm of hand till it becomes soft and smooth.
Heat a non-stick pan or kadai on low heat.  Add the mashed paneer and condensed milk and mix well.  Keep stirring the mixture continuously till the mixture thickens and leaves the sides of the pan.  Add rose essence and mix well.  Switch off the flame.
Pour this mixture in a separate plate.  Once the mixture cools down, make ladoos of desired size. Garnish with chopped pistachios and serve.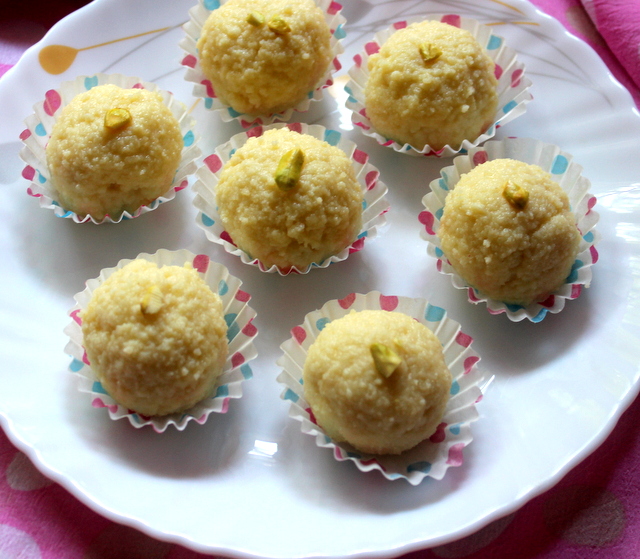 NOTES/TIPS
You can also blend the paneer in a mixie for getting smooth paneer.
Ladoo is mildly sweetened.  If you want more sweeter, you can add little more condensed milk.
Malai ladoo when refrigerated stays good for 4-5 days.