Pomegranate raita recipe – How to make pomegranate raita recipe – raita recipes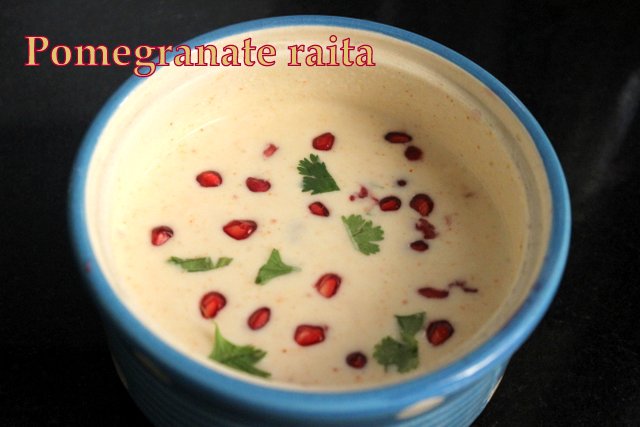 Pomegranate raita is a sweet fruity raita made with yoghurt and pomegranate.  It is very easy and simple to make this raita. If you want a salty version, you can skip sugar.  Pomegranate raita is a different raita recipe as it makes use of the pomegranate fruit.  Pomegranate is a great source of antioxidants and vitamin A, C and  E and minerals such as calcium, potassium and iron. Do try this delicious pomegranate raita this summer for the wonderful benefits of pomegranate.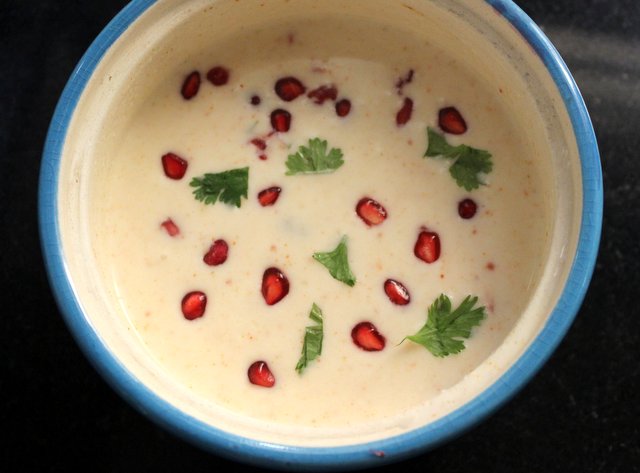 Prep Time : 15 mins
Servings : 2 to 3  persons
Indian cuisine
INGREDIENTS
Yoghurt/curd – 2 cups
Pomegranate arils (anardana)  – 1 cup
Red chilli powder – 1/2 teaspoon
Roasted cumin (jeera) powder – 1/2 teaspoon
Chaat masala powder – 1/4 teaspoon (optional)
Sugar – 1/4 teaspoon
Salt to taste
Few chopped coriander leaves  for garnishing
HOW TO MAKE OR PREPARE POMEGRANATE RAITA RECIPE
Whisk the curd till it becomes smooth.  Add the pomegranate arils, cumin powder, chaat masala powder, sugar, red chilli powder and salt.  Mix well.
Transfer the raita to a serving bowl.  Garnish with chopped coriander leaves and serve chilled.
Serve pomegranate raita as a side dish for jeera rice, vegetable biryani or pulao.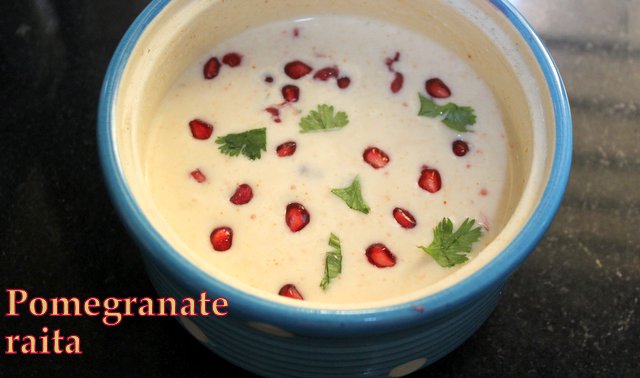 NOTES/TIPS
Serve the raita chilled.  You can add chopped onions and green chillies too for a more spicy flavour.
If you wish, you can add little chopped cucumber too for an enhanced flavour.