Spinach rice in coconut milk – How to make Healthy Spinach Rice (Palak rice) recipe – palak recipes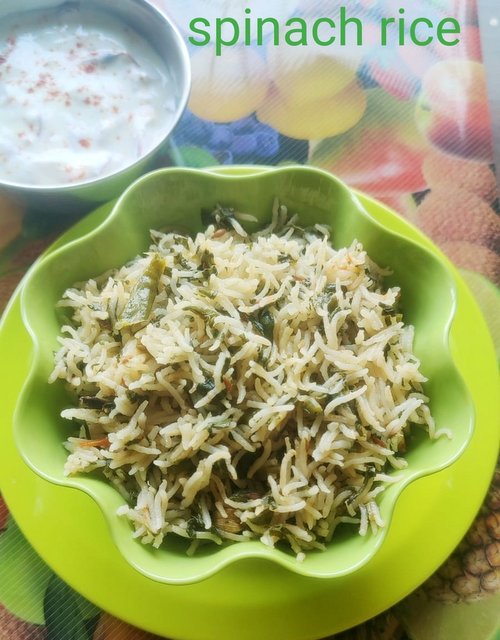 Spinach rice –  this is a quick and very delicious one pot recipe made with rice, spinach, coconut milk and spices.  I have used basmati rice in this recipe, is it gives a nice aromatic flavour to the dish.  But you can use normal rice or regular brown rice for making this rice recipe.  Coconut milk gives a nice unique taste and richness  to the dish.  Spinach or palak leaves has a lot of heath benefits.  Hence this is a good way to add greens to your diet.
This is a simple yet delicious rice recipe with a lot of  nutritional benefits.  It is also a healthy option for lunch or dinner.  Spinach goes well with raita, papads or pickles.  Do try this healthy version of rice recipe and enjoy!!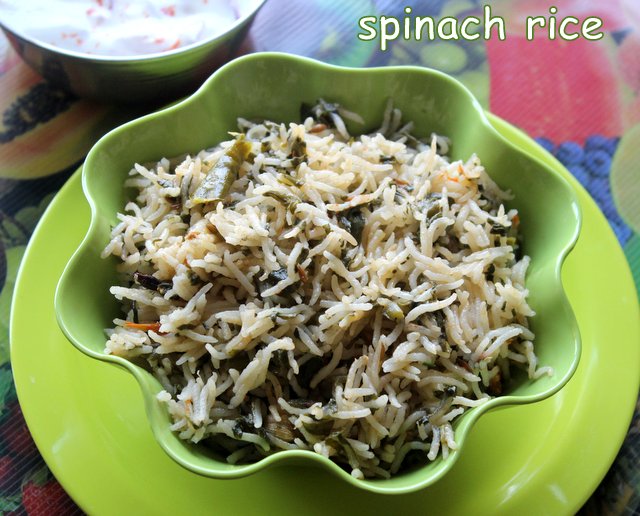 Prep Time : 20 mins
Cook Time : 10 mins
South Indian cuisine
INGREDIENTS
Spinach or palak leaves – 1 bunch or 3 cups chopped spinach leaves
Basmati rice – 1 cup (30 mins soaked)
Coconut milk – 1 cup
Onion – 1 (chopped finely)
Tomato – 1 (chopped finely)
Ghee – 2 tablespoons
Cumin seeds – 1/2 tsp
Green chillies – 2 nos
Ginger-garlic paste – 1 tsp
Black cloves – 2 nos
Cardamom – 2 nos
Dalchini or cinnamon stick – 1 small
Salt to taste
HOW TO MAKE OR PREPARE SPINACH RICE RECIPE
PREPARATION
Wash the basmati rice thoroughly and soak the rice in enough water for half an hour.
METHOD
Heat 2 tablespoons of oil or ghee on medium flame in a small pressure cooker.   Add cumin seeds, ginger-garlic paste, cardamom pods, cinnamon stick and cloves.  Stir fry for a minute till you get a nice aroma.  Then add 1 chopped onion and 2 green chillies.  Saute till the onions become translucent.
Then add chopped tomatoes.  Saute for 2-3 minutes till the tomatoes become slightly mushy.  Then add  3 cups of chopped spinach leaves and mix well.
Then add 1 cup of soaked basmati rice and give a good mix.  Add 1 cup of coconut milk and 1 cup of water.
Add salt accordingly and mix well.  Pressure cook for upto 3 whistles on medium flame.  Once  the pressure is cooled down, switch off the flame.
Let the pressure come down naturally.  Then open the lid and gently fluff the rice.  Serve nutritious and flavourful spinach rice  hot or warm with plain yoghurt, raita or papad.
NOTES/TIPS
Use ghee for making this spinach rice.
You can cook this spinach rice in open pan or instant pot too.  But making it in a pressure cooker saves a lot of time and fuel.
It is better to use fresh spinach leaves as it gives good taste as well as nutrition.
In this recipe, you can also add green peas or potatoes or carrots to make it more nutritious.
Add chopped nuts like almonds, cashewnuts or raisins to enhance the taste of the pulao.