Vegetable upma or khara bhath recipe or uppittu recipe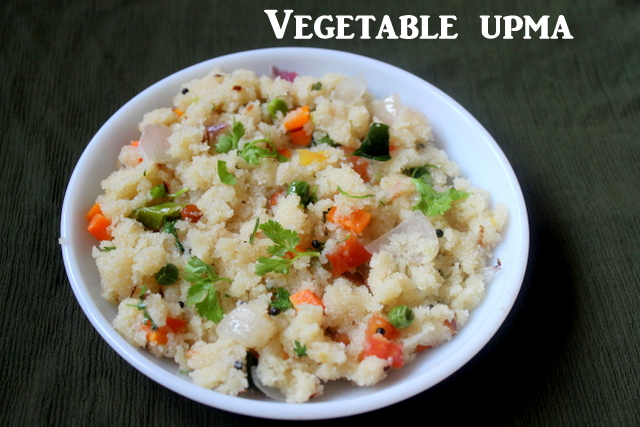 Uppittu or upma is a very common and popular South Indian breakfast dish.  Vegetable upma is prepared by dry roasting semolina and seasoned with spices and vegetables.  It is served with coconut chutney or sambar.  Vegetables like, carrot, peas, cabbage, tomatoes, onion are added to make it more nutritious and enhance its taste.  Rava is a low fat and high fibre food which can be included in our daily diet. Vegetable upma is a very healthy and delicious breakfast option and very easy to make too.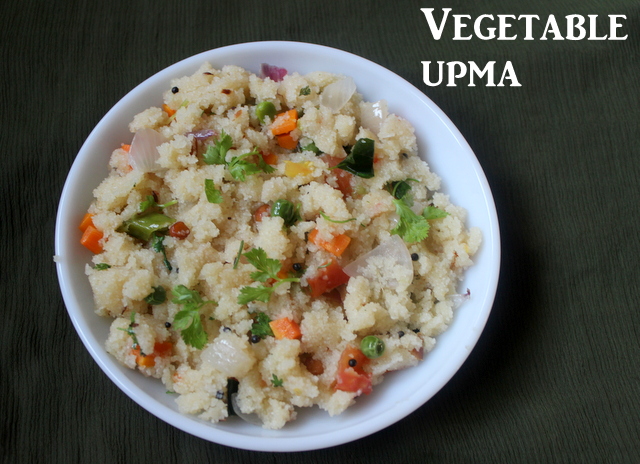 Ingredients
Semolina/rava - 1 cup
Oil - 3 tablespoons
Mustard seeds - 1/2 teaspoon
Urad dal - 1/2 teaspoon
Chana dal - 1/2 teaspoon
Onion -1 (chopped finely)
Grated ginger - 1/2 teaspoon
Green chillies - 2 (chopped finely)
Curry leaves - 8
Carrot - 1 (chopped into small pieces)
Green peas - 1/4 cup
Tomato - 1 (chopped finely)
Water - 2 1/2 to 3 cups
Salt to taste
Grated coconut - 2 tablespoons
Lemon juice to taste
Few coriander leaves for garnishing
Method
Step 1
HOW TO MAKE UPPITTU OR VEGETABLE UPMA Dry roast the rava without any oil until the rava becomes light brown and till the aroma exudes. Keep the roasted rava aside.
Step 2
Heat oil in the same pan. Once hot, add mustard seeds. Once the seeds start spluttering, add urad dal and chana dal. Stir fry dals till golden brown.
Step 3
Add chopped green chillies, grated ginger, onions and curry leaves and fry till the onions become translucent.
Step 4
Add chopped carrot, peas and keep frying for 2 to 3 minutes.
Step 5
Then add chopped tomatoes and fry for a minute.
Step 6
Add 21/2 to 3 cups of water and salt and close the pan. Cook on a medium flame till the vegetables are fully cooked.
Step 7
Lower the flame and add roasted rava to the boiling water and stir well continuously till the vegetables are well mixed with rava. Cook for another 5 minutes and ensure no lumps are formed.
Step 8
Cook on a low flame till all the water is fully absorbed by stirring in between.
Step 9
Once water is fully absorbed and rava is fully cooked, switch off the flame.
Step 10
Add grated coconut and lemon juice.
Step 11
Garnish with chopped coriander leaves.
Step 12
Serve uppittu or khara bath hot with coconut chutney or sambar.
Step 13
NOTES : You can add vegetables of your choice like potato, french beans, grated cabbage to make it even more healthier and nutritious. You can add little ghee too to make it more tastier. Vegetable upma can be had as a light evening meal