South indian coconut rice or thengai sadam recipe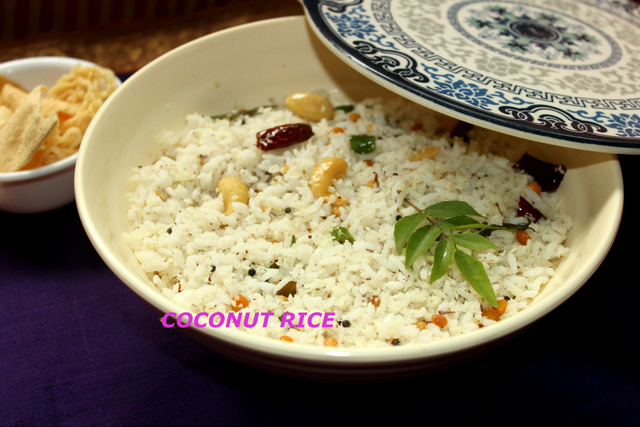 Coconut  rice or thengai sadam is very popular in South India.  It is made with freshly grated coconut, rice and spiced with cashew nuts, red chillies and curry leaves.  Coconut rice is very easy  to prepare, less spicy and can be done quickly.  It can be had plain or served with papads or any curry of your choice.
If you are looking for more rice dishes, you can try these rice dishes
http://charuscuisine.com/category/rice-dishes/
Ingredients
Steamed or cooked rice - 2 cups
Freshly grated coconut - 1 cup
Coconut oil - 2 tablespoons
Mustard seeds - 1/2 teaspoon
Urad dal - 1 teaspoon
Chana/bengal gram dal - 1 teaspoon
A pinch of asafoetida
Cashew nuts - 1 tablespoon
A string of curry leaves
Green chillies - 2 nos (chopped finely)
Red chillies - 2 nos (broken into 2 or 3 pieces)
Salt to taste
Method
Step 1
Cook the rice and spread over the wide plate to cool down. This helps the rice to be fluffy and separate and not too mushy.
Step 2
Heat coconut oil in a pan on a medium flame. Add mustard seeds and allow it to splutter. Once the mustard seeds stops spluttering, add asafoetida, urad dal, chana dal and cashew nuts.
Step 3
When the dals turn light brown in colour, add green chillies, red chillies and curry leaves and stir fry for a minute on low flame.
Step 4
Add grated coconut and stir fry for few minutes. Add salt and mix well.
Step 5
Add cooked rice and mix well till the rice gets warm. Switch off the flame.
Step 6
Garnish with curry leaves and serve coconut rice hot with papads or any curry of your choice.
Step 7
NOTE : You can use any cooking oil to prepare coconut rice, but coconut oil gives a good and nice flavor to the rice. You can add peanuts too instead of cashew nuts.