Avial recipe or aviyal recipe – How to make avial recipe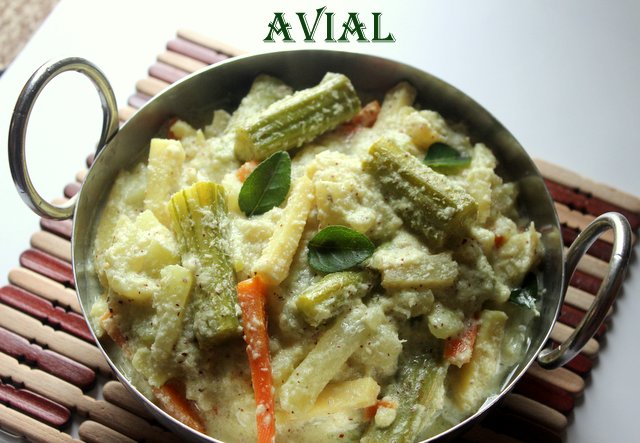 Avial or aviyal is an important dish which has been originated from the State of Kerala, the God's own country.  Aviyal is an excellent option for veg lovers.  It is a thick mixture of vegetables and fresh coconut seasoned with coconut oil and curry leaves.  Avial is considered as an essential part of the Sadya.
The vegetables generally and traditionally  used are raw banana, elephant yam, pumpkin, carrots, beans, drumsticks, cucumber and snake gourd.  Aviyal can be made  into a gravy or semi-gravy side dish and is best served with steamed rice.  The word 'avial' also means 'boiled' or 'cooked in water.'
It is supposed to have been invented by Bhima (one of the Pandava brothers) during their exile. According to the legend, when Ballav (Bhima's name during this time) assumed his duties as the cook in the kitchen of Virata, he did not know how to cook. One of the first things he did was to chop up many different vegetables, boil them together and top the dish with grated coconut. Bheema is said to have prepared Avial, when there were unexpected guests for King Virata and he needed to serve meals for them. There were no sufficient vegetables to cook any single recipe for a side dish, so Bheema used whatever available vegetables to make a new dish, which came to be known as Avial. (info – courtesy Wikipedia)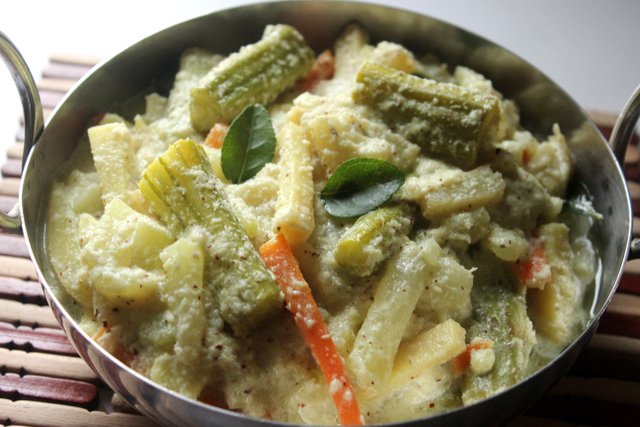 Prep Time : 20  mins
Cook Time :  25 mins
Servings : 4 persons
South Indian cuisine
INGREDIENTS
VEGETABLES FOR AVIAL
Drumsticks (moringa pods) – 1 cup
Elephant foot yam (suran) – 1 cup
Carrots – 1 cup
White pumpkin (ashgourd) – 1 cup
Raw unripe banana (plaintain) – 1 cup
FOR COCONUT PASTE
Freshly grated coconut – 1 cup
Green chillies – 2 to 3 nos
OTHER INGREDIENTS
Turmeric powder – 1/4 teaspoon
Fresh curd – 1/2 cup
Curry leaves – 15
Coconut oil – 3 to 4 tablespoons
HOW TO MAKE OR PREPARE AVIAL RECIPE
Rinse all the vegetables well and chop them into medium or  long pieces.  Keep it aside.  Soak the chopped raw banana pieces in water to avoid discoloration or else they turn dark in colour.
First boil the drumsticks and yam with 1 cup of water, as these veggies take a little longer time to cook.  Cook these vegetables on a medium flame till they are half cooked.  Then add the remaining vegetables – carrots, pumpkin and raw banana – and mix it with the half cooked vegetables.  Add salt and turmeric powder.
Mix well.  Add little more water and cook on a medium flame till the vegetables are fully cooked.  Keep checking in between if the water dries up and add more water if required.
While the vegetables are being cooked, grind the coconut and green chillies with little water to make a smooth paste.  Keep the ground paste aside.
When the vegetables are fully cooked, add the ground coconut paste and mix well.
Add the curry leaves and 1/2 cup of  curd and give a good mix.
Cook on a low flame for 5 minutes till the coconut paste gets well blended with the vegetables.  Finally add 4 tablespoons of coconut oil which will enhance the flavor of  aviyal.  Switch off the flame.
Serve delicious aviyal with steamed rice and sambar.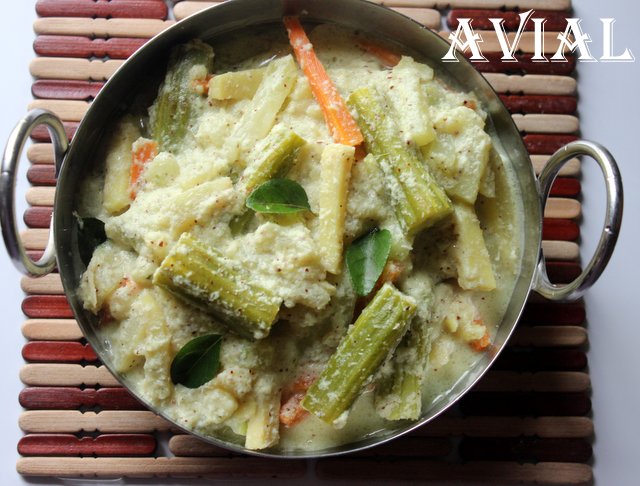 NOTES/TIPS
The vegetables are to be cooked well and not too mushy.  First cook the vegetables which take a longer time to cook and then add the remaining vegetables which require lesser time to cook.
Avoid vegetables like cauliflower, green peas or cabbage for making aviyal.
Do not skip coconut oil as it is a must for enhancing the flavor of the dish.
After adding curd, do not cook for a longer time, as it sometimes tends to curdle.
You can also add potatoes, french green beans or tindora for  making aviyal.
Whisk the curd well before adding to the veggies, as it makes the aviyal creamy and gives a thick consistency.