Small onion curry or ulli theeyal recipe – How to make small onion curry recipe – Indian curries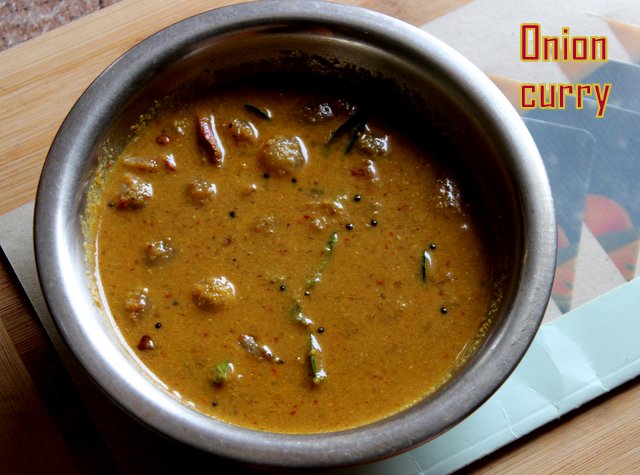 Ulli  theeyal or small onion curry is a delicious curry made with small onions, tamarind, coconut and spices.  This dish is a sour and sweet gravy dish and a very popular dish in Kerala.  This tamarind based gravy goes well with steamed rice.  Pearl onions along with roasted coconut and spices gives a nice flavor to ulli theeyal.  This recipe has very few and simple ingredients and can be prepared in 30-40 minutes.  This dish originates from the State of Kerala and  is especially prepared during important festivals like Onam.  Do try this delicious tamarind based gravy dish and enjoy with rice.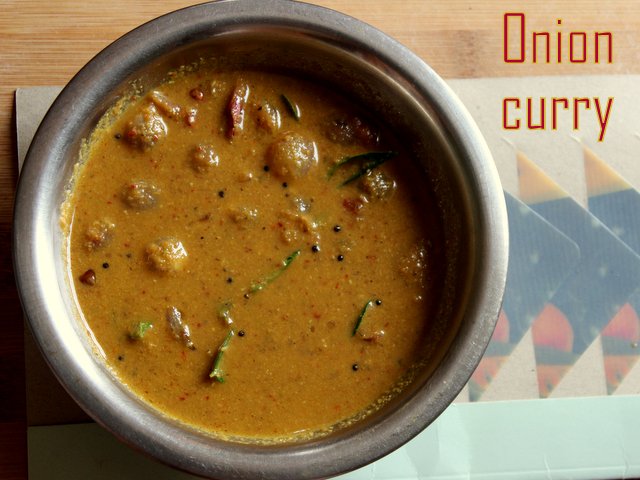 Prep Time :  20 mins
Cook Time :  20 mins
Servings :  2-3 persons
South Indian cuisine
INGREDIENTS
Pearl onions or shallots – 1 cup
Tamarind – 1 tablespoon
Turmeric powder – 1/4 teaspoon
Powdered jaggery – 1 teaspoon
Salt to taste
Coconut oil – 2 tablespoons
FOR MASALA PASTE
Coconut oil – 1 tablespoon
Coriander seeds – 1 tablespoon
Cumin seeds – 1 teaspoon
Methi seeds or methi dana – 1/4 teaspoon
Whole black pepper – 10
Red chillies – 2
Grated coconut – 1/2 cup
FOR SEASONING
Coconut oil – 1 teaspoon
Mustard seed or rai – 1/2 teaspoon
A pinch of asafetida or hing
Red chilly – 1
Curry leaves – 10
HOW TO MAKE OR PREPARE SMALL ONION CURRY OR ULLI THEEYAL RECIPE
Peel the skin of the pearl onions.  Cut them into half,  if the pearl onions are big in size.  Soak the tamarind in hot water for 20-30 minutes.  Then squeeze the pulp from the tamarind and keep it aside.  You  will get approximately 2 cups of tamarind water.
Heat 1 tablespoon of coconut oil in a pan on medium flame.  Add coriander seeds, cumin seeds, black pepper, methi seeds and red chillies.  Stir fry till the spices gives a nice aroma.  Then add freshly grated coconut and mix well.  Stir  fry for a minute.
Add the roasted coconut mixture to a mixer grinder.  Add little water to make a smooth paste.  Set aside.
To the same pan, add 2 tablespoons of coconut oil.  Add  the peeled pearl onions and saute them on  a low to medium flame.
Saute till the pearl onions becomes slightly golden in colour.  Then add 2 cups of tamarind water, turmeric powder, salt and hing.  Mix well.
Simmer for 8-10 minutes till the raw smell of the tamarind goes away.
Then add the ground paste and mix well.  Add 1/2 to 1 cup of water and adjust the consistency of the curry.  Close the pan with its lid and cook on a low flame for another 5-6 minutes.
Check for salt and add if required.  Add the jaggery and mix well.  Switch off the flame.  Heat 1 teaspoon of coconut oil in a tadka pan.  Add mustard seeds, red chillies and curry leaves.
Once the mustard seeds stops spluttering, pour the seasoning to the curry and give a good mix.  Delicious pearl onion curry is ready to be served.  Serve ulli theeyal hot with steamed rice and enjoy..
NOTES/TIPS
Soak the pearl onions in water for half an hour before peeling them.  It becomes easier to  peel the skin.
You can use normal cooking oil for making this dish.  But coconut oil gives a unique flavor to the dish.
If you do not have pearl onions, you can also use normal onions instead of pearl onions.