Tamarind rice recipe – How to make tamarind rice or puliyodharai recipe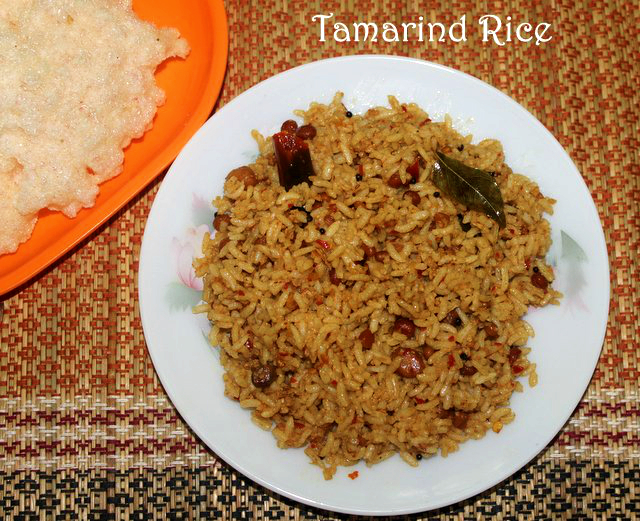 Tamarind rice is a popular and delicious South Indian rice.  Tamarind gives that unique and tangy flavour to the rice.  It is typically eaten as a snack or is a part of South Indian festival luncheons or dinners.  Traditionally tamarind paste is prepared and stored for a week.   As and when required, this paste is mixed with  rice and had as a wholesome meal or as a snack.  Tamarind rice is best served with papads or chips.  Here I have given the recipe of instant tamarind rice which can be prepared easily and quickly and is slightly different from the traditional tamarind rice.   But nevertheless this recipe is also flavourful and delicious.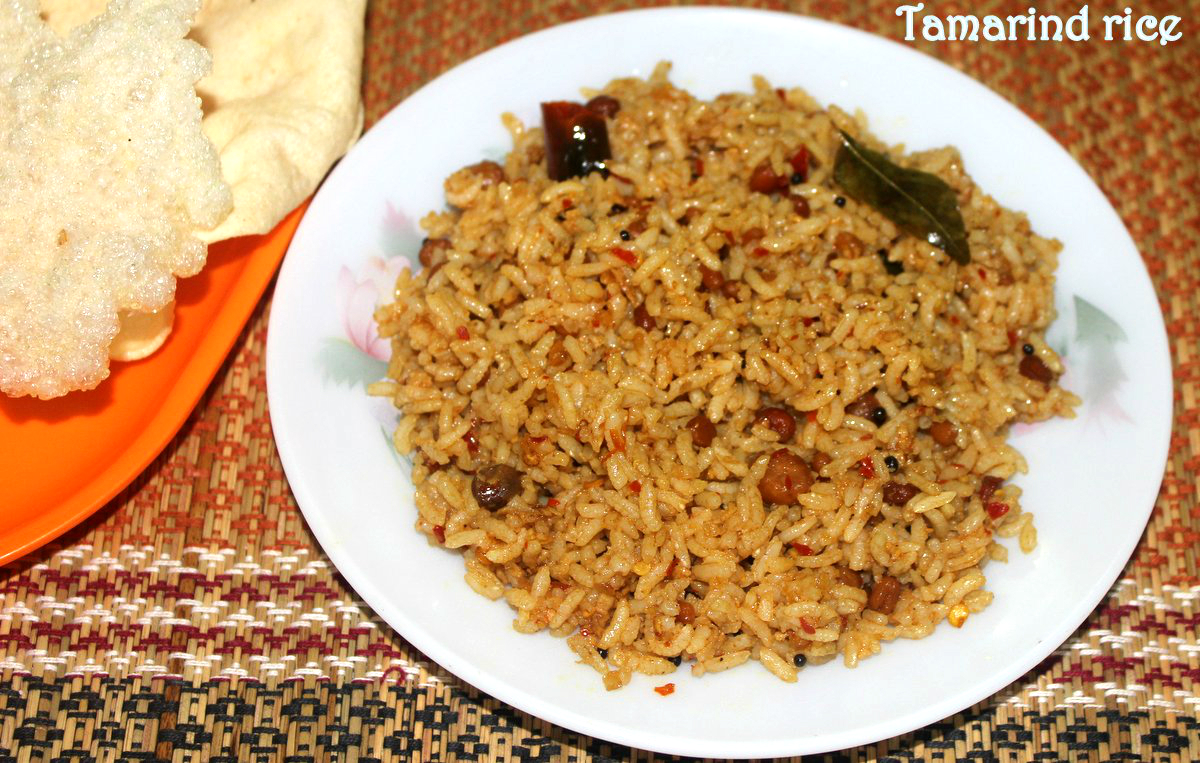 Prep Time :  10 mins
Cook Time : 20 mins
Servings :  3-4 persons
South Indian cuisine
INGREDIENTS
Cooked rice – 3 cups
Tamarind – 1 lemon sized
Grated coconut – 2 tablespoons
Turmeric powder – 1/4 teaspoon
Salt to taste
FOR SEASONING
Til or gingelly oil or any cooking oil – 2 tablespoons
Asafoetida or hing – a pinch
Mustard seeds or rai – 1/2 teaspoon
Chana dal – 1 teaspoon
Urad/ udid dal – 1 teaspoon
Peanuts – 1 tablespoon
Red chillies – 2
A string of curry leaves
FOR GRINDING TO DRY POWDER
Red chillies – 5-6
Methi (fenugreek) seeds – 1/2 teaspoon
HOW TO MAKE OR PREPARE TAMARIND RICE OR PULIYODHARAI RICE RECIPE
Soak tamarind in warm water for half an hour and extract the thick tamarind juice (approx 1 cup).  Keep it aside.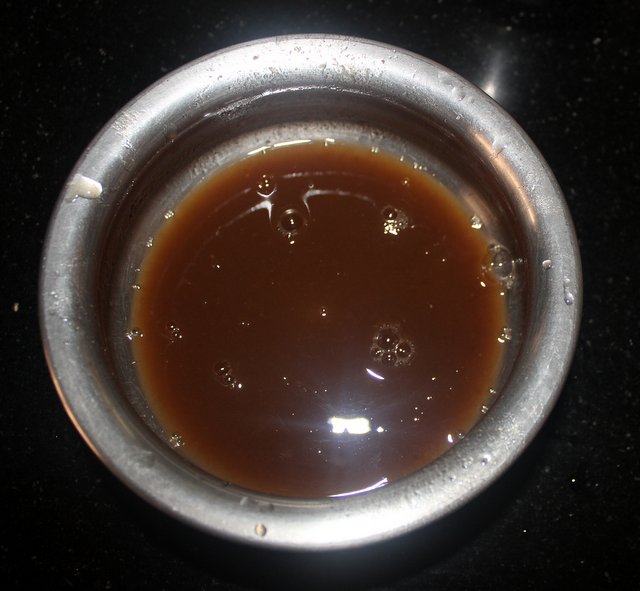 Heat a pan on a medium flame.  Dry roast the red chillies and methi seeds till golden brown.  Grind them to a fine powder and set aside.
In the same pan, heat 2 tablespoons of gingelly oil.  Add mustard seeds and allow it to splutter.  Once the seeds start spluttering, add chana dal , urad dal and peanuts and fry till golden in colour.  Add hing, red chillies and curry leaves and saute again.
Add tamarind juice, turmeric powder and salt and mix well.  Let the mixture come to a nice boil, till the raw smell goes off.  Add ground powder and mix well.
When the mixture starts thickening, add grated coconut and mix well. Lower the heat and simmer till it thickens.  Switch off the flame.
Add the cooked rice to the tamarind gravy and mix gently.  Adjust the salt.
Serve tamarind rice with appalam or papads or chips.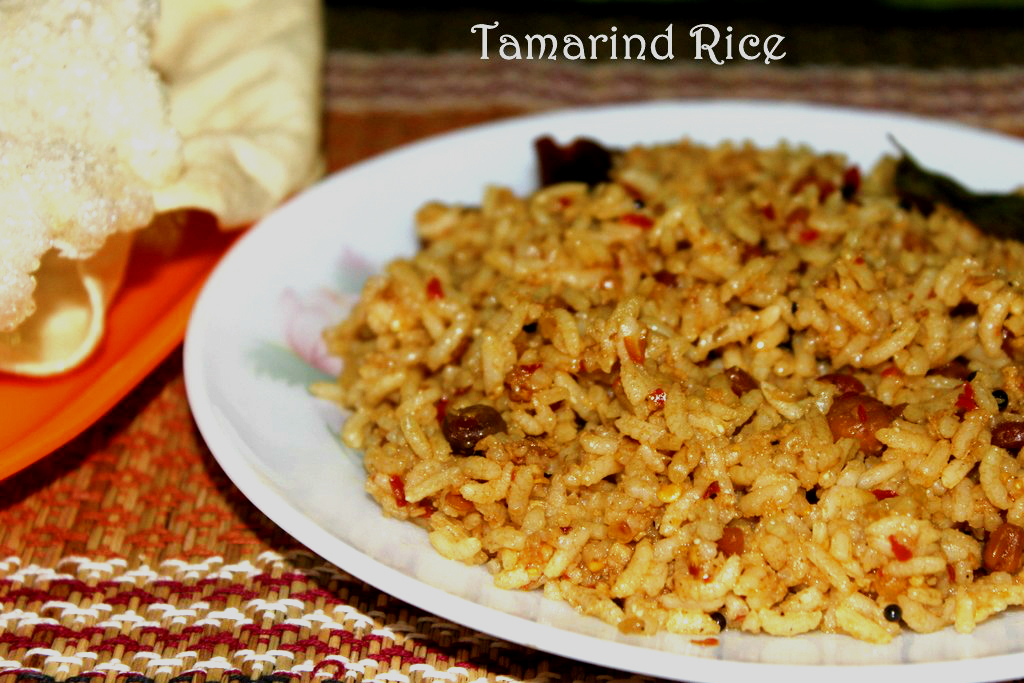 NOTES/TIPS
You can also use any normal cooking oil instead of til oil.
Tamarind rice tastes better after a few hours and is best served with fried appalams.