Cottage cheese or paneer paratha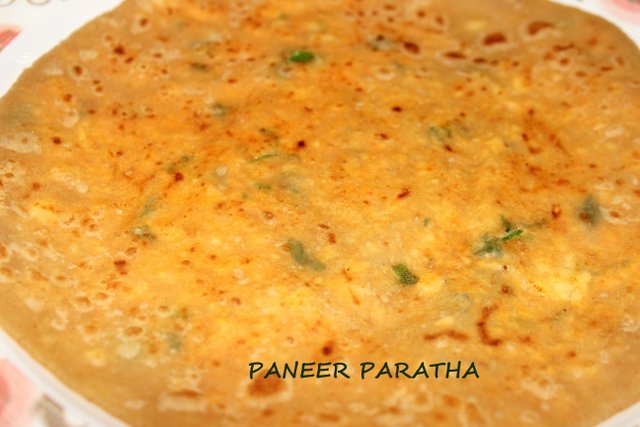 Cottage cheese or paneer paratha is a very delicious dish made with wheat flour, paneer, coriander leaves, green chillies and amchoor or mango powder. This is a good breakfast option and can be enjoyed on its own or with curd.
Ingredients
FOR THE DOUGH
Wheat flour - 2 cups
Oil - 2 tablespoons
Salt - 1/2 teaspoon
Milk - 1/4 cup (optional)
FOR THE FILLING/STUFFING
Cottage cheese/paneer - 1 1/2 cups (shredded)
Green chillies - 2 (chopped finely)
Red chilli powder - 1/2 teaspoon
Amchur/mango powder - 1/4 teaspoon
Coriander leaves - 3 tablespoons (chopped finely)
Salt to taste
Method
Step 1
HOW TO MAKE COTTAGE CHEESE/PANEER PARATHA RECIPE Take a bowl. Add wheat flour, salt, oil, milk and water accordingly and make a smooth but non-stick dough. Cover the dough with a damp cloth and set aside for 15-20 minutes
Step 2
For the filling, take a mixing bowl. Add grated paneer, green chillies, chilli powder, amchur, coriander leaves and salt. Mix well.
Step 3
Make smooth equal sized balls of the dough. Take one small dough and flatten to small size. Place equal amount of filling mixture in the centre and close the edges and seal the dough in the centre.
Step 4
Flatten the dough and roll gently into medium sized round paratha.
Step 5
Heat a tawa or a flat pan on a medium flame. Transfer the paratha to the pan. Drizzle oil or ghee on top of the paratha. Once cooked, flip on the other side and put oil again the top of paratha. Cook on both sides till puffy and pale brown spots appear.
Step 6
Drizzle oil or ghee on both the sides of the paratha and serve hot.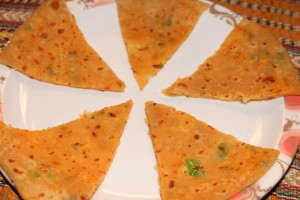 Step 7
NOTES : Adding milk while kneading the dough adds softness to the paratha. You can also add chat masala, finely chopped onions or any other spices of your choice to make it more tasty. If the paneer is too moist, squeeze out the excess water completely. Ensure that the dough is not too sticky nor too hard, as hard dough makes the parathas stiff. The dough should be soft and smooth.