Broken wheat or dalia adai recipe – a healthy breakfast recipe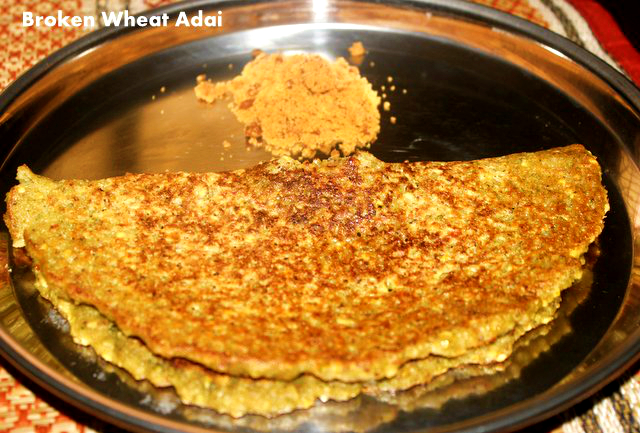 Broken wheat or dalia or lapsi or samba godhumai  is prepared by milling whole wheat grains coarsely.  Eating broken wheat is a nutritious way of eating wheat as it is unpolished and does not lose out on any nutrients.  Dalia is a treat for anyone who needs a diet rich in fiber. Cracked wheat is considered to be more nutritious than rice and considered to be a good aid for weight loss and people who are having diabetics.
Broken wheat adai is a very healthy and nutritious breakfast dish made from broken wheat which is the main ingredient.  It is a sumptuous breakfast dish and very filling.  Do try this recipe and start your day with this energy filled dish.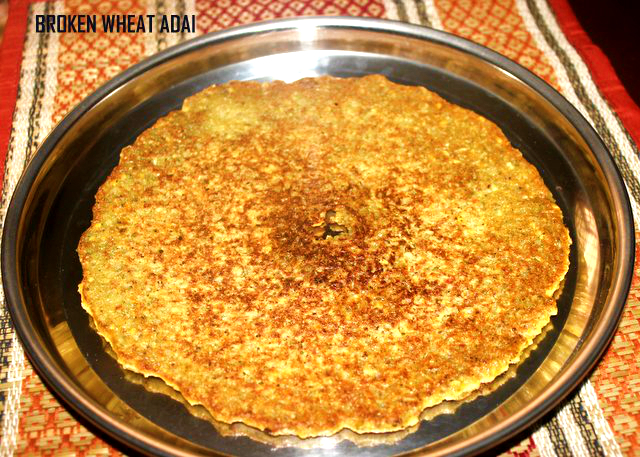 Prep Time :  20 mins plus 2 hours soaking time
Cook Time :  30 mins
Servings :  4 persons
South Indian Cuisine
INGREDIENTS
Broken wheat/Samba godhumai – 1 cup
Whole green gram/Green moong – 1/2 cup
Chana dal (bengal gram) – 1/2 cup
Tur or toor dal – 1/2 cup
Red chillies – 5
10-12 curry leaves
TO ADD IN THE BATTER
A pinch of asafoetida or hing
Salt to taste
Grated coconut – 1/4 cup
Chopped coriander leaves – 2 tablespoons
HOW TO MAKE OR PREPARE BROKEN WHEAT OR DALIA OR SAMBA GODHUMAI ADAI RECIPE
Soak the broken wheat,green moong, chana dal, tur dal, red chillies in a bowl in water for 2 hours.  After 2 hours, drain the water and add the broken wheat, green moong, chana dal, tur dal to a mixer.  Add the curry leaves and grind to a medium coarse paste  by adding little water.
Remove the batter in a bowl.  Add hing, salt , grated coconut and chopped coriander leaves and mix well.
Heat a tawa or a flat pan on a medium flame.  Smear oil on the top of the tawa.  Pour a ladleful of batter and spread it to a semi thick circle.   Make a hole in the middle of the adai.  Pour 1 teaspoon of oil around the adai and in the middle.  This helps to cook faster and make it crispier.
Cook the adai on medium flame till it is crisp and light golden brown on all sides.  Flip on the other side and cook till crisp.  Remove from the flame and repeat the process with the remaining batter.
Serve the broken wheat or dalia adai hot or warm with powdered jaggery  or butter.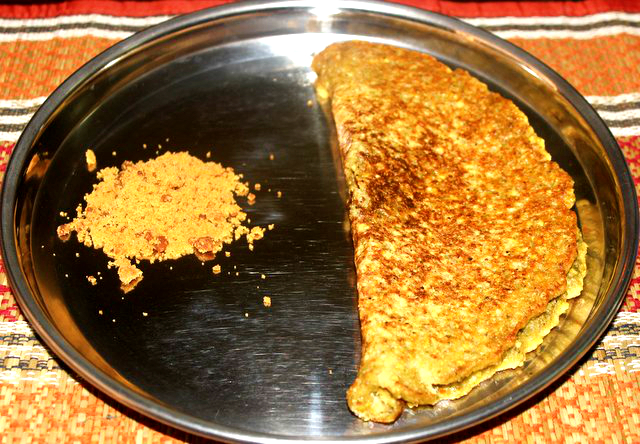 NOTES/TIPS
You can add chopped onions to the batter to enhance the taste.
The batter should be of coarse consistency and not too soft.