Cucumber raita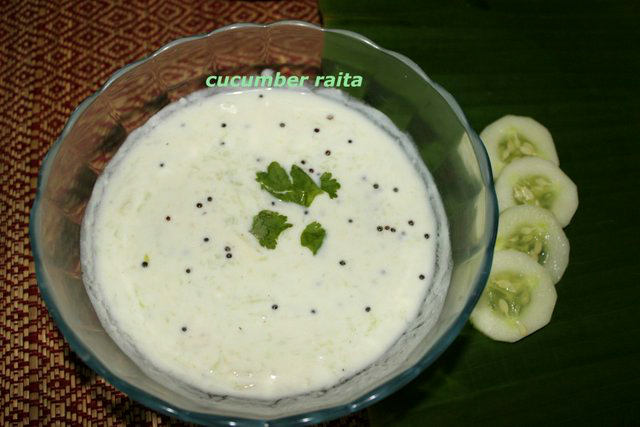 Cucumber raita is a very cooling dish that is accompanied with various rice dishes like biryani, pulao, jeera rice or even rotis. Cucumber raita is also called as cucumber pachadi.  It is made with curd, cucumber and seasoned with mustard seeds and spiced with green chillies.  Cucumber raita is specially good when served with spicy curries.  It  is very easy and quick to make and serves as a cooling balance for various spicy dishes.
Ingredients
Cucumber - 2 (medium sized)
Yogurt/Curd - 2 cups
Salt to taste
TO GRIND
Grated coconut - 2 tablespoons
Ginger - 1/2 inch
Green chilly - 1
FOR SEASONING
Oil - 1 teaspoon
Mustard seeds - 1/2 teaspoon
FOR GARNISHING
Chopped coriander leaves - 1 tablespoon
Method
Step 1
HOW TO MAKE CUCUMBER RAITA OR CUCUMBER PACHADI Wash and peel the cucumbers thoroughly. Grate the cucumber and set aside.
Step 2
Grind together grated coconut, ginger and green chilly to a fine paste. (coconut mixture)
Step 3
In a mixing bowl, add grated cucumber, ground coconut mixture, curd and salt and stir thoroughly.
Step 4
Heat oil in a pan. Add mustard seeds. Once it stops spluttering, add mustard seeds to the raita.
Step 5
Garnish with chopped coriander leaves and serve cucumber raita chilled.