Broken wheat/dalia ka sheera recipe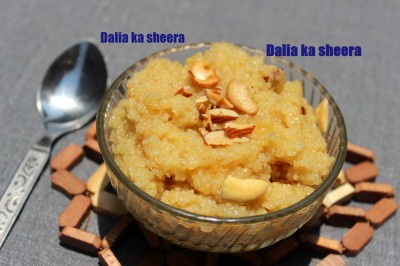 Broken wheat or dalia is a wheat product which does not undergo refining and hence is highly nutritious. It is high in fibre and a good source of iron, magnesium and phosphorus. Dalia sheera is made with broken wheat and jaggery which makes up for a healthy dessert.
Ingredients
Broken wheat/dalia - 1 cup
Jaggery - 1 cup
Water - 4 cups
Ghee - 2 tablespoons
Cashewnuts/almonds - 1 tablespoon
A pinch of saffron strings
Milk - 2 tablespoons
Method
Step 1
HOW TO MAKE BROKEN WHEAT/DALIA KA SHEERA RECIPE Dissolve saffron strings in 2 tablespoons of milk for 10-15 minutes.
Step 2
Heat ghee in a pan. Add cashewnuts and almond pieces and fry till light golden colour and keep it aside.
Step 3
To the same pan, add dalia and stir fry till it turns golden colour and aroma exudes from the pan.
Step 4
Add 4 cups of water and simmer on a low to medium flame, till the dalia is fully cooked. Stir in between frequently till the dalia becomes soft and fully cooked.
Step 5
Once the dalia is cooked, add grated jaggery and mix well. Add the dissolved saffron along with the milk. Combine together.
Step 6
Cook on a low flame till the jaggery is fully absorbed by the dalia. Then switch off the flame.
Step 7
Garnish with fried cashewnuts and almond pieces and serve.