Kuzhi paniyaram recipe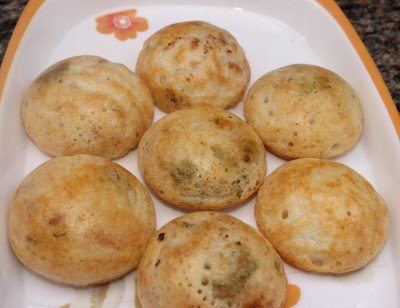 Kuzhi paniyaram is a South Indian snack  made by steaming batter — traditionally made from pulses (specifically black lentils) and rice using a mould.  It is made by idli-dosa batter and spiced with onions and green chillies.   Kuzhi paniyarams can be made sweet or spicy. It used to be made for eating on long distance trips without the use of a refrigerator.  A kuzhi paniyaram pan usually comes with 7 holes and is known by various names in Southern India like paddu, appe, guliappa or gulittu.  Kuzhi paniyaram can be had as a breakfast dish or as an instant teatime snack.
Ingredients
Raw rice - 2 cups
Urad dal - 1 cup
Green chillies - 4 nos (chopped finely)
Onions - 2 nos (chopped finely)
Mustard seeds - 1/2 teaspoon
Few coriander leaves
Salt to taste
Method
Step 1
Soak raw rice and urad dal separately for 6 to 7 hours.
Step 2
Grind raw rice and urad dal separately to a smooth paste.
Step 3
In a bowl, mix both the batter. Add salt and allow the batter to ferment for 9 to 10 hours.
Step 4
Heat oil in a pan. Add mustard seeds. Once they crackle, add green chillies and chopped onions and stir fry till light brown.
Step 5
Take 2 cups of batter separately in a bowl for making paniyaram. Add the onion mixture and coriander leaves to this batter and mix well.
Step 6
Heat the kuzhi paniyaram pan on medium heat. Pour the batter in each hole and cook till it turns to a golden brown.
Step 7
When bottom side is cooked, turn on the other side with the skewer and cook for another 2 to 3 minutes.
Step 8
Once the other side is cooked, take out the paniyaram with the help of the skewer.
Step 9
Serve hot with tomato sauce or any chutney of your choice
Step 10
Note : If there is any excess batter, it can be used for making idlis or dosas. For better taste, use freshly made batter for making paniyarams.