Halbai recipe – How to make rice halbai or rice halwa recipe – Karnataka recipes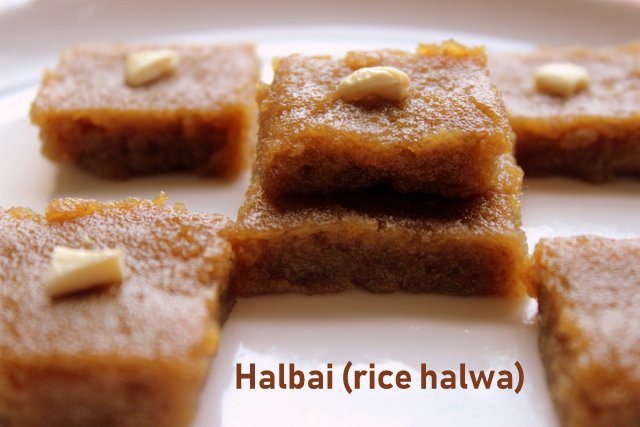 Halbai or rice halwa is a dessert which is very popular in Karnataka.  It is especially made during Nag Panchami festival.  Halbai is traditionally prepared with rice, jiggery, coconut and ghee and consumed with ghee.  Halbai is also made with wheat, semolina or ragi flour which also tastes equally good.  This halwa turns out light or sometimes dark in color, as it depends on the jaggery used. Here I have used dark jaggery to give a nice colour to the halbai. Do try this sweet dish and enjoy!!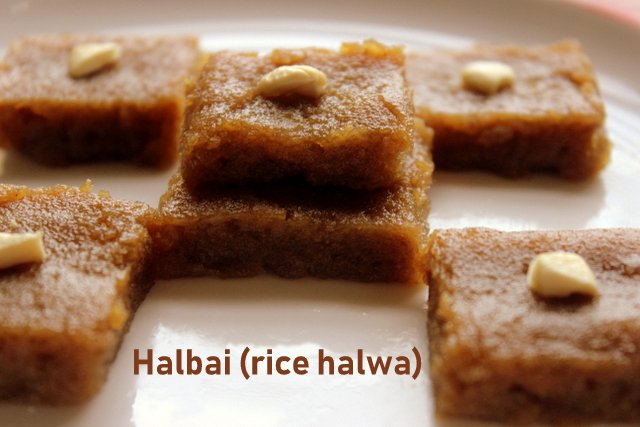 Prep Time : 10 mins
Cook Time :  30 mins
Yield:  15 pieces
Karnataka cuisine
INGREDIENTS
Raw rice – 1/4 cup
Jaggery – 3/4 cup
Cardamoms – 2
Grated fresh coconut – 3/4 cup
Ghee – 3 tablespoons
Water as required
HOW TO MAKE OR PREPARE HALBAI OR RICE HALWA RECIPE
Wash and soak the rice for 3-4 hours.  Then drain the water and add the soaked rice, grated coconut and cardamoms to a mixer grinder.
Add little water and make a thick paste first.  Add 1.5 cups of more water and make a little watery mixture.  Keep it aside. (The water consistency should be of neer dosa consistency)  Take the jaggery in a vessel.  Add 1/4 cup of water.  Heat the jaggery on a low flame, till the jaggery is melted completely
Meanwhile grease the plate with ghee and keep it ready.  Once the jaggery is fully melted, switch off the flame.  Keep it aside.
Take a kadai or pan on a low flame.   Add the rice-coconut mixture.
Now add the jaggery to this mixture with the help of a strainer to discard impurities, if any.
Heat the kadai on a low flame.  Keep stirring the mixture continuously so that no lumps are formed.
The mixture will start to thicken.  Keep on stirring on  low flame.  Add 2 tablespoons of ghee and continue stirring.  Once it reaches a thick consistency.  Add another 1 tablespoon of ghee and mix well.  Once the mixture comes together and leaves the sides of the pan, switch off the flame.
If the mixture does not stick to your hands and becomes one big mass, it means the halbai is now ready.  Pour the halbai to the greased plate.  Spread evenly the mixture in the plate.
Once the halbai is cooled down, cut it into desired shapes.  You can cut into thin or thick pieces as desired by you.
NOTES/TIPS
If you feel the jaggery is clean enough, you can directly add to the mixture.
The colour of halwa depends on the light or dark jaggery used.
Ensure that the rice-coconut mixture is smooth enough and slightly watery.  It should not be coarse.  So grind it accordingly.
You can store the halbai in the refrigerator for 2-3 days.
Spread the cashews on the top of the mixture, before cutting into desired shapes.