Mysore bonda recipe – How to make mysore bonda recipe | ulundu bonda – Indian snacks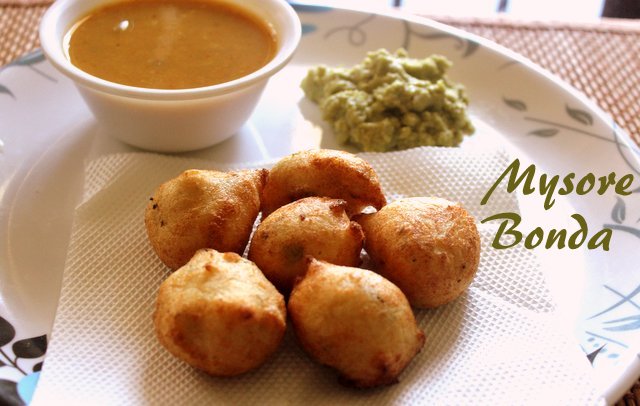 Mysore bonda also called as ulundu bonda is a popular fried snack from Mysore region in Karnataka.  These golden fritters are crunchy on the outside but soft and fluffy on the inside.  They are one of the loved teatime snacks and traditionally eaten with sambar and ginger chutney or coconut chutney.  Mysore bonda is also served on special or celebratory occasions along with idli/dosa at breakfast.  It is very easy to make and a tasty snack too.  You can have it as an evening snack with coffee or as it is.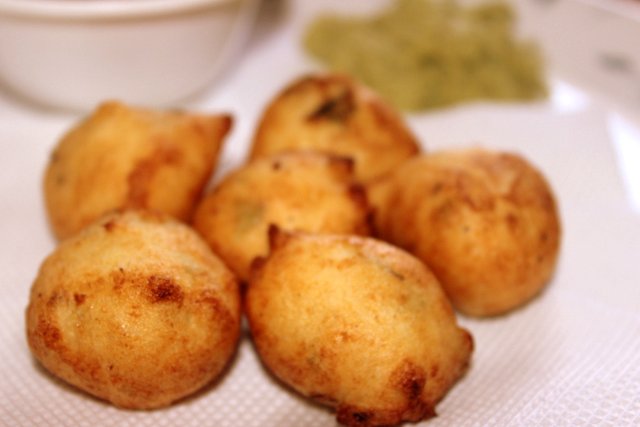 Prep Time :  3 hours of soaking time
Cook Time :  20 mins
Servings : 10-12 bondas
South Indian cuisine
INGREDIENTS
Urad dal – 1/2 cup
Rice flour – 2 tablespoons
Green chillies – 2 (chopped finely)
Ginger – 1/2 teaspoon (grated or chopped finely)
Black pepper – 1/2 teaspoon (coarsely crushed)
Coriander leaves – 2 tablespoons (chopped finely)
A pinch of asafoetida or hing
Oil required for deep frying
Salt to taste
HOW TO MAKE OR PREPARE MYSORE BONDA RECIPE
Wash the urad dal in running water several times till the water runs clear.  Add enough water  to soak for 3 hours.  Then drain and discard the soaking water.
Add the drained urad dal to the wet grinder or blender jar.  Add 2 to 3 tablespoons of water and grind to make a smooth and fluffy batter.
Transfer the batter to a mixing bowl.  Add rice flour, chopped ginger, green chillies, hing, crushed pepper and salt.
Mix all the ingredients well. With the help of a spoon, scoop out the batter and gently drop the batter into the hot oil. (Alternatively, take a golf ball size lump of the batter and shape it roughly into a ball and slide it into hot oil gently.)
Deep fry the bondas on medium flame till golden brown in colour.
Drain the bondas in an absorbent paper or kitchen towels to remove the excess oil.  Serve mysore bonda hot with chutney or sambar.
NOTES/TIPS
Rice flour makes the bondas more crispy.
To check if the oil is hot for deep frying, drop a pinch of the batter into the oil.  If it begins to sizzle and floats right away, it means the oil is ready now.
Take care not to overcrowd the pan with too many bondas.
You can also add fresh coconut pieces to the batter before making the bondas.
Take care to add less water while grinding the urad dal.  The batter has to be thick and fluffy.