Curd rice or mosaranna or thayir sadam recipe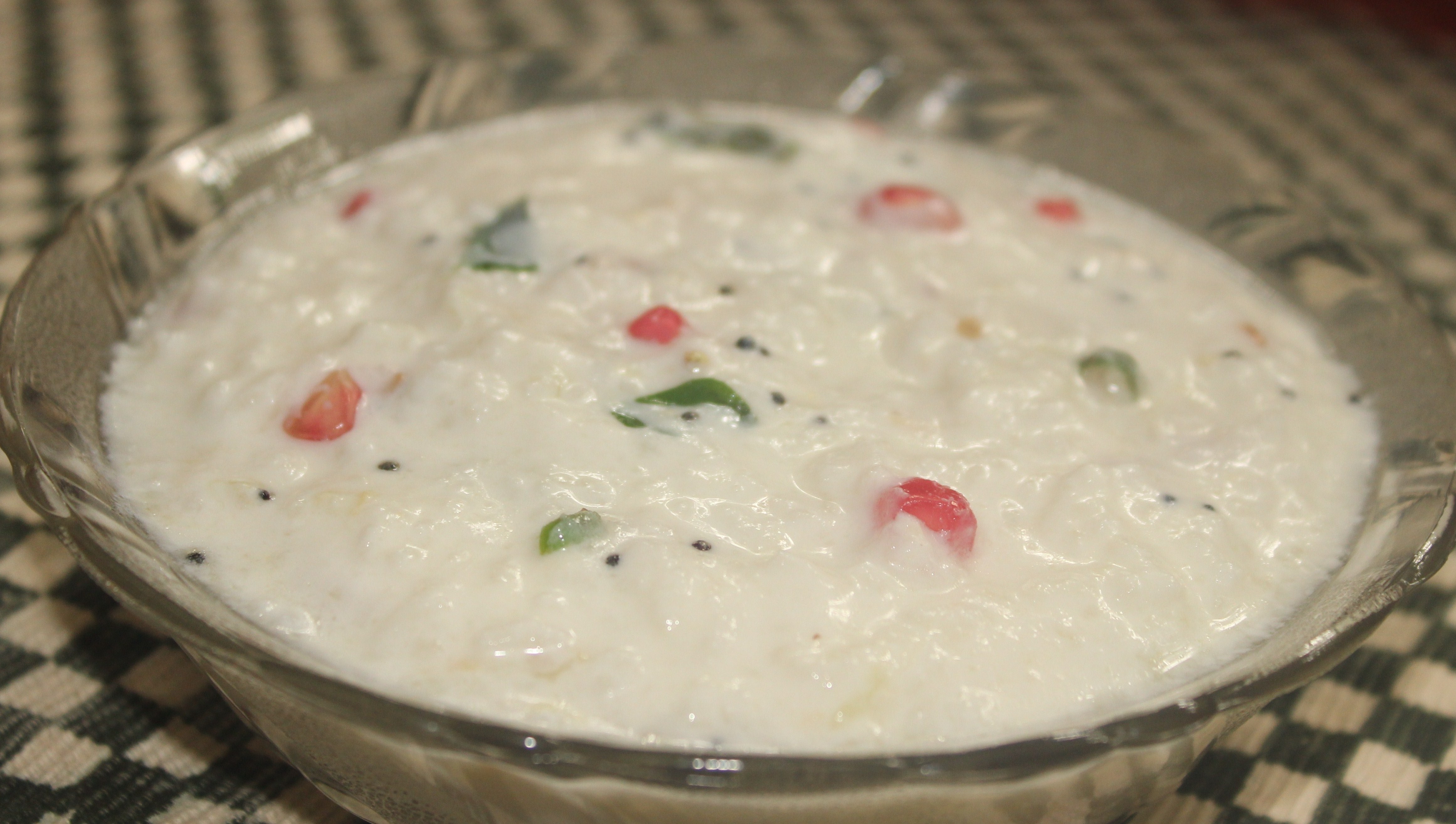 Curd rice is  also called as yoghurt rice and a popular dish in South India. Mosaranna or curd rice is a delicacy of South India.   No South Indian meal is complete without curd rice.   A very easy to make recipe and it is often eaten accompanied by pickles.  In South Indian home cuisine, it is standard to eat curd rice at the end of lunch and dinner, which helps ease the effects of the spicy main dishes and it  is also said to aid digestion.  Garnishings range from grated carrots, pomegranate seeds, raisins, grapes, fried cashewnuts, grated raw mango and boondi. It can be served lukewarm or chilled.
Ingredients
Cooked rice - 1 cup
Yogurt (curd) - 2 cups
Milk - 1/4 cup
Milk cream - 2 tablespoons
Salt to taste
Pomegranate seeds - 2 tablespoons (optional)
FOR SEASONING
Cooking oil - 1 teaspoon
Mustard seeds - 1/2 teaspoon
Urad dal - 1/2 teaspoon
Green chillies - 2 (chopped finely)
Grated ginger - 1/2 teaspoon
Few curry leaves
Method
Step 1
In a vessel, add cooked rice. Mash the cooked rice thoroughly by hand. Add milk and milk cream and mix well to soften the rice.
Step 2
Then add curd and salt. Combine together and set aside.
Step 3
Heat oil in a pan. Add mustard seeds. When the mustard seeds start spluttering, add urad dal, green chillies, grated ginger and curry leaves. Saute them for a minute.
Step 4
Add the seasoning to the curd rice and mix well.
Step 5
Garnish with pomegranate seeds and serve chilled with pickles.
Step 6
NOTE : You can add grated cucumber, carrot or pomegranate to enhance the taste. But these are optional. Ensure that the cooked rice is soft and little mushy and cooled down before adding milk. You can add milk or curd according to the consistency and sourness required by you.