Sabudana vada recipe – How to make sabudana vada recipe – Indian snacks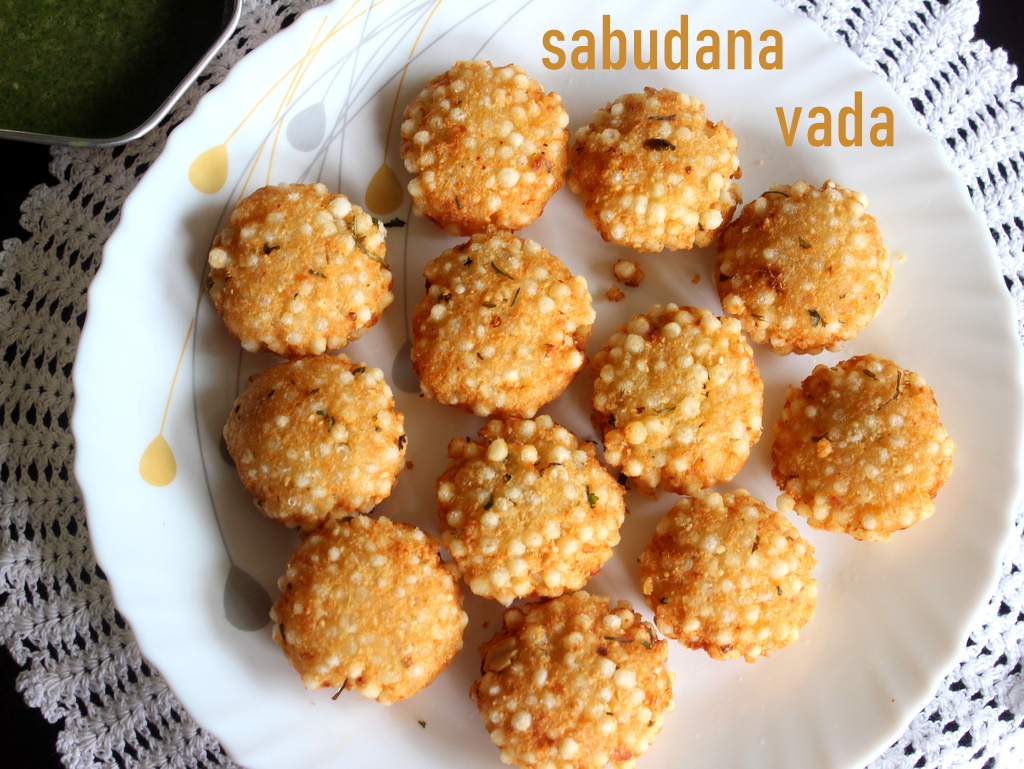 Sabudana vada is a very popular deep fried snack from Maharashtra and is generally eaten as a light meal during fasting days. Sabudana vada is also called as sago vada as the main ingredient used is sago pearls. It is a nutritious and crunchy snack especially served during religious festivals and fasting days.  It is best served fresh and hot with spicy green chutney and tea.    Sabudana vadas are crunchy from outside but soft from inside which melts in the mouth.
Sabudana or sago keeps blood pressure under control, improves bone health, a energy booster, helps with muscle growth and aids digestion.  It is also a great source of protein, iron and calcium.
It is a very tasty vada which is liked by all and which also fills your stomach easily.  Sago is full of carbohydrates and so it is an ideal snack during fasting or vrat days.  The other main ingredients besides sago, which are used in this recipe are the potatoes and peanuts.  Potatoes helps to bind the vadas as it ensures the vadas do not break while deep frying them.  Peanuts adds not only to the taste but also gives crunchiness to the vadas.
The best part of making these vadas is that you need few ingredients to make them.    You can make sabudana vadas for monsoons or during festival days or as an appetizer for your meals.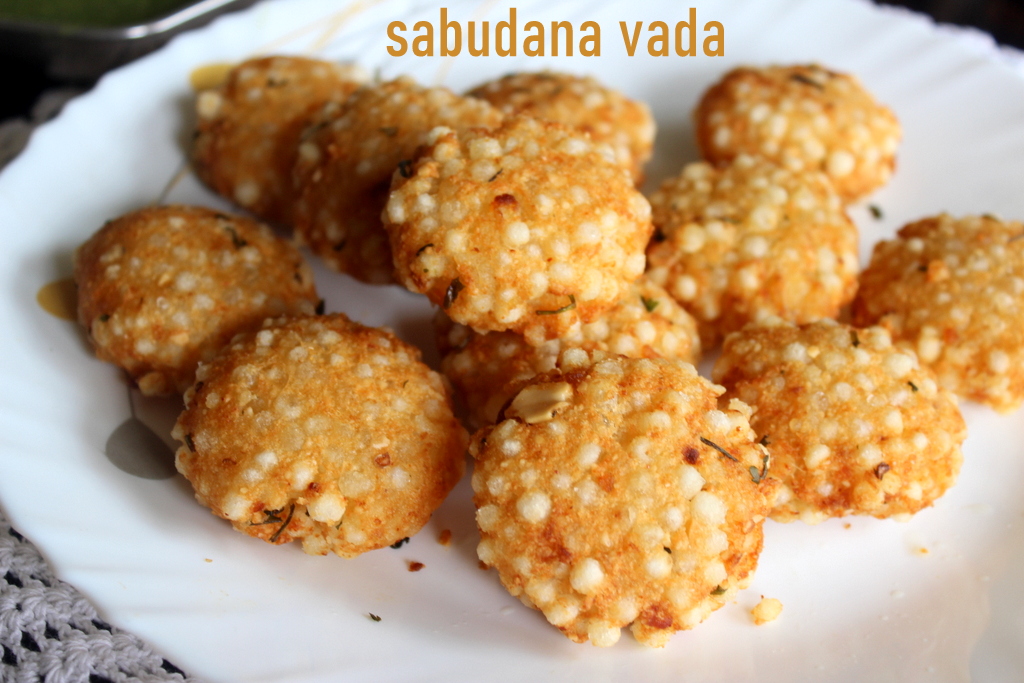 Prep Time : 10 mins
Soaking Time –  5 hrs
Cook Time :  20 mins
Yield :  14 sabudana vadas
South Indian cuisine
INGREDIENTS
Sago or sabudana or tapioca pearls – 1 cup
Boiled potatoes – 2 (medium sized)
Peanuts – 1/2 cup (skinned and roasted)
Green chillies – 2 nos
Ginger – 1 teaspoon (grated or chopped finely)
Chopped coriander leaves – 2 tablespoons
Cumin seeds or jeera – 1 teaspoon (optional)
Red chilli powder – 1/2 teaspoon (optional)
Lemon juice – 2 tablespoons
Salt to taste
Oil for frying
For video recipe link :
HOW TO MAKE OR PREPARE SABUDANA VADA RECIPE
Take a bowl and add 1 cup of sago or sabudana.  Add enough water and wash thoroughly.
Rinse at least 2-3 times in running water, so that the excess starch goes away.  This way the vadas also do not stick to each other while deep frying.  Add 3/4 cup of fresh water to the sago.
Add just enough water only to cover or immerse the sago fully.   (Do not add excess water, otherwise the vadas will become soggy.) Close the bowl with a lid and keep it aside for 4-5 hours or overnight.
Next day, drain the excess water if there is any.   If soaked properly, the sago will become soft and will get mashed easily when pressed by hand and would become fluffy.  The water will be absorbed completely by sago.  Keep the sago aside.  In a mixer grinder, add 1/2 cup of skinned and roasted peanuts.
Grind to a coarse or fine powder as you desire.  Keep the peanut powder aside.  In a separate wide bowl, transfer the sabudana.  Add crushed peanuts, chopped green chillies, grated ginger, red chilli powder, chopped coriander leaves and salt.  Mix well.
Finally add mashed and boiled 2 potatoes and 2 tablespoons of lemon juice and give a good mix again.  Check for salt at this time and add if required.  Divide the mixture to equal parts and make round vadas first.
Once the round vadas are done,  flatten them a bit and arrange them in a plate.  This way you will get equal sized vadas.
Heat oil on medium flame in a kadai.  Add  vadas  one by one by gently sliding them into the oil.  Do not overcrowd the vadas in the kadai.  Keep the oil temperature to medium heat.  Deep-fry the vadas till golden brown in colour and crispy from both the sides.  Remove the vadas with a slotted spoon draining the excess oil and transfer to a paper towel.  This will absorb the excess oil.  Fry the remaining vadas in this way.
Serve sabudana vadas hot with green chutney, sweetened curd or tomato sauce.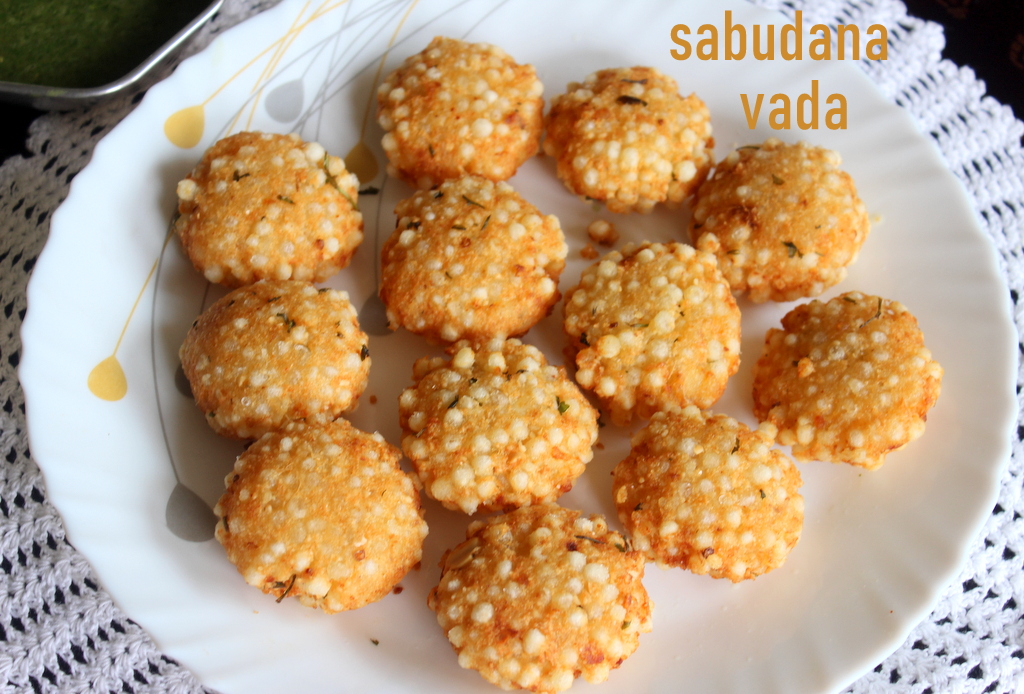 NOTES/TIPS
Drain the water thoroughly from the soaked sago and ensure there is no moisture left in the sago mixture else you wont be able to give proper shape to the vadas. It tends to become soggy.
Ensure to soak the sabudana well and is softened enough to make vadas.
Fry the vadas on medium heat, so that it is evenly cooked both from inside and outside.
If preparing for vrat or fasting days, you can skip red chilli powder.  Add sendha namak or rock salt instead of regular salt.
For roasted peanuts, dry roast the peanuts in a pan for 4-5 minutes on medium flame.  Then transfer to a plate and once cooled down, remove the skin of the peanuts.  Then grind to a coarse or fine powder.
You can also shallow fry these vadas instead of deep frying them.
Ensure that the boiled potatoes do not have much moisture in it.  Otherwise the wet potatoes will make the mixture sticky and soggy and you will not be able to make the vadas.
Do not overcrowd the vadas at the time of deep frying.  In case, the vadas break, add little regular flour or kuttu flour or corn starch or some more boiled potatoes to bind them.