Rasam powder recipe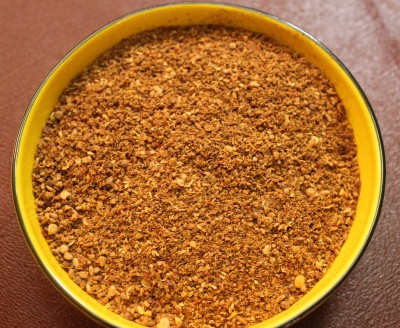 Rasam powder is a south indian preparation used for making various types of rasams. It is very easy to make and can be stored for upto 2 months. Home made rasam powder is always full of flavor and less expensive too and can be used as and when required.
Ingredients
Coriander seeds - 1 cup
Cumin seeds - 3/4 cup
Whole black pepper - 3/4 cup
Whole red chillies - 3 cups
A handful of tur dal
Oil - 1 tsp
A pinch of asafoetida
Method
Step 1
Heat oil in a pan. Add asafoetida. Add red chillies and tur dal first and roast till golden brown. Keep aside.
Step 2
In the same pan, add coriander seeds and black pepper and roast till aroma exudes. Keep aside. Then add cumin seeds lastly and roast until fragrance starts coming.
Step 3
Allow the roasted ingredients to cool down and grind them to a semi soft powder.
Step 4
When cooled down completely, store in a clean dry airtight container.
Step 5
NOTES : Roasting the ingredients increases the shelf life of the rasam powder. You can use this powder for making other vegetarian dishes to add flavor.