Rava laddu or ladoo recipe – Easy Indian deepavali/diwali sweet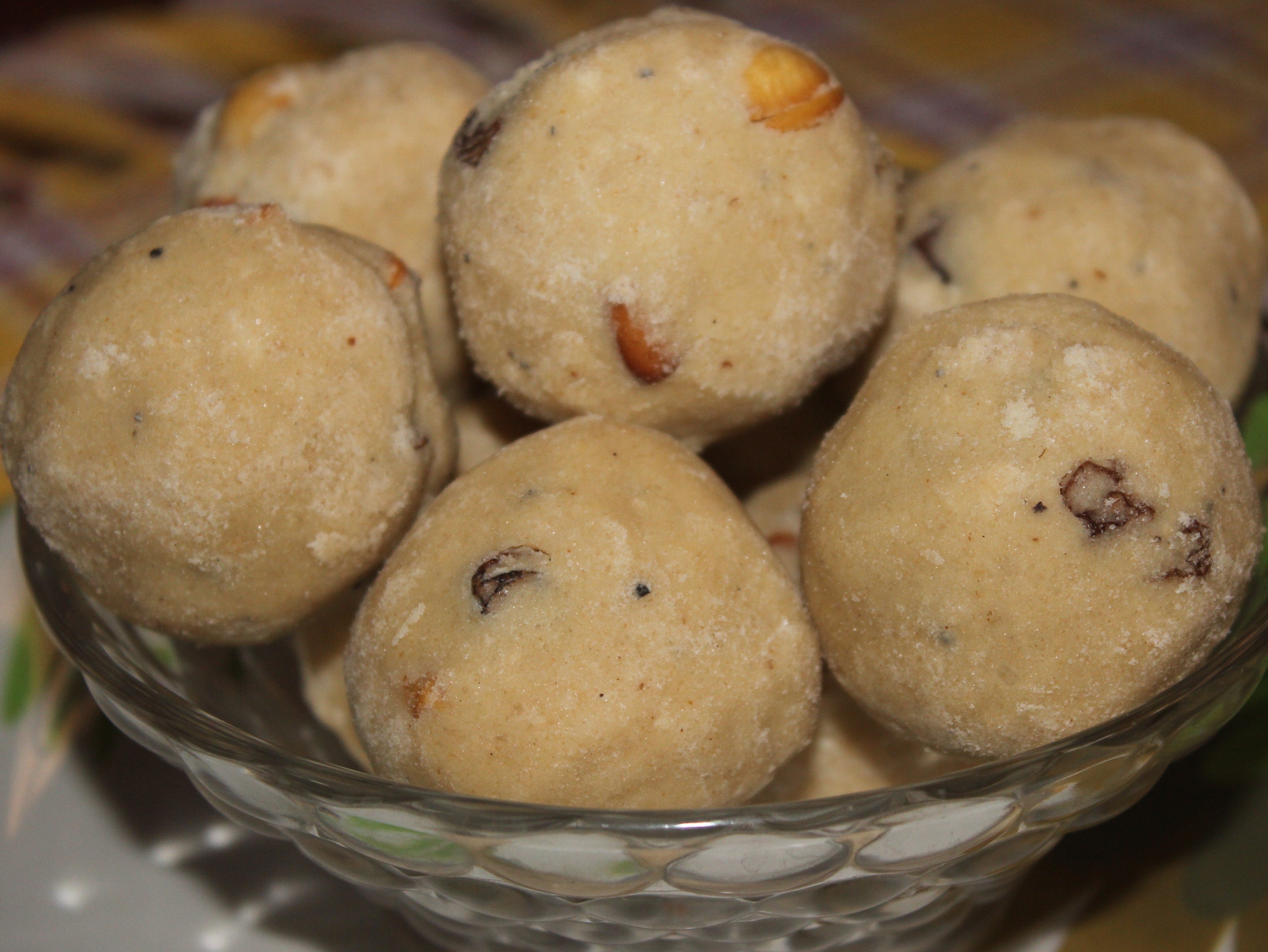 Rava laddu is a very traditional sweet dish made from semolina/rava, sugar, milk and nuts.  It is made on day of Diwali festival and on special occasions.  Rava laddu is very popular and a tasty dessert which is liked by all. It is also very easy to make sweet recipe which can be within 30 minutes.
Ingredients
Semolina/rava - 1 cup
Sugar -1 cup
Ghee - 1/4 cup
Milk 3 to 4 tablespoons
Cardamom powder - 1/4 teaspoon
Cashewnuts and raisins - 1/4 cup
Method
Step 1
HOW TO MAKE/PREPARE EASY RAVA LADOO OR LADDU RECIPE Heat 1 teaspoon of ghee in a kadai. Add semolina and roast continuously on a low flame till the raw smell of the semolina goes away. Take care to not overcook or brown the rava
Step 2
Remove the roasted rava in a plate. Allow it to cool down completely.
Step 3
Grind the sugar in a mixer to a fine powder and keep aside.
Step 4
Grind the roasted rava to a fine powder and set aside.
Step 5
Take a mixing bowl. Add powdered rava and powdered sugar and mix both thoroughly.
Step 6
Heat 2 tablespoons of ghee in a pan. Add cashewnuts and raisins and roast till golden.
Step 7
Add roasted cashewnuts and raisins to the rava mixture and mix well. Add cardamom powder and the remaining ghee and combine together
Step 8
Add few teaspoons of milk to the mixture and mix together till the laddu mixture comes together.
Step 9
When the mixture is little warm, take some mixture in the hand and form them into balls. Try to add few drops of milk if the mixture is too dry. Milk helps in binding the mixture into small balls.
Step 10
Make rava laddus according to the size desired and set aside in a plate to cool down.
Step 11
Rava laddus can be stored for 2-3 days if stored in an airtight container.
Step 12
NOTES : You can adjust the sugar according to the sweet taste desired by you. Roast the rava on a lower to medium flame and ensure that the rava does not get burnt at the bottom. If you prefer firm laddus or soft laddus add milk accordingly to get the desired laddus.