Cucumber lemonade recipe – How to make cucumber lemon detox drink recipe – summer recipes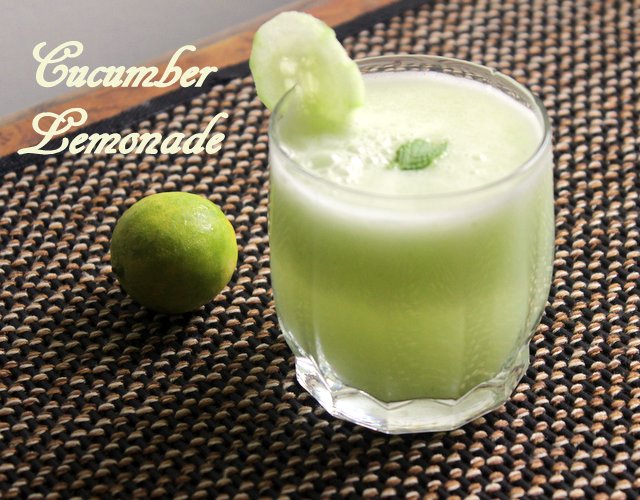 Cucumber lemonade is a very healthy and refreshing drink made from cucumber and lemon and flavoured with mint leaves.  Cucumbers have lot of water content and rich in Vitamin A and C, potassium and Vitamin K.  Lemons are also a good source of citric acid, potassium, calcium, phosphorous & magnesium. It helps in cleansing the system of impurities and  prevents diseases.
It is also a great detox drink which will help your body detox and flush out toxins and clean your system.  Cucumber lemonade water is a perfect drink to sip all day as a delicious hydrating treat.  It helps in increasing your metabolism, aids in weight loss and has anti-aging properties. Consume this drink regularly for long lasting benefits.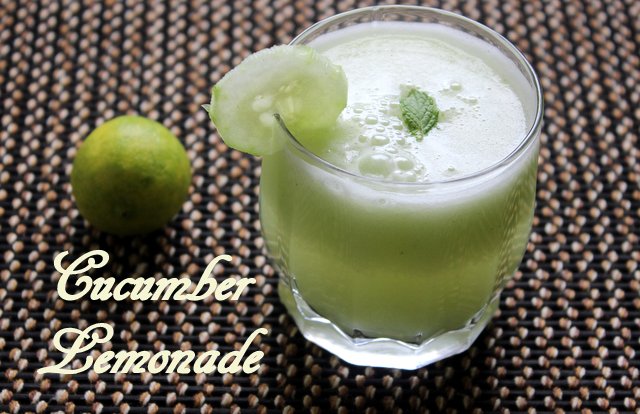 Prep Time : 10  mins
Servings :  1 person
Indian cuisine
INGREDIENTS
Cucumber – 1 (approx. 1 cup.. chopped roughly)
Lemon – 2 tablespoons
Mint leaves – 2 to 3 leaves
Sugar – 1 teaspoon (optional)
Water – 1 cup
A pinch of salt
HOW TO MAKE OR PREPARE CUCUMBER LEMONADE RECIPE
Peel the skin of the cucumber.  Chop them into pieces.
Take a blender and add the cucumber pieces and mint leaves.  Add little water and blend them to a smooth paste.   Then add the remaining water and blend again.
Strain the mixture in a clean bowl or vessel with the help of a strainer.  Discard the impurities.
Add salt, sugar and lemon juice and mix well.  Pour in a serving glass and serve chilled.
Add ice-cubes at the time of serving and garnish with cucumber slices or lemon wedges.
NOTES/TIPS
You can add honey instead of sugar.
Adjust lemon juice as per your preference.
Do not add too many mint leaves as it spoils the taste.  Add 2-3 mint leaves just for flavour.
Add grated ginger for additional flavour and health benefits.