Soya chunks cutlet recipe – How to make soya chunks patties/cutlets/meal maker cutlet recipe – easy evening snacks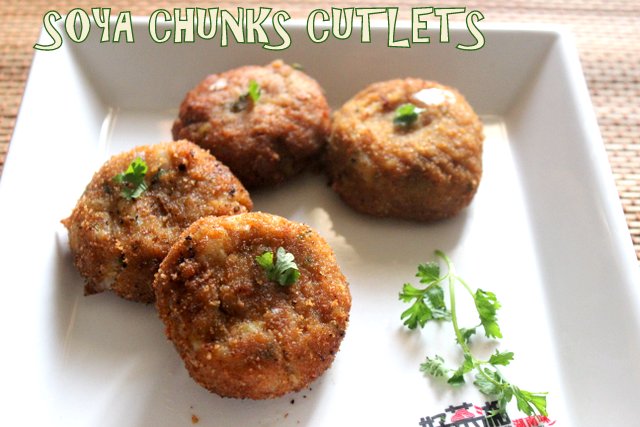 Soya chunks is a healthy and tasty snack or starter which has soya chunks and potatoes as the main ingredients.  They are not only nutritious but also a delicious snack which can be had at any time of the day.
Soya chunks or nuggets are full of proteins and rich in vitamins, minerals and other nutrients proven to help lower cholesterol and loss of bone mass.  Soya is strongly recommended for diabetics,  growing children, weight-watchers and the aged.   It is a  100 per cent vegetarian high quality protein source and great for growing children, as it provides critical vitamins, minerals, fibre and protein.  The nuggets when boiled turn spongy and ready to absorb any flavours you cook them in and hence makes up for a delightful dish.
Other cutlet recipes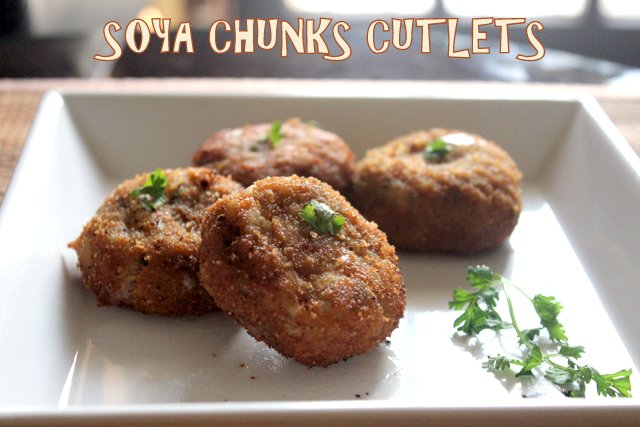 Prep Time :  20 mins
Cook Time :  15 mins
Servings :  9 cutlets
Indian cuisine
INGREDIENTS
Soya chunks – 1 cup
Boiled and mashed potato – 1 cup
Onion – 1 (medium sized finely chopped)
Red chilli powder -1 teaspoon
Coriander powder – 1/2 teaspoon
Garam masala – 1/2 teaspoon
Chopped coriander leaves – 1 tablespoon
Bread crumbs – 1 cup
Salt to taste
Oil for frying
HOW TO MAKE OR PREPARE SOYA CHUNKS CUTLETS RECIPE
PREPARATION
Boil sufficient water in a vessel with little salt.  When the water comes to a nice boil, add the soya chunks. Boil for 2 minutes and then switch off the flame.  Close the vessel with a lid and let the soya chunks sit for 20 minutes.
Drain the water completely.  Squeeze out the excess water from the soya chunks. Grind the soya chunks and set aside.
Boil and mash the potatoes and keep 1 cup of mashed potatoes aside.
Grind 4 to 5 bread slices and a make a coarse powder out of it.  Keep the bread crumbs ready.
METHOD
Take a mixing bowl or vessel.  Add the ground soya chunks and boiled potato.  Mix well.
Add the chopped onions, red chilli powder, coriander powder, garam masala, coriander leaves and salt.
Divide the mixture into equal portions and shape into a cutlet.  Keep the bread crumbs ready.
Roll the cutlets into the bread crumbs to coat evenly on all the sides.  Heat little oil in a pan on a medium flame for shallow frying.  Grease the oil in the pan evenly.  Place the cutlets gently in the pan.
Shallow fry the cutlets on both the sides till they turn golden brown in colour. Once done, remove them in an absorbent paper to remove the excess oil.  I also deep fried few cutlets as shown in the pic below.
Soya chunk cutlets are ready to be served. Serve the cutlets hot with tomato ketchup or green chutney.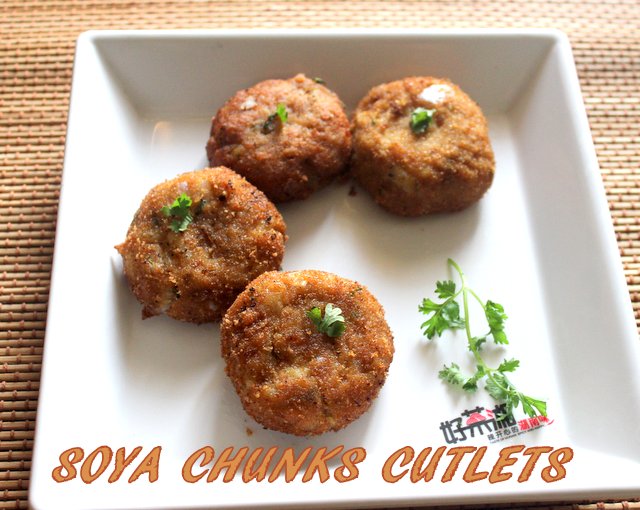 NOTES/TIPS
You can also add ginger-garlic paste to the mixture before making patties/cutlets.
Ensure to squeeze the excess water completely.  Otherwise the cutlets will not hold good shape.  (Mine got little runny, so  had to add little all purpose flour to bind the mixture)
If the mixture is runny, then just add little corn flour or all-purpose flour to bind the mixture.  Or saute the mixture in a pan on low flame, till all the water evaporates and the mixture becomes dry.
Add vegetables like grated carrot or cabbage or mashed peas for a more healthier version.
Take care not to overcrowd the pan while deep frying cutlets.  2 to 3 cutlets at a time would be fine.