Spring onion pakora recipe – How to make spring onion fritters recipe – spring onion recipes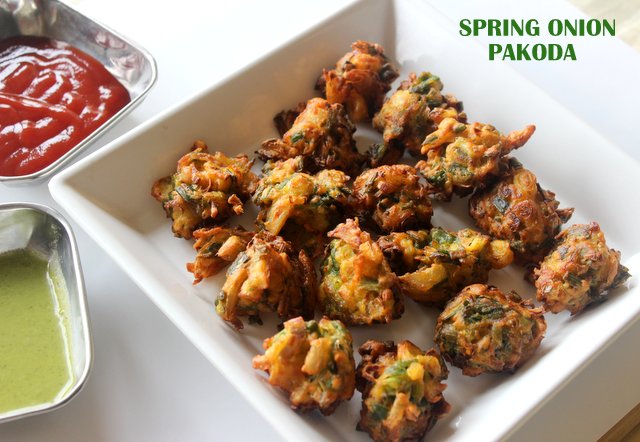 Pakoras or pakodas  is a very popular Indian snack where onions are battered with besan or chickpeas flour along with spices and deep fried in cooking oil.  It is a popular teatime snack  and tastes best as it is or  with ketchup or green chutney and best enjoyed on pleasant monsoon season or winter days.  These fritters are a common roadside snack and popularly known as pakodas or pakoras. In this recipe, I have used spring onion for making pakoras.  It can be prepared quickly and easily with ingredients  available at home.  The addition of rice flour makes these pakoras crispy.  Enjoy them while they are hot with steaming cup of tea or coffee.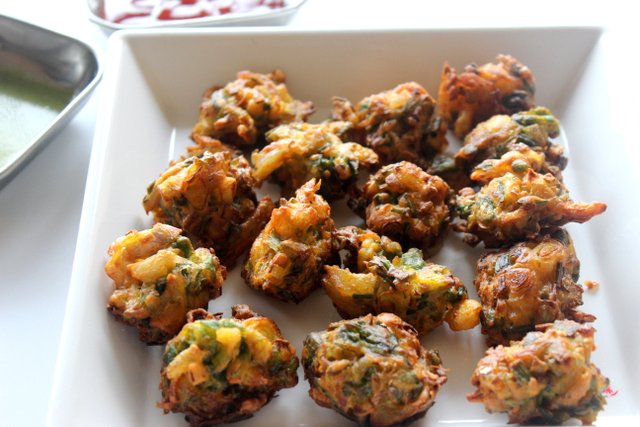 Prep Time : 10  mins
Cook Time : 15  mins
Servings : 2 to 3 persons
Indian cuisine
INGREDIENTS
Spring onion greens – 2 cups (chopped finely)
Besan or gram flour – 3 to 4 tablespoons
Turmeric powder – 1/4 teaspoon
Red chilli powder – 1/2 teaspoon
Ginger-garlic paste – 1 teaspoon
Ajwain or carom seeds – 1/4 teaspoon
Salt to taste
Oil for deep-frying
HOW TO MAKE OR PREPARE SPRING ONIONS PAKORA RECIPE
Take a mixing bowl and add the chopped spring onions, both the greens and the onions.  (Here I have added half normal onion too– you can skip this).  Then add red chilli powder, turmeric powder, ginger-garlic paste and ajwain.
Mix everything well.  Meanwhile heat oil for deep frying in a kadai on medium flame.
Gradually add the gram flour and salt and mix with the rest of the ingredients.  The mixture should be little thick and dry.  If the mixture is very moist,  add more gram flour if required and mix well.
To check  if the oil is ready for cooking, drop a pinch of the mixture into the oil.  It should begin to sizzle and float immediately.
Slide a few portions of the mixture gently into the oil, taking care not to crowd the kadai.  Deep fry them till crispy and  golden brown on both the sides.
Remove them with the slotted spoon and drain on absorbent paper towels.
Serve spring onion fritters hot with green chutney or tomato ketchup along with a cup of tea or coffee as an evening snack.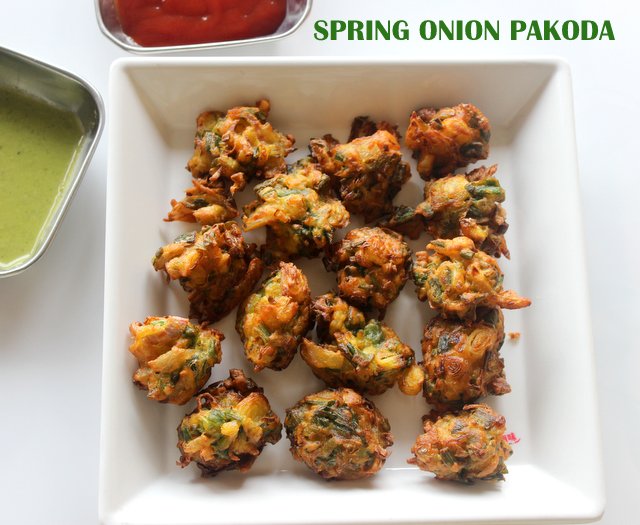 NOTES/TIPS
Always deep fry pakoras on medium to high flame to get crispy and golden brown pakoras. Low heat will make them soggy and will absorb too much oil. 
Do not overcrowd the kadai with too many pakoras.  Add few pakoras  as this helps them to cook evenly.
Add grated ginger and finely chopped green chillies for a spicier and enhanced taste.
Add little rice flour if you want a little crisp pakoras.
You can also add garam masala or chaat masala to the mixture before deep frying, for a more enhanced flavour.