Thalipeeth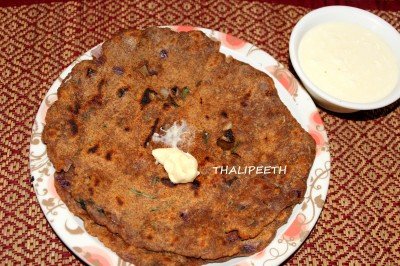 Thalipeeth is a very popular multigrain pancake in Maharashtra.  It is prepared with a mixture of different flours and mixed with spices.  Thalipeeth is served with butter or thick curd.  It is a very filling and nutritious breakfast dish.
Ingredients
Rice flour - 1 cup
Wheat flour - 1 cup
Gram flour/besan - 1cup
Ragi flour - 1cup
Semolina/Rava - 2 tablespoons
Red chilli powder - 1 teaspoon
Coriander powder - 1 teaspoon
Cumin powder - 1 teaspoon
Onion - 1 (finely chopped)
Chopped coriander leaves - 2 tablespoons
Salt to taste
Method
Step 1
HOW TO MAKE THALIPEETH RECIPE In a bowl, add rice flour, wheat flour, gram flour, ragi flour and semolina and mix well.
Step 2
Add chopped onions, red chilli powder, coriander powder, cumin powder, coriander leaves and salt and combine together.
Step 3
Add little water as required to make a dough to make a smooth dough. The dough should not be very hard. Rest the dough for 15 to 20 minutes.
Step 4
Make equal sized balls out of the dough and keep aside.
Step 5
Take a plastic sheet and apply little oil on the sheet. Take one ball of the dough and press gently on the plastic sheet to form a round shape. If the dough is too hard, wet your hands and press gently to make a circular shape.
Step 6
Heat oil in a tawa/pan on a medium heat. Gently remove the thalipeeth from the plastic sheet and transfer it to the pan.
Step 7
Make little holes on the thalipeeth and cook on both the sides till light brown.
Step 8
Transfer the cooked thalipeeth in a serving plate and serve thalipeeth topped with butter or thick curd as desired.